Former "Girls Next Door" costars Kendra Wilkinson and Holly Madison haven't meet face to face in years -- but Kendra has some words ready for her when they do!
The two have been battling it out in the press ever since Holly released a tell-all memoir about her time in the Playboy mansion, a tell-all that didn't reflect on Kendra too kindly.
Hef's former number one girlfriend said she remembers Kendra having a "sense of entitlement" when she arrived, after asking for a big room, a new car and money to get her teeth fixed. "I don't miss her," she added in the book.
On the new season of "Kendra on Top," there's talk of a potential reunion -- something Kendra doesn't think will ever happen.
"I don't know. Honestly, it's being talked about right now but it's highly unlikely," Wilkinson tells toofab of a special involving all three girls and Hugh Hefner. "There are some people onboard, [but] I don't know if everybody is onboard."
If a gathering of the gals were to happen, it'd be the first time Kendra and Holly would be in the same room since the feud began -- and the former tells us she has some big questions for her one-time costar.
"I would never be worried running into her, but I do have a couple wonders," she explains. "I guess I'd point out a couple things. I have my side, you know? I would say, look, some of the things she wrote about, she didn't actually see. She just kind of assumed. She wrote it so it would demonize me, yet I have my version of the story. It's just wrong to write about things out of my character, things that I wouldn't do, things that are not who I am. It just goes to show that, once again, we were never friends. At the end of the day, everybody has their side of the story."
"No one should believe ..." she adds, trailing off. "Whatever."
"Like Holly's situation, everyone has their perception of things and it comes from an emotional standpoint, it's coming from anger at the end of the day," she continues. "You can't believe tell-alls, you can't believe them. You can, in your mind, read a tell-all and say, 'OK, [some] things probably happened,' but this is being written out of anger or emotional reasons."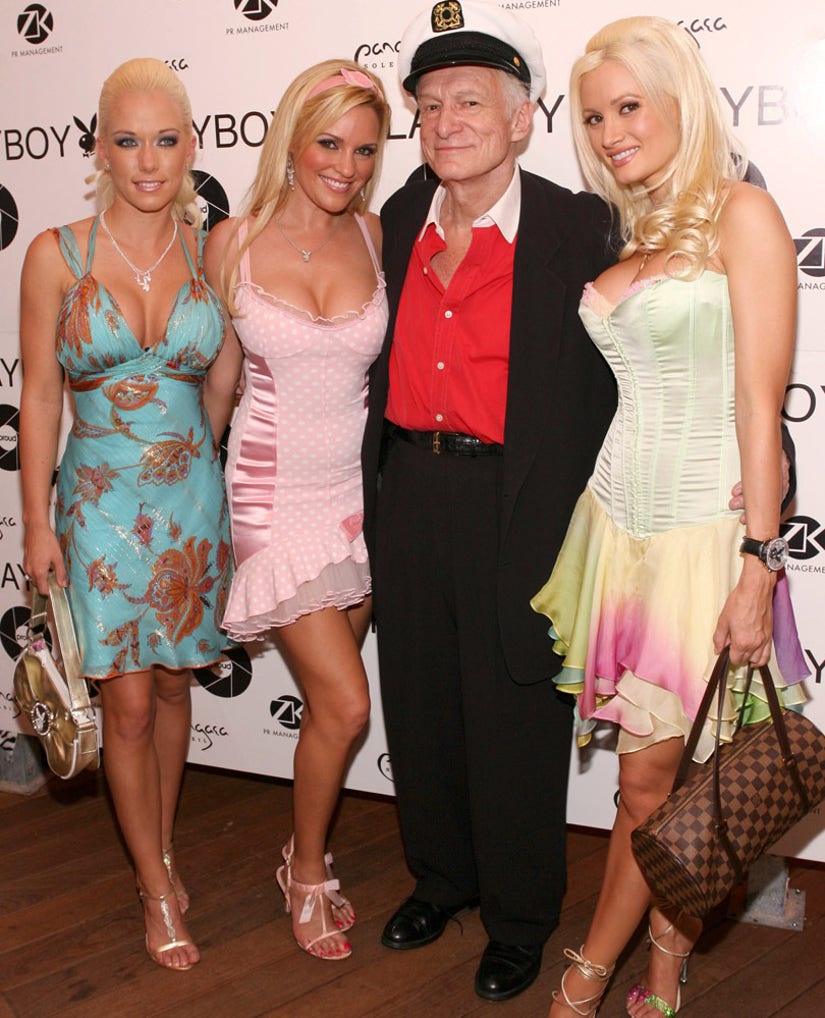 Getty
While things are clearly not kosher with one of Hef's former girlfriends, fans might be surprised to learn Kendra hasn't kept close with Bridget Marquardt either. In fact, the two recently had a quick chat for the first time in years.
"It was very quick, someone was on the phone with her and I said 'Hi,'" Kendra tells toofab. "I think in the near future, I'm gonna see her and we're gonna do something for the show. I don't have anything against her or anybody. I think it'd be kinda cool to see her again and hear how life has been for her."
Despite Kendra's warning, we're all secretly pulling for that reunion special ... and Wilkinson totally understands it. Even without the added drama of a Kendra v. Holly blowout, the E! reality show continues to be a series that holds the public's interest.
"I think what we were is still taboo and people still are intrigued by the decisions we made to live together and date the same man," Kendra muses. "It's very taboo and very intriguing and it'll forever be that way. People still try to figure it out. How does that work? We were literally the girls next door, we just made this decision to live with him and date him and I came out very appreciative and very thankful but others didn't."
You can catch Wilkinson go solo on "Kendra on Top," airing Friday nights on WE tv.