Things are getting wild in the Garden State!
The "Real Housewives of New Jersey" are back and with two new cast members, Dolores Catania and Siggy Flicker.
This season, Teresa Giudice has returned from her stint in prison, Jacqueline Laurita has also re-joined the cast, alongside Teresa's sister-in-law, Melissa Gorga.
Though this is Dolores' first time appearing on the "RHONJ," she's been in the ladies' inner circle for years -- not to mention, friends with Teresa since they were just 20-years-old.
toofab's Leah La Rosa chatted with Dolores to get her scoop on the new season. See what she had to say about her reality TV experience and Teresa's return!
toofab: You're an old friend of Jacqueline, Teresa, Dina and Caroline -- what has it been like filming with the ladies?
Dolores: Oh it's been great! It's been so natural for me. I want to compare it to like a college experience. It's like my sorority. That's what it feels like.
toofab: What prompted you to give reality TV a try?
Dolores: We were all the original crew and it just wasn't the time for me when it had started and now I feel like I have a story. I have something to offer. You know, I'm 45, I'm reinventing myself, my kids our grown and things like that. I have to really find my way now.
toofab: How do you kids feel about you being on the new season of "RHONJ"?
Dolores: It's so funny because it's so surreal for them and the whole family. And at the same time, you know we already saw the first episode which was really amazing, but all the other stuff hasn't hit yet, like the appearances and things like that. The kids haven't been affected by it yet. They're very proud though. They always tell me, 'Mom we're so proud of you.'
toofab: What's been the best part about opening your life up to the cameras?
Dolores: The easiest part is just that it's very organic and it's just very natural for me. You know everyone so well. I know their back stories and I know where they grow up. I know their parents, I know their cousins, I know the schools they went too, so not so much Jacqueline, but I also know her from her making her life here in New Jersey. So the easiest part for me was just being around everybody and we had so much fun and so many good times. Siggy and me are just together, like the chemistry and the dynamic, it's hysterical for everyone. This is real life for us. I was by Jacqueline's house yesterday, she had some books to sign for me, so I hung out there. I raided her refrigerator and her closet. Then, I left there and I went out to eat with Teresa. Then, I was on the phone with Siggy last night and was exhausted, so this is all real for us.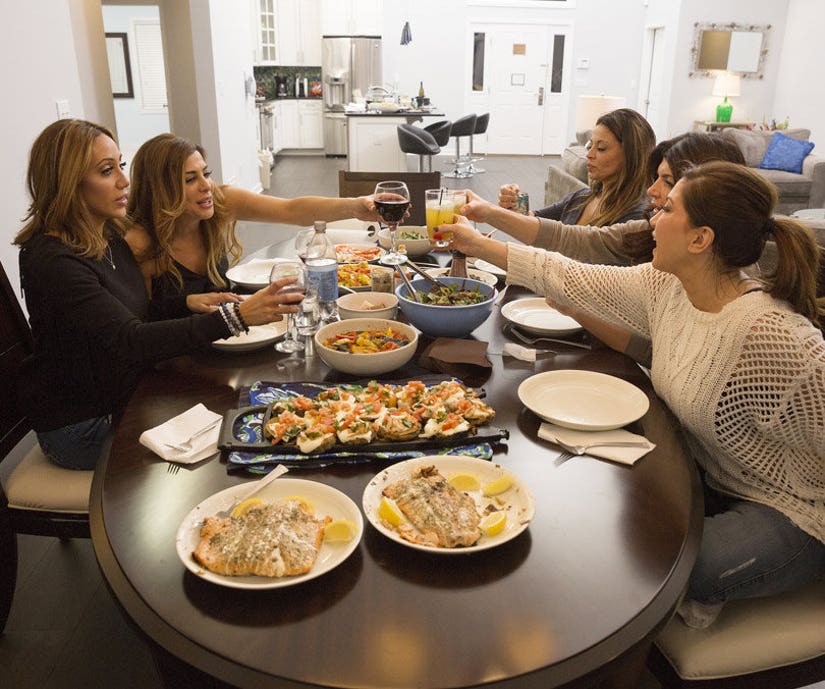 Getty
toofab: What's been the hardest part about it all?
Dolores: The hardest part was that there were some emotional times and there were some things that have happened that you'll see. Because this is real, this isn't fake. This isn't some women sitting around, drinking a cup of tea and saying some snarky remarks. This is as real as it gets, so to see that and to see anyone I care about hurt or upset, it's upsetting to me and that's the hardest thing.
toofab: We see Teresa finally return home from prison, how have things been with her -- do you think prison changed her at all?
Dolores: Teresa, I always describe her as, she's very tough. She's a survivor and she just roles with the punches and she is handling it very well. I mean as long as she's there with her children, that's her strength. Her family is her strength, but I know that she misses [her husband] Joe tremendously. They've been together for 20 or so years now maybe, so that person becomes a part of you. That's hard for her. I know she misses him being there and being there for her.
toofab: Can you tease any major drama this season? What can we look forward to?
Dolores: You can look forward to me a Siggy Flicker because you have two women who were born 16 thousand miles apart that couldn't be any more alike and we feed off each other and just make everyone laugh and that's so much fun. We try to make light of things that happen.