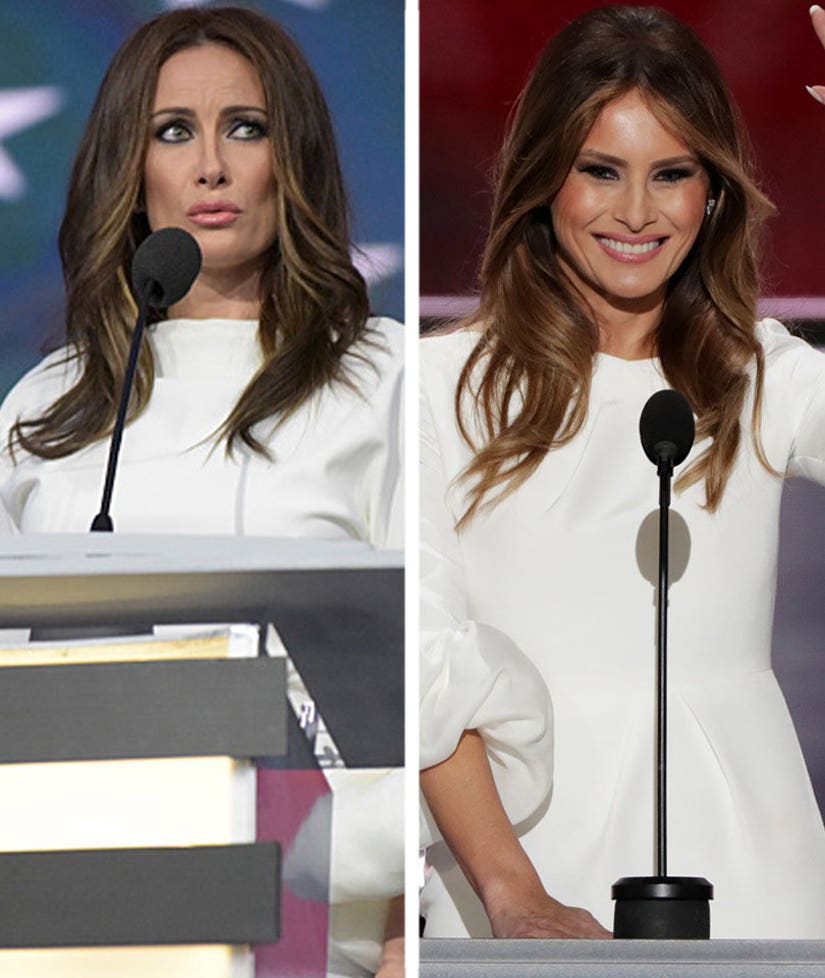 CBS/Getty
The jokes keep on coming!
Melania Trump has been blasted for lifting words from Michelle Obama's 2008 speech for her Republican National Convention address, and now, she's being spoofed on late-night TV.
Stephen Colbert enlisted the help of actress and Melania look-alike Laura Benanti to take the jokes one step further.
Dressed up in the model's memorable white dress from Monday night, the "Supergirl" star declared that she would never plagiarize a speech. So, of course, she started with the classic opening line from "A Tale of Two Cities," saying, "This is truly the best of times. It is the worst of times."
"Melania" went on to insist that she had not steal FLOTUS' words, saying, "I would not, could not, with a goat. I would not, could not, on a boat."
She then referenced "The Fresh Prince of Bel-Air," saying, "That is because I learned honesty during my humble upbringing, in West Philadelphia born and raised, on the playground is where I spend most of my days."
"Mrs. Trump" even shouted out the iconic "Braveheart" line, "They may take our lives but they will never take our freedom!" and the famous "Network" quote, "I am mad as hell and I am not going to take it anymore!"
The best part? She tried to conclude with a "Live, from New York, it's…" but Colbert cut her off before she could say "Saturday Night!" The intro music to "The Late Show" quickly took over.
Check out the hilarious clip above to see her in action!
Spoofs aside, Trump's camp issued the following statement about Melania's speech:
"In writing her beautiful speech, Melania's team of writers took notes on her life's inspirations, and in some instances included fragments that reflected her own thinking. Melania's immigrant experience and love for America shone through in her speech, which made it such a success."
What do you think of all the backlash? Sound off below!