When "Legends of Tomorrow" returns, expect it to be a very different show.
Both the creators and the cast were very excited about the changes in store when we spoke with them at Comic-Con over the weekend -- and they're hoping fans will be on board too!
While most of Season 1 dealt with Big Bad Vandal Savage and his connection to both Hawkman and Hawkgirl, none of them will return for the next installment. Canary fans, worry not, as fan favorites Caity Lotz, Victor Garber, Dominic Purcell, Brandon Routh, Franz Drameh and Arthur Darvill will all be back ... as well as a few new additions to the cast.
Keep reading to see the most notable tidbits from our chat with the stars, as they talk newcomers, new costumes and some very big adjustments happening behind the scenes!
- Even the Cast Had Some Issues with Season 1
"Nobody knew what we were doing," Victor Garber tells toofab. "We all signed onto something and it was like getting on a fast moving train and then when you thought, 'Oh, this isn't working' or 'That's not working,' it was too late."
The show hit the ground running without a true pilot, something show creator Marc Guggenheim thought was a big part of the problem. "We were sixteen [episodes], immediately on the air, we didn't get a chance to do a proper pilot and take the time to sort of figure things out. The learning curve wasn't a curve. It was just a straight line up."
"Last season there were too many people in too many scenes all the time, which was really hard on the cast and it got really boring," adds Garber.
Expect that to change for Season 2. "They're going to be pairing off into singles or pairs, rather than a group doing the same thing every week and around that f---ing ship thing," hilariously explains Dominic Purcell.
"There's more room. There's three people in a scene instead of eight," adds Garber. "[The writers] are very conscious of that. That's a big change for us."
- No More Vandal Savage-Type Bad Guys
"One of the things we learned was Vandal is a tough villain, but everyone is trying to kill him and after like sixteen episodes, you know Gilligan is not getting of the island," Guggenheim says of introducing a Big Bad that couldn't be killed off right away.
"You know they're not going to catch vandal that week," he adds. "That was problem number one."
The second problem, explains Guggenheim, was the depressing nature of the show's premise in relation to Savage.
"The thing that kicks us off, they're are trying to prevent the death of Rip's family, his wife and son, and that really hurt us," adds Marc. "It put a downer on a show that's not as light as 'The Flash,' but at its best is a lot of fun."
Caity Lotz promised "more fun" for the sophomore season, adding that the series has "a lot more life and is starting to get a stronger sense of its own tone."
The bad guys this year will be familiar to Arrowverse fans, as Malcolm Merlyn (John Barrowman), Damien Darhk (Neal McDonough), Reverse-Flash (Matt Letscher) and Captain Cold (Wentworth Miller) will appear as the Legion of Doom.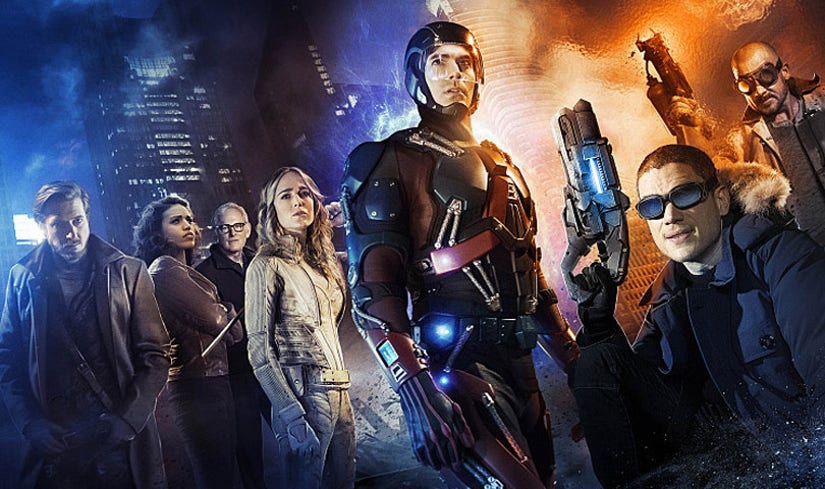 The CW
- More Time Travel Means More Fun Costumes
Last year, we saw the Legends travel to both past and present, stepping into period-appropriate attire on the way. While you can expect that to continue, the cast is split on how they feel about some of the looks.
"It's really fun. It's like Halloween and we go to some interesting eras," Lotz teases of the upcoming getups. "They went and got a bunch of costumes, like where they get the 'Game of Thrones' costumes, so we have some pretty fabulous outfits and I hope we do more and more of it."
"Sarah always gets some really cool looks," she adds. "In the first [episode back] there are some really funny Dom looks. He has a fun costume that he wears for one of the period pieces."
Purcell wasn't as enthusiastic about the look when we asked him about the it. "I had to get in a 3 Musketeers thing. Didn't like it."
Here's a sneak peek of him below:
Waiting for your permission to load the Instagram Media.
The season finale introduced Hourman and the Justice Society of America, which will play a big part in the second season. We'll also be seeing a lot of Nick Zano's Dr. Nate Heywood and Maisie Richardson-Sellers as Vixen.
"[Captain Cold] is replaced by Vixen, who is the definition of super girl," explains Guggenheim. "She's a member of the Justice Society of America. She's from the 1940s. Everything is prim and proper. She's not stuck up, but she does things right and you have this team who doesn't do things right. They're a bunch of f--- ups."
As for Dr. Heywood, he's an Indiana Jones-type who knows a thing or two about history ... and starts the show without any powers. Guggenheim says he "could develop super powers" over the course of the season though.
And Zano's already training for that superhero bod!
"It sucks because we have long hours. I was talking to Dom about it and he was like, 'Go home, do 45 minutes and then go to bed,'" he explains of his workouts. "I'm like, 'It's like 3AM' and he's likem 'Then wake up [early] and do 45 minutes.' We have to be to work at 6AM, it doesn't make any sense!"
We'll see how all the new changes play out with the show returns Thursday, October 13 at 8PM on The CW.
"I think they've figured it out," says Garber. "Hopefully, I'm right, but you'll be the judge of that no doubt!"