Hugh Grant failed to recognize his former costar Renee Zellweger—on live TV!
The 55-year-old actor has starred in not one, but two films, with Zellweger, having shared the screen with her in "Bridget Jones's Diary" and "Bridget Jones: The Edge of Reason." Still, Grant was left scratching his head when shown a picture of the actress on "Watch What Happens Live."
As a guest on the show," the "Florence Foster Jenkins" star fielded a number of questions about his former female costars, whose photos were pulled up for him to review.
"Who is the one second from the right, because I've never seen her before in my life?" the baffled Brit asked. When someone identified the Oscar-winning actress for him, a stunned Grant exclaimed, "Oh Renee!"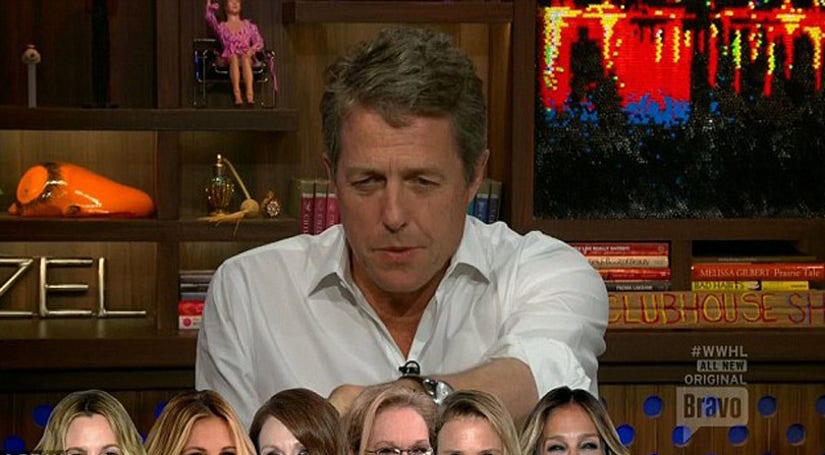 Bravo
His failure to recognize her is particularly unfortunate, considering Zellweger has been skewered in the media for what many have speculated is a plastic surgery altered appearance. The "Jerry Maguire" star even took time to address the she felt was the unfair coverage of her physical appearance in an op-ed piece for the Huffington Post.
To Hugh's credit, only the tops of his costars' faces (think nose up) were shown, but it's hard to believe that he would still have trouble identifying someone he's worked with multiple times.The "About A Boy" star also admitted that he's lost touch with all his former leading ladies, saying he hasn't kept in touch because "they all hate me, I think."
Perhaps his poor memory could have something to do with that?
Do you think Grant made an honest mistake or that his gaffe was inexcusable? Sound off in the comments!