"Claws" features some of the most outrageous fashion on television, and if you're watching it for style tips, costume designer Dana Covarrubias recommends starting slow.
Pick just one eye-popping item the south Florida nail salon employees on the TNT series would wear, and build the rest of your look around it.
"So say it is a crop top that shows off your bra, then obviously your bra has to be amazing," Covarrubias tells TooFab. "If you're doing a plain hoodie that's cropped like that, you would do a really fun bra but a more muted everything else. Muted jeans, muted sneakers, muted everything else."
If you're familiar with "Claws," a critically acclaimed drama following five diverse manicurists who get mixed up with the criminal underbelly of their city while trying to make ends meet, you know their outfits are anything but muted, which is why Covarrubias said the job was a real treat.
From fitting Niecy Nash's character Desna Simms in figure hugging outfits to digging into her trashiest creations for Karrueche Tran's ex-stripper character Virginia, Covarrubias walked us through the challenges of dressing such "crazy" characters, how the nails impacted costuming decisions, her favorite summer fashion trend, and how to spice up your own attire.
The wardrobe on 'Claws' may be out of the ordinary for many viewers. How would you describe it and where do you draw your inspiration?
The inspiration first and foremost comes from the script. I was lucky to work with Elliot Lawrence (creator/writer) and he just created an amazing, unique, never-seen-before script that was very exciting when I read it. They had actually already shot the pilot when I interviewed for the job. I actually got to watch the episode and it was such a unique script and all the characters were so specific and so unique with such a wealth of background.
I loved how each character really lives in their own world, but then again they're all part of this bizarre, Southern Florida, trashy-fabulous world.
Who's the most fun on the show to dress?
All the top 10 characters, has such specific back stories and such interesting looks - I honestly could not tell you just one. If I had to pick, I would probably say Judy and Karrueche, who play Quiet Ann and Virginia, just because Judy is a character you don't see a lot on TV, so her and I really tried to nail what that look is. Karrueche was fun just because we could do the craziest stuff with her.
We would basically go to the mall, go to all the trashy stores and we would go through the racks and almost everything we looked at wasn't trashy enough for her character.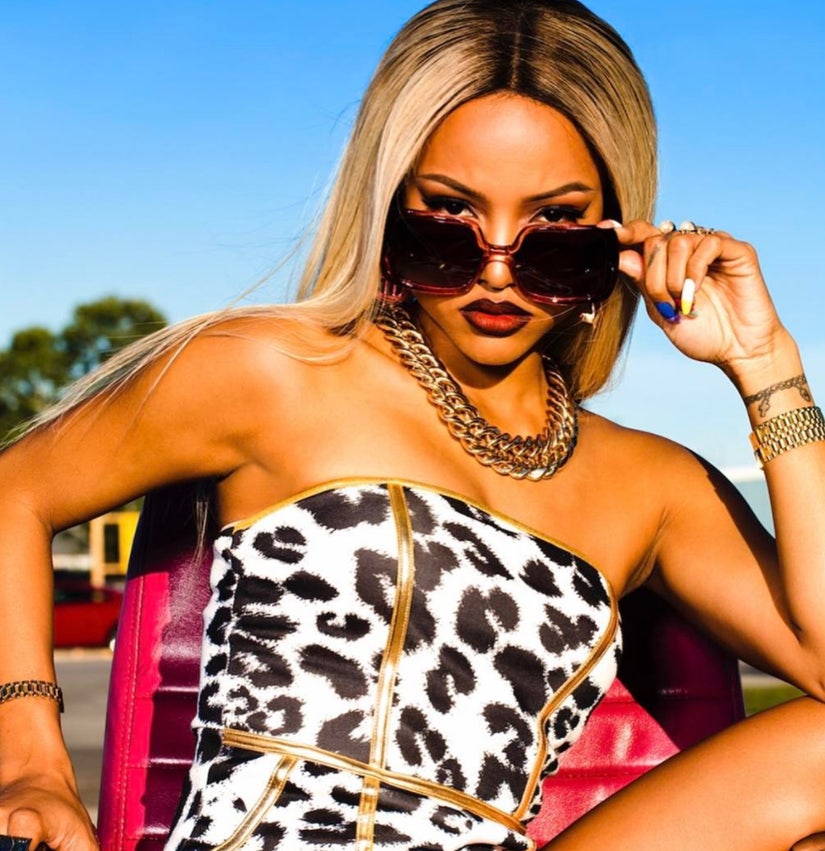 Instagram
So, did you have to customize things to make them trashier for Karrueche's character?
We did a lot of that for her. We would take jumpsuits that had pants and cut them off into short shorts, we did a lot of that.
Were there any struggles when it came to dressing these outrageous characters?
I honestly don't think there's any other show on television that's like this show and/or is representing the kind of women that are in this show, so I think maybe the challenge in the first few episodes was just to hone in on exactly what we were doing. To get all the actors on board with how the network was feeling and how the writers were feeling.
There's so many ideas floating around and you just want everyone to be on the same page. I would say in the first few fittings we were still trying to perfectly figure it out - because we really didn't want these characters to look and feel like cartoon characters or like we were poking fun at these people. There is obviously heavy tongue-and-cheek cheese factor to the show but as far as the costumes went, we wanted to have fun with them. We wanted them to be fun and crazy but we also wanted them to be real. That was the only challenge in the beginning; trying to figure out where that line is exactly.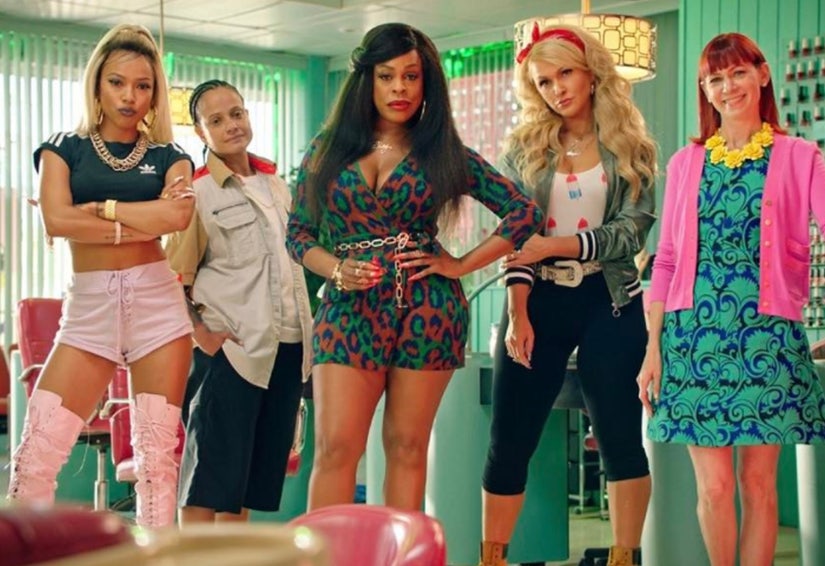 Instagram
Nails are obviously a huge part of the show, so while designing the outfits, what came first: Claws or clothes?
The nail department was a whole separate department and they had to get these press on nails made weeks in advance before we started shooting the episode. That was actually really fun for me along with the costumes because we knew what the nails were going to be ahead of time, so then we tried to base our costume looks based on the nails as much as we could.
How do you handle an actor who hates the costume you're dressing them in?
I try to just be as accommodating as possible in those situations. I'm always so open to people bringing in their own clothing, like Neicy brought in some of her own clothes to wear on the show and it worked perfectly for her character. I'm very flexible and I try to be as easy going as possible ... that's kind of my methodology of working.
It's never something you usually can't work around, but it definitely does happen. Especially in the first fitting where the actor comes in and they have a very specific idea of what they're thinking of for the character, and you might have a very different one, and that's the conversation you have.
Waiting for your permission to load the Instagram Media.
Have you experienced any backlash from any viewers who believe the outfits are painting a certain stereotype of the characters these women play?
I haven't [seen any backlash] really. I've been sort of looking at the response to things and all that I've seen is really positive feedback from people who either love an outfit or they think it's right-on. It is a crazy show, so I would never be offend if someone was like 'that's too overboard' or 'that's too crazy' because they are overboard, crazy people and the show skirts the line of reality and not reality so I think either way it's kind of fine.
What's a way our readers can incorporate elements of that style without going over the top?
I would definitely say start slow. When you're dressing yourself you always want to start with how you're feeling that day. If you're not feeling very out there and feeling a bit introverted that day, you don't want to go and throw on something that's going to through on a bunch of attention to you.
If you do want to incorporate that one item, just focus on that one item and then you form your outfit around that. So say it is a crop top that shows off your bra, then obviously your bra has to be amazing. If you're doing a plain hoodie that's cropped like that, you would do a really fun bra but a more muted everything else. Muted jeans, muted sneakers, muted everything else.
What is a summer trend you are really excited about?
Im curious to see what will happen with the white sneaker trend. That's been going on for a while and I'm just curious what's going to replace it.
What's one trend people should stay away from?
Mom jeans are sort of reaching their pinnacle right now, in New York City at least. Maybe like a year ago you started to see more high fashion and trendy people wearing them here and there and now we're at a point where literally every woman walking on the street is wearing mom jeans, so maybe i'm ready for that to be done.
What show, other than "Claws," do you think has great fashion?
I love shows that take place in the '70s and '80s. That's my next goal, to work on something like that. I just watched all of "Glow" on Netflix, the costume design on that was just so fun. It's about lady female wrestlers so it's about amazing '80s hair and all the design was so cool. That's probably one of my favorites recently.