Kim Kardashian got an early Christmas gift from Pam Anderson, who used the holiday call out the reality star for allegedly wearing real fur.
The "Baywatch" star announced on Tuesday, via a PETA press release, that she sent Kardashian a coral "eco-fur" coat she custom designed. We're told the jacket, from the faux fur company Only Me, was delivered to the office of Kim's management earlier today.
It's unclear whether Kardashian herself actually received it, as her rep wasn't immediately available for comment.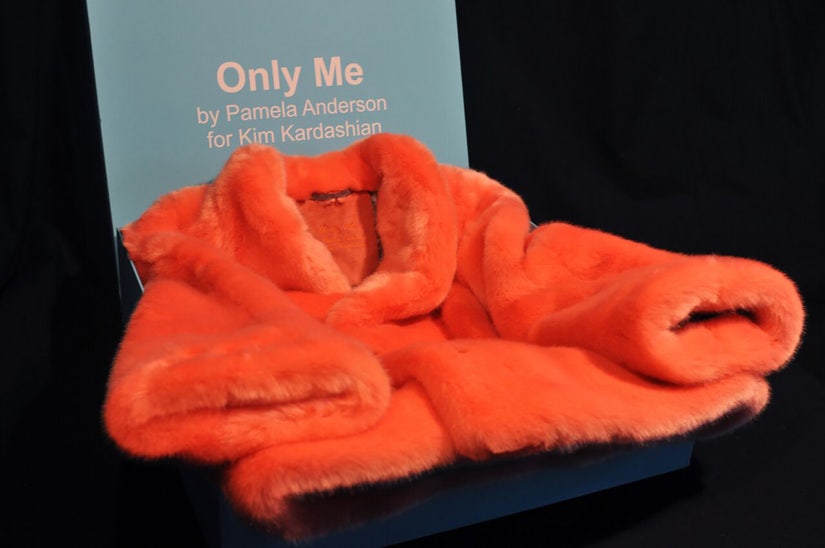 PETA
Along with a couple photos of the coat, Anderson shared her letter to Kardashian with PETA, imploring her to become a "trendy, compassionate example" by going faux.
Read Pam's letter to Kim below:
Happy holidays from France!
In the spirit of the season, please accept this coral hip-length faux-mink coat, made especially for you by my partners at Only Me Eco Fur in Russia. As we all ponder New Year's resolutions, won't you consider making a meaningful one to stop wearing fur? You'd be setting a trendy, compassionate example.
Vogue Paris recently featured Gisele Bündchen on the cover of an issue dedicated to cruelty-free fashion, about which she said, "So happy that Vogue Paris dedicated this issue to animal protection, sending a strong message that wearing real fur is never an option!!"
Also this fall, Gucci announced that it would stop using real fur because it's "out-dated"—joining Giorgio Armani, Ralph Lauren, BCBG Max Azria, Calvin Klein, and other stylish brands that have shed fur.
As Elaine Welteroth, the editor-in-chief of Teen Vogue, recently stated, "Ethical fashion is the future of fashion. Gucci's decision to ban fur is a smart step in the right direction—for the environment, for animal rights, and for its massive base of young brand fans who will soon represent the largest consumer base in history."
Kim, I know your young fans would admire you and your brand even more if you dropped fur.
I hope you and your family have a wonderful holiday!