Rihanna put Snapchat on blast after the app hosted an ad for a game called "Would You Rather?" on its discover page over the weekend. The ad promoted one of the game's "impossible choices": Slap the female pop star or punch Chris Brown?
Yes, you read that correctly. Not only did the company that created the ad think that was a good question, but someone working at Snapchat didn't see a problem with it either. Yikes.
Rihanna has since publicly forgiven her ex-boyfriend for the felony assault that landed him five years of probation and six months of community service back in 2009, but she's not as willing to forgive the social media app -- especially since she started her lengthy statement with: "Now, Snapchat, I know you already know you ain't my fav app out there..."
"But I'm just trying to figure out what the point was with this mess," the singer shared on her Instagram story Thursday morning. "I'd love to call it ignorance, but I know you ain't that dumb. You spent money to animate something that would intentionally bring shame to [domestic violence] victims and make a joke of it! This isn't about my personal feelings, cause I don't have much of them -- but all the women, children and men that have been victims of DV in the past and especially the ones who haven't made it out yet -- you let us down! Shame on you. Throw the whole app-ology away."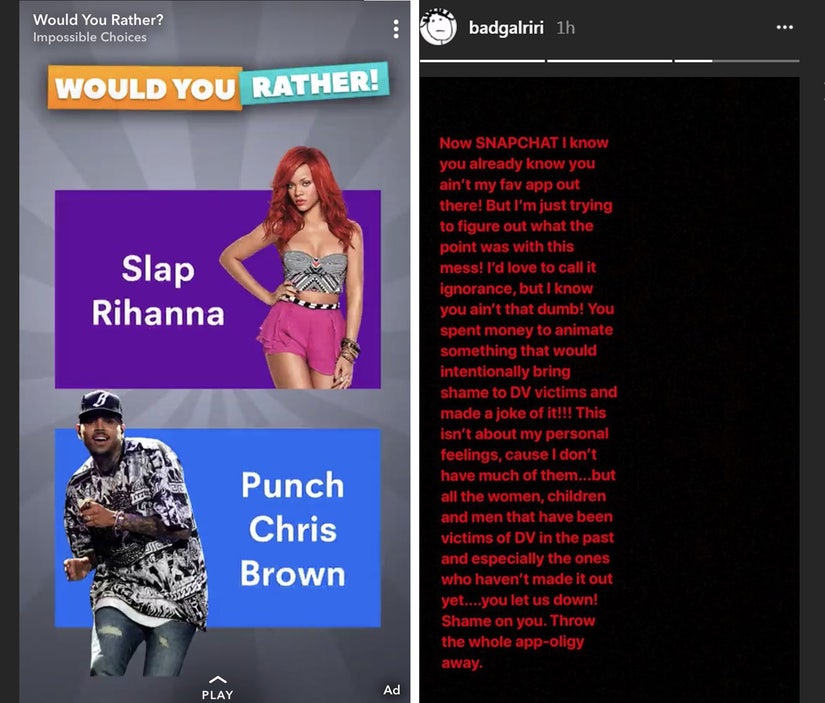 Snapchat/Instagram
Snapchat removed the ad earlier this week and released an apology, saying, "The advert was reviewed and approved in error, as it violates our advertising guidelines." According to the company, the majority of advertising on Snapchat is purchased through a self-serve advertising platform and subject to review.
"This advertisement is disgusting and never should have appeared on our service," Snapchat told CNN in a statement obtained Thursday. "We are so sorry we made the terrible mistake of allowing it through our review process."
The seemingly unthinkable error comes at a bad time for the social media company. Just last month, Kylie Jenner tweeted about her dissatisfaction with the app's update. Less than 24 hours later, the company's shares tanked by 7.2 percent, equaling a $1.3 billion loss.
sooo does anyone else not open Snapchat anymore? Or is it just me... ugh this is so sad.

@KylieJenner