Gender identity is proving to be more complicated than our society previously thought, and our TooGood Artist of the Month, Lee, is on the frontline of raising awareness for gender fluidity -- a relatively new term for an identity Lee began searching for after hearing Goo Goo Dolls' 1998 hit "Iris" on the radio two decades ago.
"I actually knew when I was like 8, [but] there wasn't an actual term for it," Lee told TooFab. "My favorite song is 'Iris' by the Goo Goo Dolls, and when that song came out, I heard it on the radio, it was like 20 years ago, and I just remember thinking that chorus -- 'And I don't want the world to see me / 'Cause I don't think that they'd understand / When everything's meant to be broken / I just want you to know who I am' -- I knew something about me resonated with that chorus. That was kind of the moment that I was like, something doesn't fit."
Lee -- a singer-songwriter who prefers pronouns "them," "they" or "their" over "he" or "she" -- stopped by Studio TooFab earlier this month to perform a few tracks off their latest album, "Songs in Dark Blue," and educate us about gender fluidity, which Lee stressed can mean different things to different individuals within that spectrum of gender identity.
"Gender has nothing to do with your biological sex or anything like that," Lee explained. "Gender is actually a social idea. It's something that we do rather than what we are. So gender kind of ties in with the way that you interact with the world, it ties in with the way that you present yourself, meaning like how you might dress, how you might talk."
"So when you get into this idea of gender fluidity, for me, what that is is some days I feel a little more masculine, so I might want to present that way. I might wear jeans and a T-shirt and do sort of traditionally masculine things," Lee said. "Or if I'm feeling a little bit more feminine, I might not wear a chest binder; I would wear a bra or something."
At age 12, they had "more of a clear realization" that they didn't fit in the "female" box, but it wasn't until just three years ago that Lee discovered their identity in an unexpected place: on an airplane, where they connected with another passenger whose Facebook profile introduced them to the term "gender fluid" for the first time.
"That was the moment," Lee said. "I thought about it for four days, and then I came out -- and I haven't looked back since."
But there is much more to this artist than their gender identity, like an incredible voice that elevates their strong songwriting and captivating stage presence, all of which is on full display in their intimate acoustic performance of songs "Here No More" and "Dragons & Eagles." Using a loop pedal to incorporate beats and layers of melodies -- a skill they mastered while busking for the last two years at the Santa Monica Promenade in Los Angeles -- Lee manages to create a full-band sound with just a guitar and a microphone.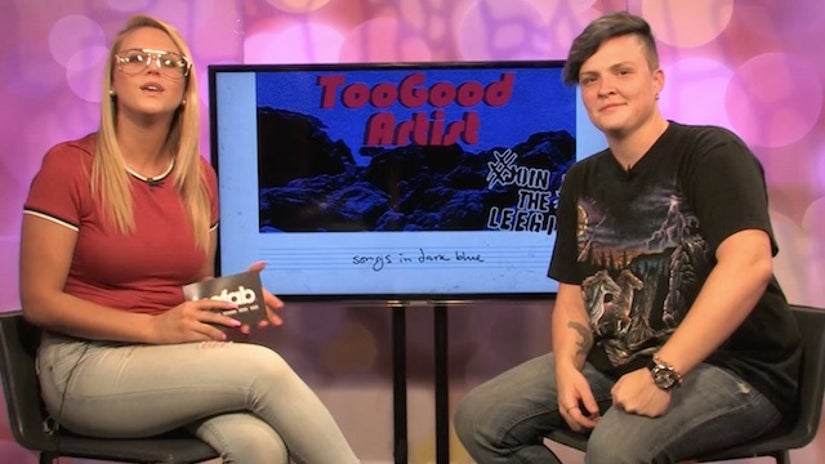 So far in their budding career, Lee's voice has scored them personal invitations to audition for "The Voice" and "America's Got Talent." They didn't make the cut, but a year later got an ironic consolation when "AGT" judge Howie Mandel complimented their talent while watching Lee perform on the street. Lee isn't letting rejection get them down, though. Since moving to LA three years ago, they have produced two stunning solo albums independently in their bedroom, and found their voice trending on Spotify after collaborating with DJ and producer Hamster on "City Limits," a catchy pop track that has racked up nearly 500,000 streams.
All 10 tracks on "Songs in Dark Blue," however, offer a significantly different sound. In fact, they all sound blue -- to Lee at least. The album name is inspired by their synesthesia, which by definition is the production of a sense impression relating to one sense or part of the body by stimulation of another sense or part of the body.
"How my synesthesia works is that I hear music as color," Lee told TooFab. "So all of the songs on this album, I hear the color dark blue."
Do yourself a favor and take a few minutes to enjoy Lee's loop-pedal performance and interview in the video above. If you dig that, check out more of their work below and follow them on Instagram and Twitter.
Waiting for your permission to load Soundcloud audio.