The pop star and actress also talked about why she doesn't like to be called a celebrity.
In an interview with Variety published Tuesday, Gaga recalled how she recently snuck into a local cinema to watch the drama, but left before it ended because it was too hard to watch.
"Yeah, I snuck in," she said. "I sat through most of it. I had to remove myself before the end. The film moves me so deeply. I feel so entrenched in the character that the second half of the film -- without revealing what happens -- is so emotional and tragic. I have to take myself out of it."
Gaga said she's seen "A Star Is Born" five to 10 times. The film, which co-stars and is directed by Bradley Cooper, has generated Oscar buzz for multiple categories, most notably best original song. Gaga explained that if the movie's chart-topping hit, "Shallow" is nominated for an Oscar she will "one hundred percent" perform it live.
"We talked about that actually, because I'm such a maniac," Cooper said of a possible duet. "I started texting her the whole pitch of how we should do it. So we'll see. There might be a cool, unorthodox way we could perform it."
The "Born This Way" singer also told the publication that she wept the first time she watched her acting debut in "A Star Is Born." Cooper amplified the film's incredible soundtrack by bringing in a stereo system, as well as covering up the windows with garbage bags "so the light from the screen would be crisper."
"I cried the whole time, because I missed Jackson," she said of Cooper's character. In the film, Gaga plays rising star Ally, Jackson's love interest.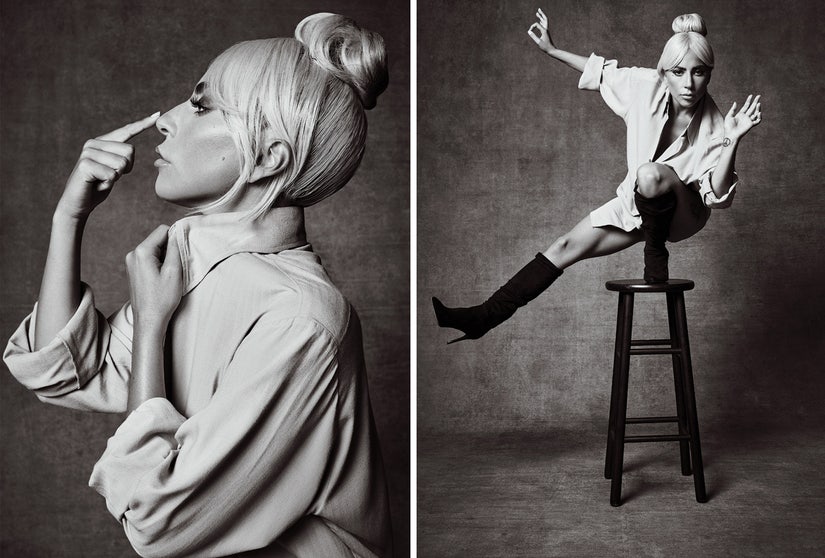 Art Streiber for Variety
"A Star Is Born" is loosely based on the three other film's of the same name. Like it's counterparts, the 2018 edition ends in a tragic death. For those who haven't seen the film -- spoiler alert -- the drama concludes with a gut-wrenching ending. Jackson commits suicide by hanging himself using a belt and garage ceiling fan.
The chairman of Warner Brothers, Toby Emmerich, revealed the original script once had a different ending, but couldn't imagine the "ending any other way."
"The first ending that I read, [Jackson] actually swims out into the ocean, where he commits suicide," Emmerich said. "The script that we had when he started shooting, he rides his motorcycle. It was more like the Kris Kristofferson ending [in the 1976 version] with the Ferrari, but with Jackson with the Harley. But Bradley changed his mind and came to see me and pitched the idea of what he ended up shooting. I think he was right. When I watch the movie now, I can't imagine it ending any other way."
Despite all of her success, Gaga said she doesn't like the term 'celebrity.'
"Look, from the outside in, I think people think it's all champagne and roses for us," she said. "'Us' meaning the collective artists slash celebrities. I don't like the word 'celebrity,' because to me it negates my artistry. There's a lot of pain you go through. Everything changes. Your whole life changes."