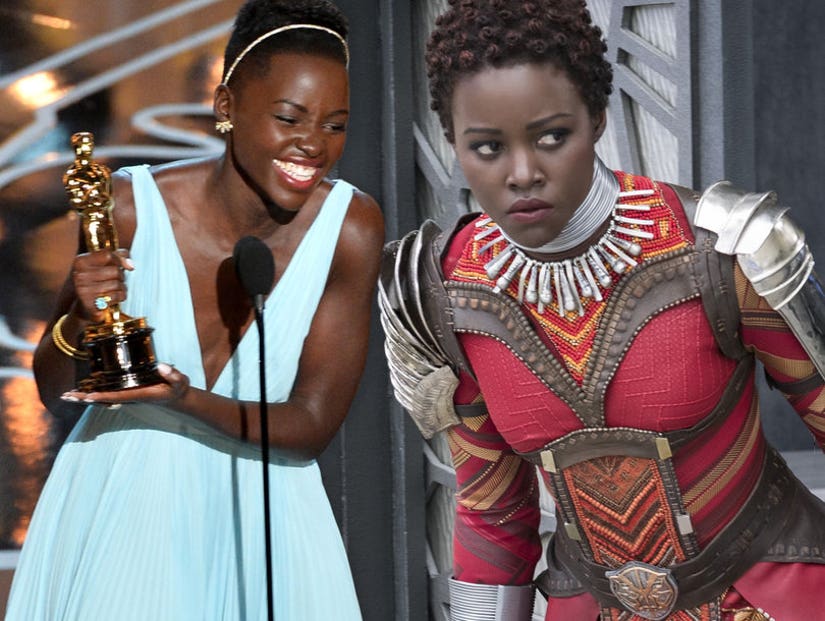 Getty / Marvel
Next week "Black Panther" could become the first ever superhero movie to win the Best Picture Oscar. And its cast could be played off in pretty ignominious fashion.
Picture the scene: "And the Best Picture Oscar goes to.... 'Black Panther!'"
Exactly 90 seconds into her acceptance speech, Lupita Nyong'o is cut off by the orchestral strains of "MOVE BITCH, GET OUT THE WAY."
That was a scenario presented by Lupita herself on Wednesday when she was asked to suggest a song to play off overly-long acceptance speeches for next week's Academy Awards.
The Oscar-winner and her Wakandan co-star Danai Gurira sat down with People to chat about the upcoming ceremony, where the 40-year-old "Walking Dead" star launched into an impressive rendition of Ethel Merman's iconic "There's No Business Like Show Business" by way of her suggestion.
Lupita countered by mimicking Ludacris: "I was thinking more like, 'Move bitch, get out the way, get out the way.'
"Wow, that's one way to remember your special night, oh my goodness,' Danai grimaced in mock disgust while Lupita cackled with glee.
The tightening of the Oscar show's run-time is on everybody's lips this week as producers try to stem the flow of bleeding viewerships by tourniqueting the broadcast.
Rather than the traditional 45 seconds before the orchestra kicks in, this year showrunners decreed that winners have exactly 90 seconds to hustle from their seats to the podium, grab their statuette, give thanks and get out of there.
Meanwhile the plan to move the awarding of four of the unfairly-deemed-less-interesting categories — cinematography, film editing, live-action short and makeup and hairstyling — to the commercial breaks has been met with justified indignation online.
During Wednesday's chat Lupita, who won the Best Supporting Actress Oscar in 2014 for "12 Years A Slave" — also disclosed a disaster of a first date story, when she fell for another Oscar-winner instead of the guy she was actually there with.
"My first date going to see 'Titanic' actually... I was really nervous, I was 16 I think." she giggled.
"I loved Leonardo DiCaprio — I LOVED him," she growled, "that I completely forgot about my date."
"And when (Leo) died, I wept for so long that the cinema was empty, they were cleaning up, they were like 'guys, you gotta go'."