The Royal Wedding was fun and all, but Kitty says this runway was "one of the coolest moments of last year."
Lady Kitty Spencer is ready for her closeup.
While her famous cousins Princes William and Harry get most of the spotlight, their cousin is slowly making a name for herself in the fashion world. After becoming a bit of an Instagram success story a few years ago, Kitty -- daughter of Charles, The Earl Spencer, Princess Diana's brother -- really struck it big after her show-stopping appearance at Harry and Meghan Markle's wedding.
The 28-year-old stunner stood out in a green dress with matching fascinator at the event, something which she says made her follower count skyrocket on social media. "It was definitely unexpected," she told Harper's Bazaar for their digital cover shoot. "[My Instagram followers] went from 17,000 to half a million in one night. I thought I had someone else's phone when I woke up the next morning. I had to turn my notifications off because my phone was going to die."
What followed was number of high profile appearances, including a gig modeling jewelry for BVLGARI and a runway walk for Dolce & Gabbana's Spring 2019 collection, something she calls "one of the coolest moments of last year."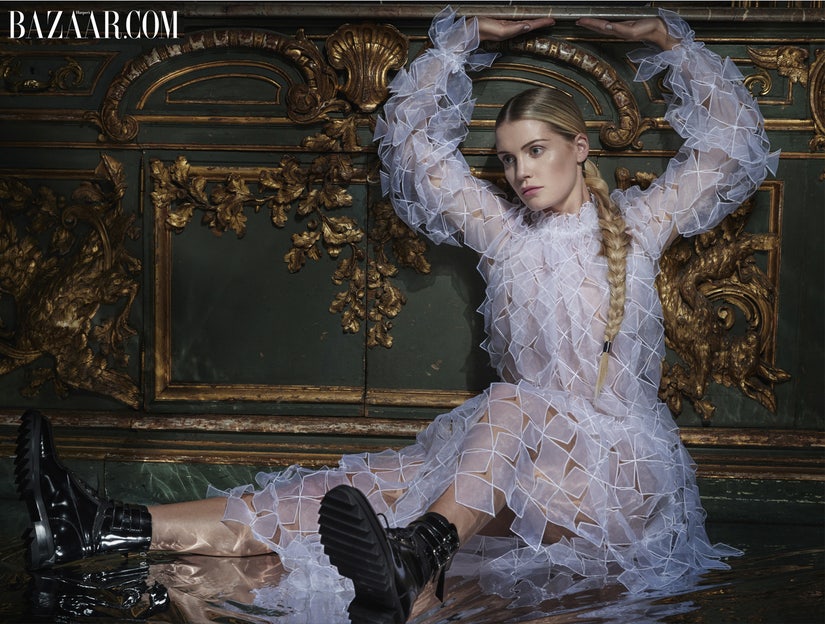 Alex Bramall
"I got to walk with Monica Bellucci, Carla Bruni, Isabella Rossellini, Helena Christensen, Naomi Campbell -- it was insane," she recalled. "We were all standing on the stage, and I was at the back. And when the curtains opened, they were going to shine the spotlight and everyone had to stand in their pose, but I was so busy being in awe of these goddesses, I just stood there staring at everyone. I completely forgot to stand in any way that was photogenic or photographable."
Spencer told the publication that she's not starving herself to be runway-ready, praising the brands she's worked with for making designs in her size.
"I guess I'm doing these things on my own terms," she explained. "I don't think it's my job to starve to fit into an outfit. If I've agreed to do something for a brand or whatever, I look after myself but I'm not obsessive or unhealthy. If a brand wants to work with me, and think their designs look good on me, then they can give them to me in my size."
As for her famous family, Kitty declines speaking about them "out of respect" for her cousins. The makeup artist who worked on the shoot -- and also used to do Princess Di's makeup -- however, spoke about the similarities between the two Spencer women.
"Diana was so willing and open -- as is [her mom Victoria Aitken] and as is Kitty. Just sort of free -- there's a sense of freedom with all of them," said Mary Greenwell. "I think the sense of freedom is actually very important, that then they didn't feel stifled by their upbringing and their circumstances."
"To have Kitty with me in the makeup chair," added Maty, "It just took me back in time."