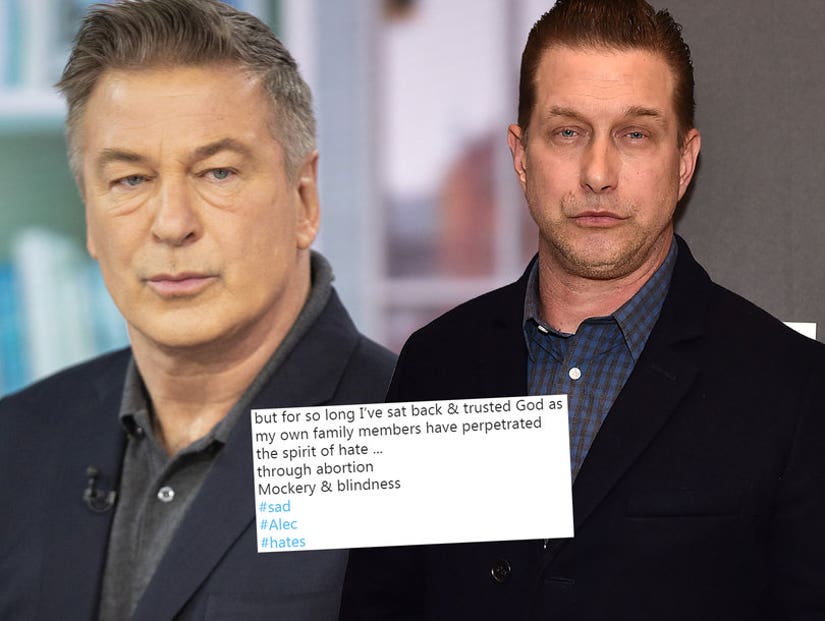 Getty/Twitter
"For so long I've sat back & trusted God as my own family members have perpetrated the spirit of hate."
Stephen Baldwin has attacked his brother Alec on Twitter for signing a petition against a controversial abortion-banning bill.
Several members of the Hollywood elite backed the petition started by Alyssa Milano, calling for a filming boycott of the state of Georgia after it introduced the so-called "heartbeat bill", a piece of legislation that would make it illegal to have an abortion after six weeks, outside of rape or incest.
According to Stephen, who is the father of Hailey Baldwin, they are all going to hell with his brother and his "spirit of hate".
"avoided tweets like this long as I could now, to overwhelming, Love will ultimately wins Jesus ❤️ but for so long I've sat back & trusted God as my own family members have perpetrated the spirit of hate ... through abortion Mockery & blindness," he tweeted, hasttagging it: #sad #Alec #hates #pray
He followed it up with another that simply read: "#Hollywood #sad #goingtohell 🔥 #pray"
He continued: "it's the so called Christians that hate the haters most ... but what does our bible say??? More so called believers ask me all the time 'what are we gunna do about those brothers of yours' & I always say ... 'Gods got them & you're praying for them yes?' #Hypocrites
Gabrielle Union, Ben Stiller, Sarah Silverman, Amy Schumer, Sean Penn, Debra Messing, Rosie O'Donnell, Minnie Driver, Don Cheadle, Judd Apatow, Yvette Nicole Brown, Uzo Aduba and Christina Applegate have all also signed.
When Alyssa first posted it, Stephen also attacked her on Twitter.
"Alyssa ... simple question about YOUR PERSONAL LIFE - should your mom have had the right to decide if YOU should have been born??"
Georgia is hugely popular among filmmakers thanks in part to a 30% tax break and many TV shows are shot there, including "The Walking Dead", "Stranger Things", "Ozark" and, of course, "Atlanta".
In the wake of the controversy, the governors of fellow east coast states Pennsylvania and New Jersey have begun flagging their own tax incentives and pro-abortion rights laws in a bid to lure the lucrative productions there.