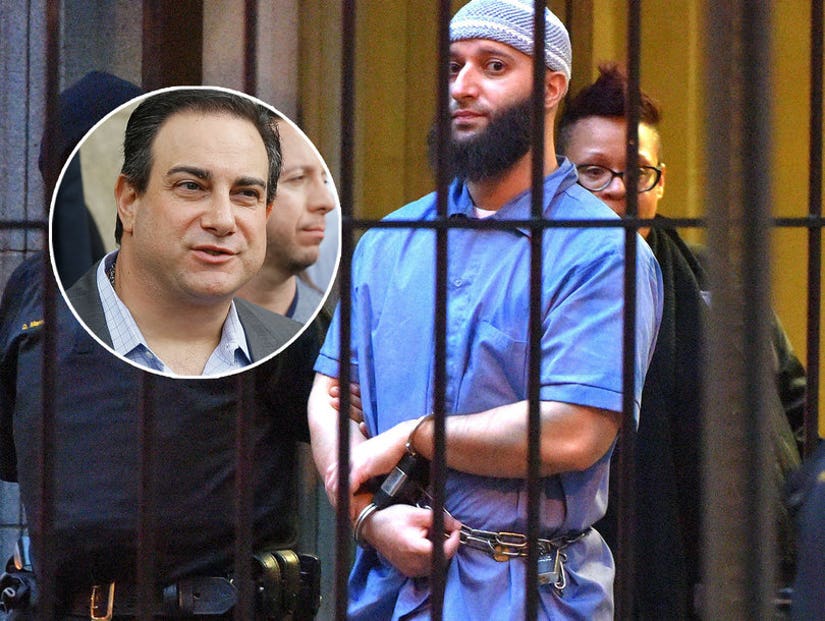 Getty
Speaking to TooFab, law professor Colin Miller, who also has a podcast examining the case, confirmed that the latest denial of a new trial for Adnan was based on a technicality, and nothing else.
Adnan Syed deserves a new trial, according to a man who was wrongly convicted of murdering his own parents.
Marty Tankleff, who was jailed for 17 years as a 17 year old, wrote an op-ed for the Baltimore Sun detailing why Syed's case must be re-examined.
The article had the backing of 41 other falsely convicted exonerees.
"As a victim of a wrongful murder conviction that was finally overturned after nearly 18 years, I know firsthand how difficult it is to get a wrongful conviction reversed, even when there is evidence of your innocence," he wrote.
He described how at just 17-years-old his parents were killed at their Long Island Home. "Police questioned me for hours with no attorney present, insisted I was guilty and falsely claimed both that my father had implicated me before dying and that my hair had been found in my mother's hands," he recalled.
"I was finally exonerated and released after new evidence and witnesses established others were responsible for the crime and disproved the story that had been fed to me during my interrogation. But it took years and countless petitions and appeals in both state and federal courts to finally get the opportunity to even have this new evidence considered."
Syed's case, which has received worldwide attention thanks to the Serial podcast, has been involved in a back and forth throughout the appeals courts over whether or not he deserves a new trial.
Like Tankleff, Adnan was aged 17 when he was convicted of murder, of his ex-girlfriend Hae Min Lee.
Global attention has intensified scrutiny on the case and has highlighted inconsistencies with the evidence against him; his defense team have honed in on two points specifically that his original (now deceased) lawyer Christina Gutierrez never picked up on, in the attempt to grant him a new trial.
One involves a friend of Adnan's and potential alibi Asia McClain, who claimed she was with Adnan at the school library at the time Hae was supposedly killed.
The second involves the fact that the prosecution relied heavily on the testimony of an AT&T cellphone tower expert who verified evidence that Adnan was in Leakin Park where Hae's body was buried — evidence that was later discovered to be completely unreliable.
Speaking to TooFab, law professor Colin Miller, who also has a podcast examining the case, confirmed that the latest denial of a new trial for Adnan was based on a technicality, and nothing else.
A judge had initially granted a new trial based on the second point, arguing that while Gutierrez had messed up by not interviewing the potential alibi, it would not have swayed the jury because the time of Hae's death could have come afterward.
However the prosecution argued that because Adnan's lawyer Justin Brown only included the alibi point on his petition for a new trial (and not the unreliable cell tower evidence, having not been aware of it at the time), and the appeals court overturned the decision. So despite a judge agreeing the new cell tower evidence could have swayed a jury, an administrative technicality barred its inclusion.
Professor Miller believes Adnan will eventually be granted a new trial, but that the latest snafu will set him back another 1-2 years, on top of the 20 he has already served for a crime he insists he did not commit.
"This comes at a time when we are more aware than ever of the inadequacies of our criminal justice system," Tankleff said, pointing out that according to the National Registry of Exonerations, 2018 was a record year for wrongful conviction cases: 151 exonerations of individuals who have spent a collective 1,639 years in prison.
Official misconduct was uncovered in at least 107 exoneration cases, and 31 individuals who had been framed by police were exonerated in one city alone — Chicago.
"This data suggest that, rather than looking for ways to deny relief, courts and prosecutors alike should be even more willing to taking a second look in cases where errors were undeniably committed," he said.
"What really haunts me about Mr. Syed's case is how it parallels so many other wrongful convictions, in that he hasn't been given his rightful opportunity to have all of the evidence heard. Our stories should make anyone with a conscience scream out loud. Have we learned nothing?"
He concluded: "Courts need to start taking a fresh approach when reviewing claims of wrongful convictions — precedence shows us that we, as a society and a court system, have been wrong way too many times to let another potentially innocent person fall through the cracks again."
In 2014 Tankleff was awarded $3.4 million from the state for settling his wrongful conviction lawsuit. He went on to study law himself, and is now an Innocence Project Exoneree advisory board member.