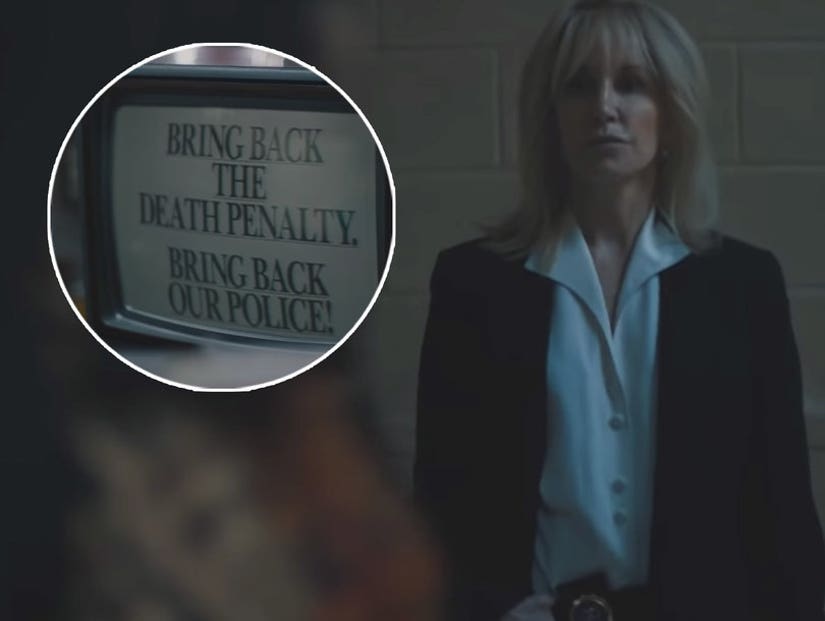 Netflix
"Every black male who was in the park last night is a suspect. I need all of them."
The first trailer for "When They See Us" dropped on Friday, reminding viewers of the woman who was raped in Central Park, the teens that were wrongly accused of it, and the now-President who called for their execution.
The Netflix miniseries, directed and written by Ava DuVernay, is Huffman's first project to be released since news of her involvement in the college admissions scam broke last month.
It follows the infamous case of the Central Park Jogger, one of the most widely publicized crimes of the '80s, in which a white female jogger named Trisha Meili was brutally attacked and raped, and left in a coma.
Five juvenile males – four African American and one Hispanic — were arrested in connection to other attacks perpetrated by a gang of 30 teens that same night, and were convicted of the rape and attempted murder — despite the DNA evidence matching none of them — based solely on confessions they later said were coerced and false.
"A female jogger was severely beaten and raped," Felicity, who plays prosecutor Linda Fairstein, says in the clip. "Every black male who was in the park last night is a suspect. I need all of them."
After being told the boys' statements do not match the facts of the crime, Huffman tells Vera Farmiga — who plays prosecution lawyer Elizabeth Lederer — "All we need is for one to tie this all together."
The harrowing trailer shows the frightened boys being grilled by police, the torment their families faced and the tinderbox of racial divide, as they were tried by media before a court of law.
While Donald Trump is not personally depicted in the film, he had a heavy presence in the trial: On May 1 1989, he took out full-page advertisements in all four of the city's major newspapers, calling for the return of the death penalty for "criminals of every age".
One scene in the trailer shows a TV screen with Trump's exact headline: "BRING BACK THE DEATH PENALTY. BRING BACK OUR POLICE!"
In 2002, convicted murderer and serial rapist Matias Reyes, already serving a life sentence in prison, confessed to the attack; DNA evidence confirmed he was the sole perpetrator.
All five convictions were vacated that same year, by which point they had all already served between five and 15 years in prison.
They sued New York City in 2003 for malicious prosecution, racial discrimination, and emotional distress; The city eventually settled for $41 million in 2014.
The defense lawyers accused Trump of flaming public opinion which helped sway the case against them, and demanded an apology, which never came.
In fact, as recently as his 2016 presidential campaign, Donald Trump has continued to insist all five were guilty.
As for Linda Fairstein, who went on to become a successful crime author, she was awarded Mystery Writers "Grand Master" award for literary achievement in December of last year; however it was withdrawn two days later due to protests surrounding her involvement in the Central Park Jogger case.
"When They See Us," which also stars John Leguizamo, Joshua Jacksonm, Michael K. Williams, Storm Reid and Niecy Nash, premieres on Netflix on May 31.