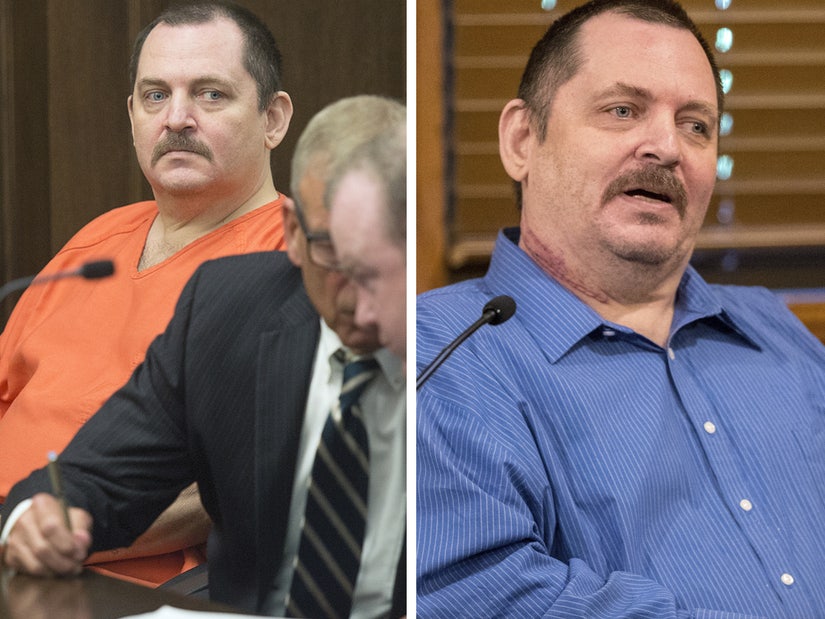 AP
He slit his throat as the court heard details of his lurid Tinder sex cult, which left 24-year-old Sydney Loofe chopped into 14 different pieces.
update 6/11/2021 11:20 AM
Aubrey Trail has been sentenced to death for the 2017 murder of Sydney Loofe.
The 54-year-old missed much of his own trial — filled with details of his lurid sex and crime ring — having slit his own throat in court.
The body of 24-year-old Loofe was found in 14 different pieces in garbage bags dumped along a rural Nebraska road in 2017.
In a statement to the court, Trail recanted his earlier claim that she had accidentally died by erotic asphyxiation during a sex game, admitting that he had strangled her with electric cord, because he feared she was going to expose his Tinder sex cult, claiming she "freaked out" when she discovered the details.
"I had no doubt she would tell people if I let her go," he admitted, per AP. "Sydney did nothing but threaten to expose my lifestyle and I killed her for it."
He told her family in court that he wouldn't apologize as "that would be an insult to you after what I've put you through. And I won't ask for forgiveness. As I don't believe there is such a thing."
"I have done some terrible things in my life but this is the only thing I have ever done that I feel real regret about," he added.
He told the judge before being sentenced to death: "To be quite frank and no disrespect intended to the court, I could care less what you do here to me today."
The last time Loofe was seen alive was in a Snapchat selfie she took — captioned "ready for my date" — before she went to meet the couple she'd met on Tinder.
Among the evidence against Trail and girlfriend Bailey Boswell was video of them in Home Depot, buying the tools they would use to kill and dismember her hours before the date.
The trial had heard testimonies from other women who were indoctrinated into the cult: they said Trail claimed he was a vampire who could fly and read minds, and tried to encourage them to torture and kill others to gain similar powers; Trail had implied to investigators that he and Boswell — who was referred to as the "queen witch" of the coven — had drank Loofe's blood.
He also encouraged the women to join his scheme of defrauding antiques dealers.
Passing sentence, Saline County District Court Judge Vicky Johnson said "exceptional depravity" needed to be proven for the death penalty to apply — and it was.
"Trail's words and actions demonstrate he had no regard for the life of Sydney Loofe beyond his own personal pleasures," she said.
Boswell, who could also face execution, will learn her fate when she is sentenced on June 30. She would become Nebraska's first ever female death row inmate.
original story 6/25/2019 7:12 AM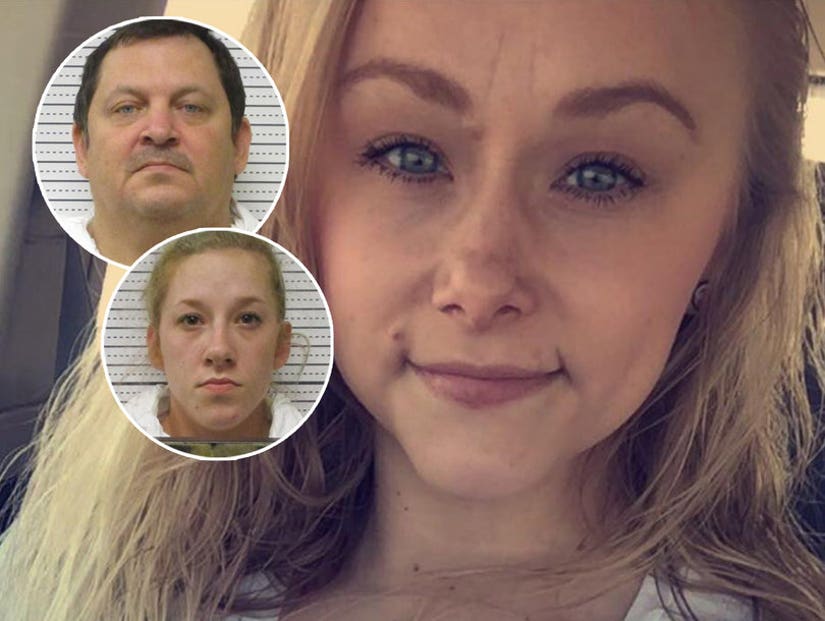 Pictured: Sydney Loofe; Inset: Trail and Boswell (Facebook/Taney County Sheriff)
A man accused of killing his girlfriend's Tinder date tried to kill himself at his own murder trial on Monday.
Aubrey Trail, 52, and his 24-year-old girlfriend Bailey Boswell are charged with the first degree murder of Sydney Loofe, also 24. The Nebraska courthouse was thrown into chaos on Monday morning when Trail slit his own throat after listening to a witness testimony.
"Bailey is innocent, and I curse you all," he shouted before slicing his neck with a concealed blade. A video of the incident shows deputies and court staff rushing to him amid horrified screams as the judge looks on.
According to the Omaha World-Herald, blood spilled from his neck as he fell out of the wheelchair he had been using.
He was rushed to hospital; one of his defense attorneys later confirmed he had survived and is expected back in court when the trial resumes on Tuesday.
After the shocking incident Judge Vicky Johnson ordered the jury to "disregard the outburst" and not consider it in their deliberations. She also warned them to "absolutely" not watch any media coverage of the incident. "I am going to order that Mr. Trail appear in handcuffs for the rest of the trial for obvious reasons," she added.
Loofe was reported missing on November 16, 2017, two days after a date with Bailey, whom she had met on Tinder.
Video surveillance from November 15 shows Trail and Bailey buying items from Home Depot that authorities believe were used in the "dismemberment and disposal" of the victim, court documents show.
Before they were even arrested, the couple posted a ten minute video on social media, titled "our side of the story", in which they proclaimed their innocence. But while in prison for an unrelated offense, Trail later called reporters, telling them he had accidentally suffocated Loofe in a sexual fantasy gone wrong.
He said he and Loofe were engaged in a consensual sex game with two other women — but not Bailey, as she was passed out from drugs in another room.
"It wasn't supposed to go to the extreme it went, of course not," he said. "It wasn't meant that she was to die."
"A life for a life — that's the rules in my world," he added. "I should be put to death."
Both Trail and Bailey face the death penalty if found guilty. Her trial begins in October.