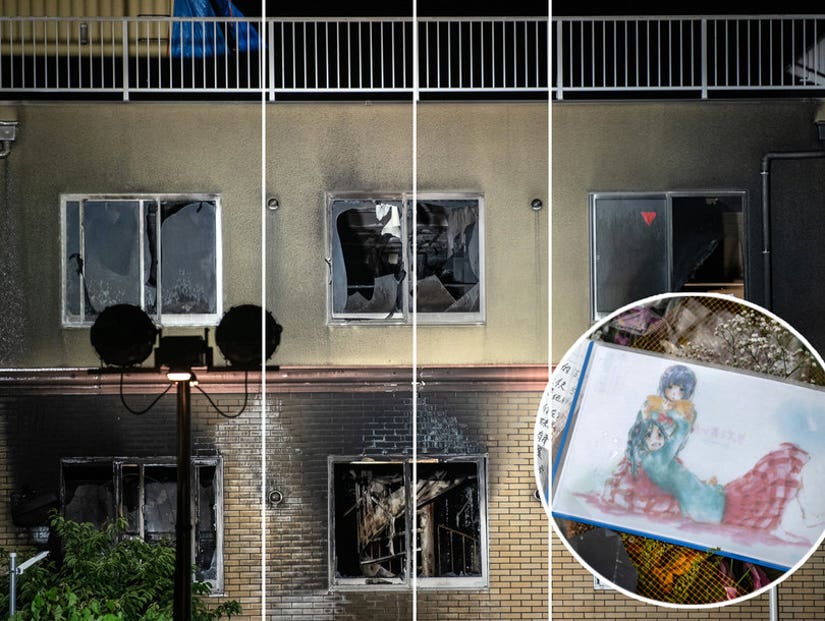 Getty
"They are always stealing. It's their fault."
The suspect in the Kyoto Animation arson attack was upset the studio had "stolen his ideas".
Shinji Aoba, 41, was arrested on Thursday, suspected of carrying out one of the worst mass murders in Japan in decades.
Police say 33 people were killed when an arsonist stormed into the three-story building and sprayed gasoline everywhere before setting it alight.
Security footage from a nearby gas station shows the man filling up buckets with gasoline beforehand.
Witnesses told police he shouted "die!" as he set the fire; when he was questioned on the scene he reportedly claimed "they ripped me off" and "they stole my ideas", and was shouting about plagiarism.
"They are always stealing. It's their fault," one Japanese paper quoted a witness hearing, and that he claimed the studio had stolen his novel.
When he was apprehended, he was carrying a backpack with a hammer and knives. He has yet to be formally questioned, as police are waiting for him to recover from the injuries he sustained from the fire himself.
Local media claim he suffers from mental health issues, and that he served a three-and-a-half year prison sentence in 2012 for robbing a convenience store with a knife for $200.
It was also revealed he never worked for the studio.
Many of the victims were found dead on a collapsed stairwell, where investigators believe they had been trying to escape to the roof.
Most of the victims were women, as the studio was renowned for its strong record of hiring female staff.
Founded in 1981, Kyoto Animation — or KyoAni for short — is one of Japan's most beloved studios, producing animated films and shows, as well as novels and comics.
Among it's most famous works are the "K-On!" manga series, and "Violet Evergarden" which Netflix picked up last year..
Kyoto Animation president Hideaki Hatta revealed the company had received threats through the mail previously, which were passed to police.
"I am deeply heartbroken. I can't bear it. I never even in my dreams would have thought such a large disaster would happen," he said. "This is a serious blow to our company and our industry. Every one of them was an excellent and wonderful colleague."
As well as the 33 killed and 36 injured, he revealed that all of the company's past animation materials and computers housed there had been destroyed.