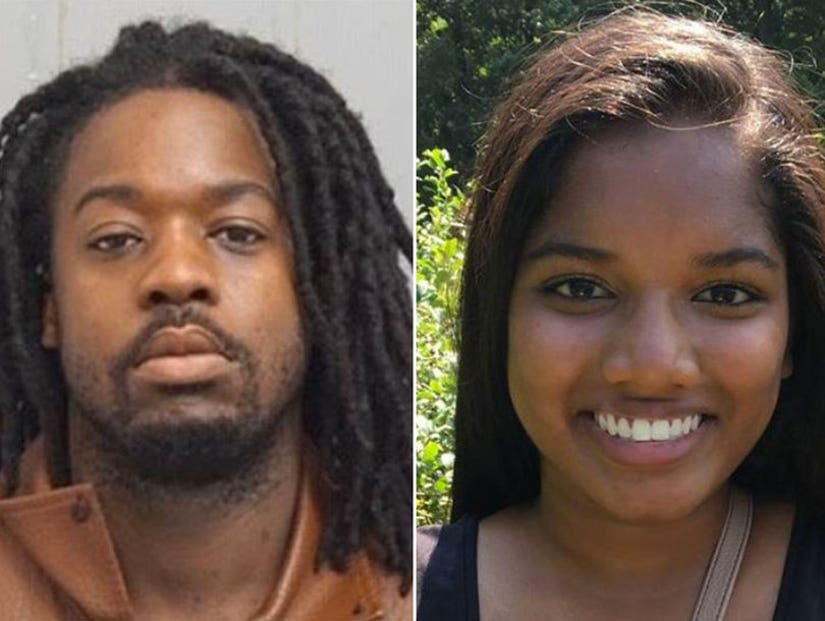 UIC PD / Facebook
He admitted sexually assaulting her unconscious body.
A Chicago teenager was strangled to death after she ignored her killer's catcalls, prosecutors say.
Donald Thurman, 26, has been charged with the murder of 19-year-old University of Illinois at Chicago student Ruth George, whose body was found in a parking garage on Saturday.
The honor roll pupil was returning to campus from a student event with a friend in a Lyft in the early hours of Saturday morning; her friend walked back to the dorm while the victim headed to retrieve her car from the parking structure.
Walking past the CTA Blue Line station, she was spotted by Thurman "who thought she was pretty" and tried to talk to her, but she ignored him, prosecutors said.
He followed her to the carpark and catcalled at her, but she continued to ignore him; which made him angry; that's when he came up from behind and grabbed her in a chokehold, authorities said, according to the Chicago Sun-Times.
They both fell to the ground; he opened her back door and with his arm still around her neck, he threw her unconscious body onto the back seat.
He then pulled down her pants and underwear, and orally and digitally sexually assaulted her.
He then put on a condom; he later claimed he did not penetrate her. However he did remove the condom and left it on the floor of the car; his semen was found inside.
Some 35 minutes after he was seen entering the garage on CCTV, he was recorded running out of it.
Ruth's family became concerned when she didn't return; following her cellphone ping to the garage, they found her dead body face-down in the backseat of her car, her clothes still pulled down and torn.
Thurman was arrested and charged with first degree murder.
During police interviews, Assistant State's Attorney James Murphy said Turman admitted choking the victim from behind, and then licking and digitally penetrating her vagina while she was unconscious.
He denied having sexual intercourse with her, but said he "knew that his DNA would be all over the scene."
At the time of the attack, Thurman was on parole for a 2016 conviction for armed robbery; he was released in December 2018 after serving two years of a six-year sentence.
"Ruth lived out her deep faith in Jesus by loving and serving others, leaving a legacy of Christ-centered kindness and sacrifice," Ruth's family said in a statement. "She was the beloved baby of our family."
"We grieve with hope. We hold no hatred towards the perpetrator, but our hope is no other girl would be harmed in this way and for a mother to never experience this type of heartache."
Thurman is being held without bail, and is set to reappear in court on December 16.