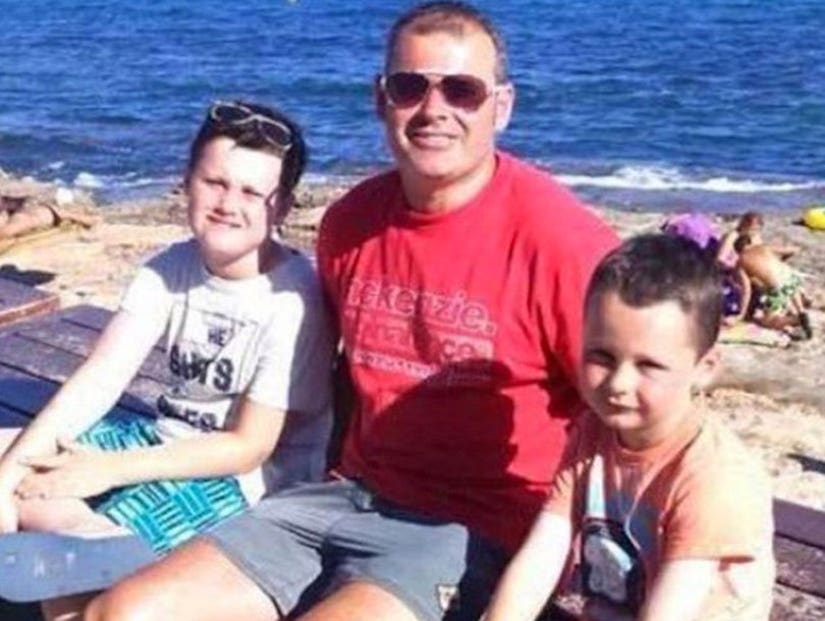 Facebook
The brothers were found in bed, holding hands.
A UK lottery winner killed his sons and then himself after his wife confronted him about spending on prostitutes, an inquest has heard.
David Stokes stabbed his wife Sally during a five-hour hostage stand-off with police before turning the knife on himself.
She managed to escape; but their two boys — 11-year-old Adam and five-year-old Matthew — were subsequently found dead in bed, holding hands.
An ongoing inquest into the deaths in the UK heard how Stokes had won £40,000 ($51,000) in the lottery, and had spent much of the winnings on a car and shares.
But on November 1, 2016, Sally found a phone hidden in a kitchen cupboard, which contained a notification about an escort booking, Metro reported.
Looking through it, she also found search history related to date rape drugs, which sparked a memory of her feeling spaced out after a Halloween party.
She confronted him about it before going to speak to his relatives, leaving their boys with him.
When she returned, she said he calmly offered her a cup of tea and she went upstairs to get changed. That's when he hit her over the head with a rolling pin and tried to smother her with a pillow.
"I felt him hit me over the back of the head," she said, per The Mirror. "I fell on the bed. He put a pillow over my head and tried to suffocate me."
"I wriggled and was screaming for Adam because I thought he was the only person who could help me. I ended up by the side of the bed. He was standing there with a rolling pin. He looked evil. I thought at that moment I was going to die."
He told her that he had given the children to someone and that they were safe, but they would be harmed if he didn't send a coded text message.
What she didn't know at the time was her two sons were lying dead on Matthew's bed, under a duvet, holding hands. The last time they were seen alive was on a video they made on their iPad at 7pm that night.
The couple had been married since 2011, but their relationship had deteriorated, the court heard.
Recounting the chilling night, Sally said David ordered her to put her engagement and wedding rings back on and tried to force her to bind her own wrists and ankles with cable ties.
"I refused. I went into survival mode. I knew if I did that I was going to die," she said.
She managed to briefly escape the house by hitting him with the rolling pin and fleeing into the back garden, screaming for help.
But he caught her and slammed her head against a wall, before dragging her back inside.
"When I was outside I was screaming, saying his name, I just hoped someone would hear and realize it was us," she said.
Someone did hear and called the police, they arrived around 9pm at the start of what would become a five-hour stand-off.
Stokes warned negotiators over the phone he was armed with a gun, as was the person holding his children hostage.
He then brought Sally upstairs and knifed her in the back.
"I felt a bump in my back, then I felt warmth. I put my hand there and realized I had been stabbed," she said. "I looked at him and said his name. The look on his face was like satisfaction, as if he had kind of won. I will never, ever forget that."
She finally managed to escape at 2am. When police entered the house, they found Stokes dead in his bed with a kitchen knife in his chest.
Sally suffered internal bleeding and a punctured lung, but survived. She didn't find out her kids were dead until the following day.
The inquest has yet to hear how the boys were killed.
Police found a suicide note in the garden shed in which David claimed he had fallen back in love with his wife.
"Sal, I'm so sorry for all the things I've done and hurt you. But this last week you have had me completely and totally in love with you," it read.
"You pushed too much. If you had left it, we could have been happy forever."
"I love Adam and Matthew and we will all be together again soon."
In her testimony, Sally said David had a temper, but had never laid a hand on her or the kids before.