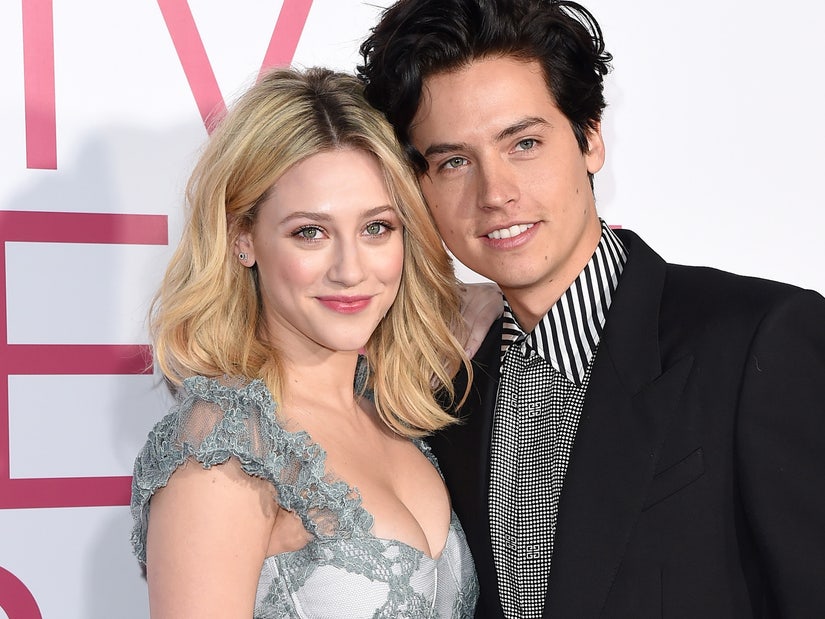 Getty
Breaking up is hard to do, especially when you're on a TV show together!
Most people aim to avoid their ex at all costs after a breakup but for some former celebrity couples, that's impossible to do!
With many of these famous duos meeting on the set of a movie or television project, there's a good chance they'll be forced to work together even after an unfortunate moment in their relationship. No matter what's going on in their private lives, these celebs have to keep it professional for the sake of their job and their co-stars.
Despite missing the opportunity for a clean break with their ex, the famous faces on this list have put their best foot forward while getting back to work.
Read on to find out which famous couples still had to work together after their split.
1. Lili Reinhart & Cole Sprouse
"Riverdale" co-stars Lili Reinhart and Cole Sprouse were a couple on and off screen after meeting on the show's set. Rumors about the duo's relationship began in February 2017 but they didn't make things red carpet official until the following year. Throughout their two years of dating things were reportedly on and off, with the pair separating in January 2020 and then officially calling it quits in March.
"Lili and I initially separated in January of this year, deciding to more permanently split in March. What an incredible experience I had, I'll always feel lucky and cherish that I had the chance to fall in love. I wish her nothing but the utmost love and happiness moving forward," Cole wrote on his Instagram.
The duo will continue to star on "Riverdale" together.
2. Kristen Stewart & Robert Pattinson
Kristen Stewart and Robert Pattinson began dating after meeting on the "Twilight" set in 2008. Their high-profile romance was highly speculated about for years but the couple didn't often directly address their romance. Then in 2011, rumors began swirling that Kristen was having an affair with the married director of "Snow White and the Huntsman," Rupert Sanders.
After the scandal, Kristen and Robert reunited to promote "The Twilight Saga: Breaking Dawn." Despite the reconciliation, they ultimately split several months later.
3. Joey King & Jacob Elordi
"The Kissing Booth" stars Joey King and Jacob Elordi began dating after meeting on the set of the Netflix movie in early 2017.
The couple dated for over a year but called it quits sometime after the release of "The Kissing Booth," which was met with major success. Then in 2019, Netflix announced the film would be getting two sequels, which meant that Joey and Jacob would have to reprise their roles as an on-screen couple. Joey says the experience was "crazy" but it helped her grow.
"I know what everyone wants to know, of course. And yeah, it was crazy. It was a wild experience, but honestly, it was a really beautiful time because I learned a lot about myself and I grew as an actor, I grew as a person," Joey said on "Mood with Lauren Elizabeth."
4. Kaley Cuoco & Johnny Galecki
Kaley Cuoco and Johnny Galecki began dating during the early days of their show, "The Big Bang Theory," but called it quits by 2010. The couple continued to play an on screen couple, with their characters eventually tying the knot, and credited their friendship for their successful working relationship.
"Massive doses of mutual love and respect, mostly. It's not easy but with those two ingredients, pretty much anything is possible. We're dear, dear friends," Johnny said on The View.
5. Blake Lively & Penn Badgley
Blake Lively and Penn Badgley began dating in 2007 after meeting on the set of "Gossip Girl." While they split as an off screen couple in 2010, the show lasted another two years, where they had to play an on screen couple. It turns out, the duo had split because they decided that it was too difficult to be in a relationship on TV and in real life.
"We were constantly professional, to be honest, and we should both pat ourselves on the back because anything is complicated in that way…and we handled it," Penn said on "Watch What Happens Live."
6. Ian Somerhalder & Nina Dobrev
Ian Somerhalder and Nina Dobrev were a couple on and off screen while starring on "The Vampire Diaries." When the duo split after three years together in 2013, they continued to play love interests on the show. They even remained friends off screen! Ian eventually tied the knot with Nina's friend Nikki Reed and the former couple remained close.
"I don't think that's weird at all. I think that's great. I think, 'Why can't everyone be friends?' I think that they have a beautiful baby, and they are happy and so am I, and what's bad about that? I don't see any problem with that," Nina said on "What What Happens Live."
7. Rachel Bilson & Adam Brody
Rachel Bilson and Adam Brody began dating after meeting on the set of "The O.C." and stayed together for three years. Despite their split, they still had to play an on screen couple, with their characters tying the knot by the end of the series.
Many years later, Rachel jokingly apologized for the breakup in the comment section of an InStyle post that said that the couple's breakup broke them.
"IM SORRY!!!! He fared really well!" Rachel replied, referencing Adam's marriage to Leighton Meester.
8. Cameron Diaz & Justin Timberlake
Cameron Diaz and Justin Timberlake dated from 2003 to 2007 before splitting. The former couple then went on to star in "Bad Teacher" together in 2011 but there were apparently no issues for the former lovebirds.
"Justin and I have always had a good laugh together, and to make a movie where we get to have a laugh together. There really was no one else who was more perfect for this part," Cameron told Us Weekly at the time.
9. Katie Holmes & Joshua Jackson
Katie Holmes and Joshua Jackson quietly dated after meeting on the set of "Dawson's Creek." While neither Katie nor Joshua have spoken extensively about the relationship, it reportedly fizzled out before the series ended.
10. Jennifer Lawrence & Nicholas Hoult
Jennifer Lawrence and Nicholas Hoult first met while filming "X-Men: Days of Future Past" together in 2011. They went on to date for several years before splitting in August 2014. The former couple still had to film "X-Men: Apocalypse" together the following year.
11. Amanda Seyfried & Dominic Cooper
Amanda Seyfried and Dominic Cooper met while filming "Mamma Mia!" in 2008 and dated for three years before splitting in 2011. Then in 2018, the former couple reunited to reprise their roles in "Mamma Mia! Here We Go Again." By that time, Amanda had married Thomas Sadoski and Dominic was dating Ruth Negga.
12. Jennifer Garner & Michael Vartan
Jennifer Garner and Michael Vartan met on the set of "Alias" and began dating after Jennifer's split with Scott Foley in 2004. They didn't date for long, but they did continue to work together on the show. Before the series wrapped, Jennifer was engaged to Ben Affleck.
"Jennifer and I were best friends first, during [the romance] and after," Michael told USA Today.
13. Sophia Bush & Chad Michael Murray
Sophia Bush and her "One Tree Hill" co-star Chad Michael Murray met on the show's set in 2003 and were engaged a year later. The former couple tied the knot in 2005 but their marriage only lasted five months. The duo had to work together until Chad left the show in 2009. Years later, Sophia said the experience was not a fond one for her and she felt pressured to marry Chad.
"It was not a thing I actually really wanted to do, but you know, it's cool...How do you let everybody down, and how do you — what's the fight? And when you have bosses telling you that you're the only person who gets a person to work on time, and 200 people either get to see their kids at night or they don't because our days start on time," Sophia said on "Radio Andy."
14. Jennifer Lopez & Marc Anthony
Jennifer Lopez and Marc Anthony tied the knot in 2004 and welcomed their twins Max and Emme four years later. Despite some beautiful duets along the way, the couple unfortunately called it quits in 2011. This didn't stop them from working together professionally though, with Marc helping Jennifer on her Spanish album.
"At first I was like, we're good with the kids, but if we start working together, are we going to start going at each other again? But it's been awesome. Honestly, I think it's even helped our relationship and it's made things even better," Jennifer said on "Live With Kelly."
15. Nikki Reed & Paul McDonald
Nikki Reed met future husband Paul McDonald on the "Red Riding Hood" red carpet while he was a contestant on "American Idol." The couple began dating a month later and were married by the end of the year. Throughout their relationship the couple collaborated on music and when they announced their split in 2014, they were still working on their album "I'm Not Falling." The duo continued to work on their music, releasing the album later that year.