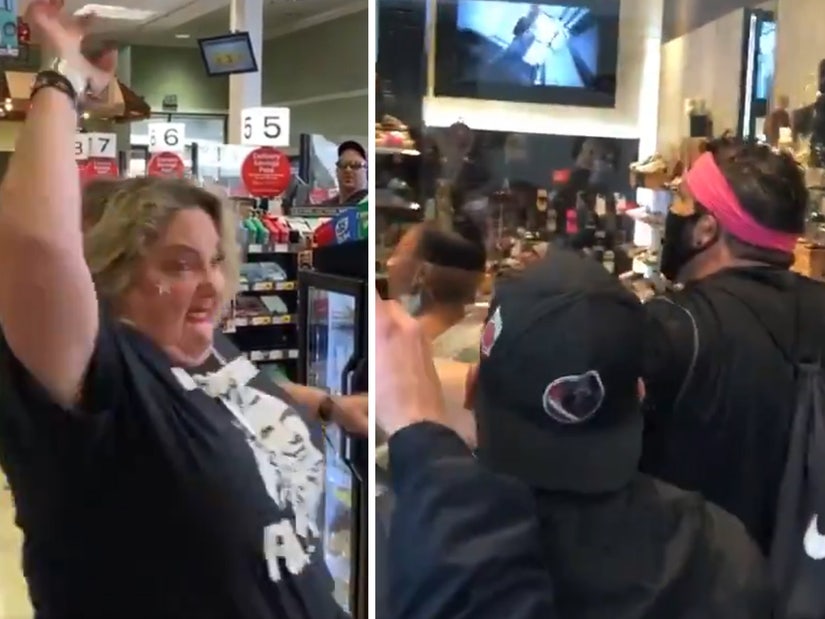 Twitter
They claim to have a right not to wear masks on private property "because I'm American."
A group of anti-mask protesters caused havoc in a number of stores in Los Angeles over the weekend.
The group stormed a Ralph's in Century City before moving onto the Westfield Mall, trying to force their way into shops, shouting obscenities and goading customers into confrontations — sometimes successfully.
Videos posted on social media show the dozens-strong group parading through the grocery store, refusing to wear face coverings; one woman accused a shopper of hitting her, before chasing him down with a shopping cart and trying to ram him, and calling on her followers to avenge her.
A violent altercation broke out between a protester and a customer. Didn't see see the inciting incident. She claims that the customer hit her; in response, she tries to ram him with a shopping cart and shout at him. pic.twitter.com/nR3whF8ImC

— Samuel Braslow (@SamBraslow) January 4, 2021 @SamBraslow
She appears to cough at him, continuing to chase him around the store, screaming: "Someone hit him!" She attempts to claw his face and kick him, demanding as he leaves to the parking lot: "Somebody take care of him out there, come on patriots! Show him what's up."
"Go to China — this is America, you cannot tell us what to do," another woman in the group shouts after being challenged.
Another protester insists he's not wearing a mask "because I tested negative," calling those who are, "mask Nazis".
The group then moved on to Bloomingdales at Century City Mall; witnesses said LAPD officers eventually showed up but for the most part did not intervene.
Videos show the protesters carrying signs and chanting "no more masks" and "f--k Communist China", while many of the stores attempted to close their doors or block access. A scuffle broke out at the door of the Steve Madden store as the group attempted to force its way inside.
When asked by bystanders why they believe they have a right to enter private property and ignore the mandates, one protester is heard replying "because I'm American."
At one point, one incensed shopper — who claimed she was a doctor — screamed at the protesters that her father was in the hospital with Covid; their reply: "A lot of people are. People die, that's life. Your father's not special."
One of the more intense moments was when a woman who said she's a doctor shouted at the anti-maskers from behind a makeshift barricade. "My mother is in the hospital with COVID," she said. "People die. That's life. Your father's not special," an anti-masker replies. pic.twitter.com/HU53xMc05j

— Emily Holshouser (@emilyytayylor) January 4, 2021 @emilyytayylor
Per the LA Times, a police spokesperson could not confirm if there were any arrests.
To date Los Angeles County alone has recorded 819k cases of COVID-19, and 10,733 deaths.