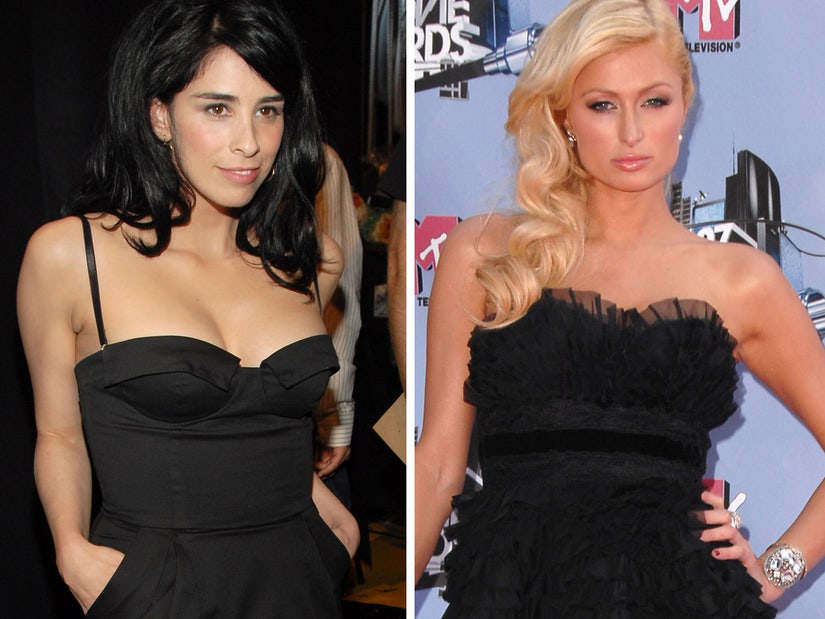 Getty
"I hope that you feel my remorse. I felt it the second I saw your face that night," Silverman said.
UPDATE 3/4/2021 9:22 PM PT
After Sarah Silverman's apology for taking potshots at Paris Hilton at the 2007 MTV Movie Awards on her own podcast, Paris Hilton presented a special episode of her "This Is Paris" podcast to share how "shocked" she was to receive it.
She also confirmed that she never received the letter Silverman said she sent immediately after the show, though she believes it would have meant a lot to her at the time. Nor was she looking for any apology in opening up about the incident again.
"I was not expecting an apology. I wasn't asking for one, that was just my sister, you know, being very protective and wanting an apology," said Paris, referring to her sister Nicky. "So, yeah, I was very shocked when I got it."
She also said she was touched to hear about Silverman's immediate reaction in the moment upon seeing Hilton's face in the audience, admitting she "got a little teary eyed" at it, saying "that's actually really sweet."
She certainly appeared to take Silverman's words to heart, saying, "I really just appreciate it so much, and I'm glad that her comedy has grown and she realizes that it's not nice to make fun of people. And I think everyone learns that in life."
Paris went on to say that she believes Silverman is "hilarious" and has "always been a big fan."
"Well, before that moment," she qualified, saying that she's always thought Silverman funny, just "not when she's making fun of people. I think she's just funny when she's just being her funny self."
In Silverman's apology, she suggested that she imagines Hilton can relate to screwing up like that, and very publicly. Hilton quickly agreed, saying, "I know where she's coming from, because just like everyone, you know, we've all said things in our past that we felt bad about, we later regretted. And just, I don't know, I think everyone is guilty of doing that."
And to Silverman directly, Hilton said, "Thank you so much for your apology, it means so much to me."
ORIGINAL STORY 3/4/2021 10:16 AM PT
Sarah Silverman is the first one to admit her jokes at Paris Hilton's expense during the 2007 MTV Movie Awards crossed the line -- and is now apologizing very publicly for hurting her feelings
Earlier this week, Hilton called out Silverman's comedy on her "This Is Paris" podcast, saying her joke at the time was "so disgusting and so cruel and mean." During the show, which was filmed the night Hilton turned herself into jail to serve time for a probation violation, Silverman cracked, "I heard that to make her feel comfortable in prison, the guards are going to paint the bars to look like penises. I just worry that she's gonna break her teeth on those things."
Both Paris and her sister Nicky said that a joke like that wouldn't fly now -- and Silverman, on her own podcast today, agreed wholeheartedly.
"I'm gonna talk about Paris Hilton. Paris Hilton, on her latest podcast, calls me out for jokes I did about her when I hosted the 2007 MTV Movie Awards," she said at the top of her show on Thursday. "Here we go ... you know, as she said herself on the podcast, this would never happen today and she's right, I wouldn't. I would never do those jokes today."
"I've actually dedicated the past several years trying to do comedy that attempts to marry hard hitting jokes with actual heart," she continued. "Back then, the consensus seemed to be that was not possible and I fully accepted that. I came up in a time when talk show hosts and comedians hired to make fun of pop culture were roasting the biggest celebrities and pop culture icons at the time and nobody was bigger than Paris Hilton."
"So here we are in an awakened world and I am totally into it, it's how we grow, it's how we change," said Silverman. "I'm super down with reflecting on the past and my part in perpetuating real ugly shit. And yes, we can continue to litigate the past, but I do believe that maybe that should be coupled with taking into account any growth that has come with those passing years."
Silverman admitted she has a lot to be sorry for about her past comedy and she promised to apologize for anything she genuinely felt bad about. This was one of those times. "I have lived too long to not have f----ed up a lot, and publicly," she added, "I bet even Paris Hilton could maybe relate to that."
She then looked back at the night itself, setting up the scene for anyone who maybe didn't remember what happened nearly 15 years ago. Silverman explained she didn't know Hilton would be in the audience and had no idea Paris would be going straight to jail from the event. She admitted her joke was "not nice, not nice and all" -- despite the crowd going "bananas."
"While I was thrilled at the success of my monologue, I remember spotting her in the audience, I really do, and I remember seeing that look on her face and my heart sank," Silverman recalled. "There was a person under there. A couple days later I wrote her a letter apologizing, felt awful and I never heard back, I certainly wouldn't expect to anyways."
Silverman said it bummed her out learning that Hilton never got the letter, "because I really meant it." She added, "I regretted the jokes not years later, but kind of immediately. Here I am, 14 years later, telling you, Paris, that I am really sorry. I was then and I am, much more completely and with far more understanding I think, now."
"I can't imagine what you were going through at the time," she continued. "My understanding of humanity through the lens of my work as a comedian had not yet merged and I'm sorry I hurt you. Comedy is not evergreen. We can't change the past, so what's crucial is that we change with the times."
She added that she hoped Hilton would accept her apology and felt her remorse.
"I felt it the second I saw your face that night," she said. "It feels terrible to know you have hurt someone and it's important to make it right. I hope this does that."