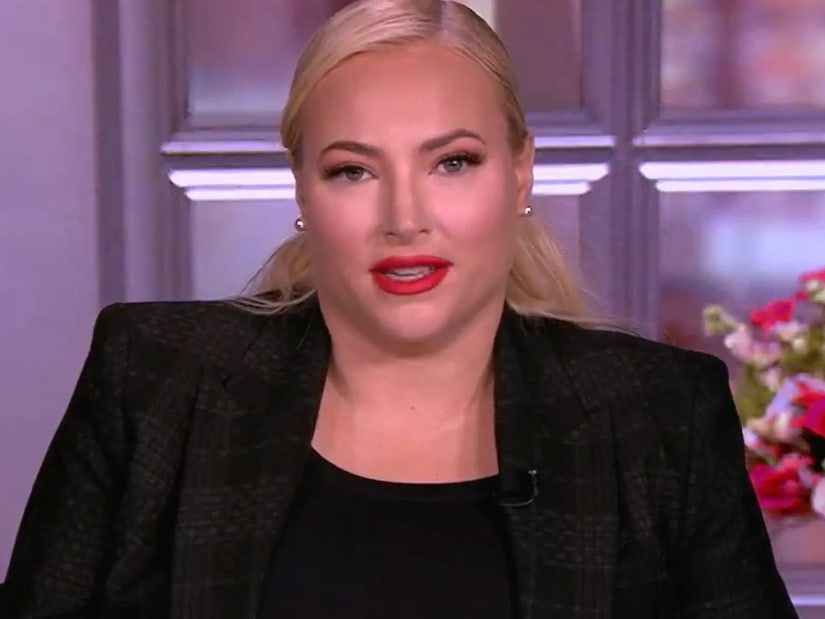 ABC
"This was not an easy decision."
The cohost announced the news during Thursday's show, though she'll remain on until the end of July. Her decision comes a little more than nine months after she gave birth to her first child, daughter Liberty, with husband Ben Domenech.
"I am just gonna rip the bandaid off, I am here to tell all of you -- my beautiful cohosts and viewers at home -- that this is going to be my last season here at the 'The View,'" McCain said at the top of Thursday's episode. "This was not an easy decision. It took a lot of thought counsel and prayer and talking to my family and close friends. COVID has changed the world for all of us. And it changed the way, at least for me, the way I'm looking at life, the way I'm living my life, the way I want my life to look like."
Those changes included a move from NYC, where the show films, to Washington D.C.
"When I said goodbye to all of you in the studio, I found out I was pregnant," Meghan continued. "I left the city very quickly ... I came to the D.C. area ... and we have this incredible life here. We're surrounded by this incredible support unit. And as any new mom knows, when I think about where I want Liberty to have her first steps, I have a really wonderful life here."
She went on to praise her cohosts, calling them "strong, brilliant, intelligent broadcasters" and "the most talented women in all of television" -- and saying the job itself was one of "greatest, most wonderful privileges of my life." After noting her father, the late John McCain, pushed her to join the series despite her initial hesitations, Whoopi Goldberg added, "It has been quite wonderful to sit across from you, your dad was very smart."
Behar also thanked former cohost Abby Huntsman for helping guide her through this decision, and everyone on the crew of the show, as well as ABC News president Kim Godwin for being "so respectful and understanding" of her decision.
"I will still be here another month, so if you guys want to fight a little bit more, we got four more weeks," she concluded, getting a laugh out of all her cohosts.
Sunny Hostin said that Meghan's father said they would all come to love her, but warned she could be a "pain in the ass." With a laughs, she added, "And he was right about all those things" while saying the two talk all the time and have a great relationship.
Sara Haines also said it's been an "honor" to work with McCain, who she went on to call "tough."
Joy Behar pointed out their "disagreements" and "fights" over the years, but also brought up their "drinking moments" that were "fun and interesting."
She added, "You and I have in common, as do all of us here, we're on a show where we stick our necks out, we take the blowback, we take a lot of hits on this show and we stick by our points of view and you have done that brilliantly for four years. I hope you can say that I did the same thing. I really appreciated that you were a formidable opponent in many ways and that you've spoke your mind and you're no snowflake, missy."
In her closing statement, McCain also said that "The media needs to do a better job of covering the women on this show in general."
"As Joy pointed out, it's not a fair fight. We're covered with deep misogyny and sexism by the media. If 5 men were doing what we do every day, I believe we would have a Pulitzer Prize at this point and it's always reduced to really reductive coverage."
"No one wants to watch five men do this ... no one cares!" joked Joy.
McCain first joined the show as a permanent cohost in October 2017, following the exit of fellow conservative Jedediah Bila. A year into her tenure, her father died following a battle with brain cancer.
While "The View" is known for its on-air spats between the cohosts, McCain was at the center of more than a few with the other women -- especially Joy Behar. The two often butted heads over politics, with McCain often standing up for or explaining Republicans, while Behar was strictly Democrat.
Back in May, TMZ reported that ABC News President Kim Godwin had to call a meeting with on-air talent and producers over the televised blowups, in a move to try and "improve the culture behind the scenes at the show." Godwin reportedly felt the arguments were getting too personal and came off as "toxic" to the audience. McCain allegedly stormed out of the meeting, feeling like she was being "attacked."