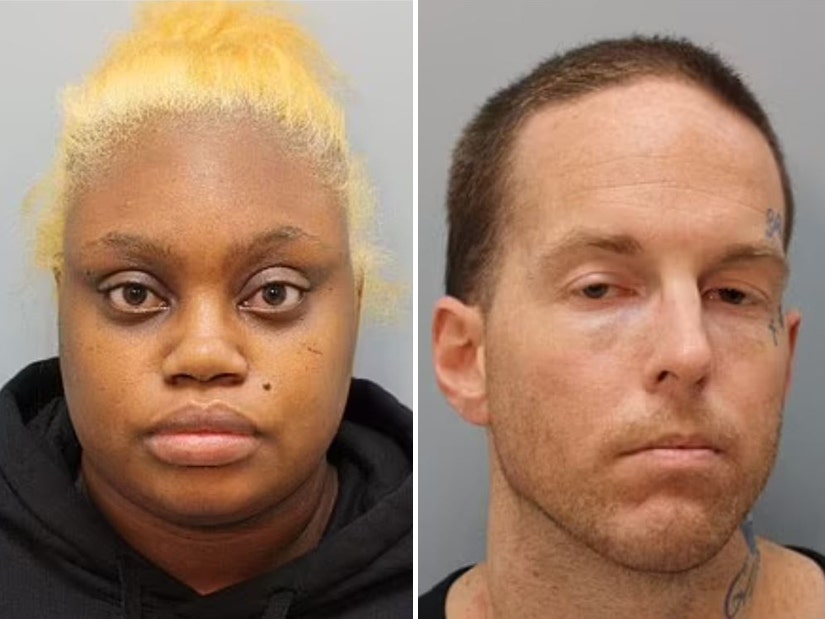 Harris County Sheriff's Office
"I checked on them every two weeks."
update 10/29/2021 7:00 AM
Gloria Williams has given a jailhouse interview, in which she now claims she didn't know her son was dead.
Speaking from Harris County jail, she told KHOU11 "I'm sorry. I didn't do it."
When asked if she knew her 8-year-old son Kendrick Lee was dead, she replied "No." This contradicts what investigators say she told them; they say she admitted she knew her boyfriend had beaten him to death in November of last year, and that she didn't raise the alarm because he told her not to. She is accused of altering, destroying and concealing the body to get rid of evidence.
When asked why she abandoned the children, she insisted: "I checked on them every two weeks."
She didn't elaborate as to why she didn't notice her son's decomposing body during her bi-weekly visits.
KHOU also spoke to one of the children's paternal grandmothers, Melody Robinson, who said she had no idea what was going inside the Houston apartment.
She said Williams has six children in total, ranging in age from 7 to 17. Robinson has custody of one, a 13-year-old girl, who she says Williams brought to her at just 2 weeks old.
"Her mom was very unstable, she was sleeping on the floor at her grandmother's house with the babies and so I just asked her to give her to me," Robinson said.
She said the last time she saw Williams was in November of last year, which was when police believe Kendrick was killed. Robinson said that at the the time, Williams' eldest child, a 17-year-old girl, came to her and asked to live with her because of her mother's boyfriend's behavior.
"She just got tired seeing him abuse her siblings and when she stepped in to try and protect them, she put her out," Robinson said.
update 10/27/2021 2:05 pm
The fate of the child killed and left to rot in a Houston apartment has been described in horrific detail by his surviving siblings.
According to court documents read out during a probable cause hearing on Wednesday, the 7 and 10-year-olds witnessed Brian Coulter beat their 8-year-old brother to death in November of 2020.
One of the boys said he was in the room and watched Coulter punch and kick the child in the face, feet, buttocks, back, legs and testicles, and continued to do so after he stopped moving. He said Coulter then laid the child on the floor and put a cover over him.
The 7-year-old also described the attack, saying his brothers eyes turned black and he "stopped blinking."
After seeing the body, the 10-year-old said his mother started crying and began arguing with Coulter because he "had killed his younger brother."
He said Coulter came back another day to "check on his younger brother, and found that "body, feet and teeth had turned into a skeleton" and that "his hair was off."
The youngest brother said that there "was roaches everywhere on him."
The ten-year-old said Coulter frequently beat him as well, to the point where his face would swell. He said that whenever Coulter drank beer or alcohol, he would "become very strong."
Doctors discovered this week the 10-year-old needed surgery for an injury to his jaw that was never treated. He said he sustained it when Coulter struck him three weeks earlier.
Williams claimed to police she tried to stop the assault; she said Coulter told her he was sorry, that he had "lost it and had punched him, and had continued punching him until he went to sleep."
She admitted she knew her son had died in November, but didn't tell police because Coulter told her not to. She said she was afraid the children would be taken by Child Protective Services, and that she would go to jail.
According to ABC13, when the couple were arrested Tuesday evening, they were at a public library searching news articles about themselves.
"In my long time in working homicides... this one is up there. This one affected us," Sgt. Dennis Wolfford told a press conference.
He described the victims as "special needs children", noting that at least two of them appear to have autism.
Despite the horrific abuse they endured, he said they were "very sweet children."
"Very nice. Very well spoken... at the same time, that thousand yard stare, that blankness in the eyes," Wolfford said. "At the same time they were as sweet as you can be. Nice children."
Wolfford said the apartment was in deplorable condition, with no furniture, no bedding, soiled carpet, and cockroach and fly infestations. He did not say how well furnished the separate apartment the suspects lived in was.
He said he believed the two younger children were not allowed leave the apartment, and there was evidence they had been locked up.
The reason they left the apartment, he believed, was to distance themselves from the dead body, while leaving the children behind.
He said the children had two other siblings elsewhere, who did not live in the apartment. Of the ones who did, some had different fathers; one is believed to be deceased, while the other is not in the picture and has no contact his offspring.
Asked why he thought it took a year for the teen to seek help, Wolfford said "absolute fear", claiming the beatings were constant. He said the teen relied on his mother to do something about his dead bother, until he finally realized he had to do it himself.
Wolfford called Coulter a "classic child abuser." "He's an abuser physically, and she's an abuser by omission," he added.
He said there was no evidence Williams herself was being abused.
Coulter's bond was set at $1,000,000, while Williams was set at $900,000. They are to have no contact with the children, any other minor, or each other.
update 10/26/2021 9:55 pm
The mother of three children discovered living alone in an apartment with the remains of their brother for the past year was arrested on Tuesday along with her boyfriend, who has been charged with murder in the death of the child (who was 8 at the time of his passing).
Sheriff Ed Gonzalez affirmed the charge against 31-year-old Brian Coulter, as reported by Houston CBS affiliate KHOU-11, as well as charges against the children's mother, 35-year-old Gloria Williams.
Williams is facing charges of injury to a child by omission and tampering with evidence (human corpse), per the outlet. Gonzalez emphasized that there could be more charges as the investigation is ongoing. Coulter and Williams remain in custody.
After originally being questioned and released on Sunday night in relation to the case, they were arrested and charged after the child's death was ruled a homicide.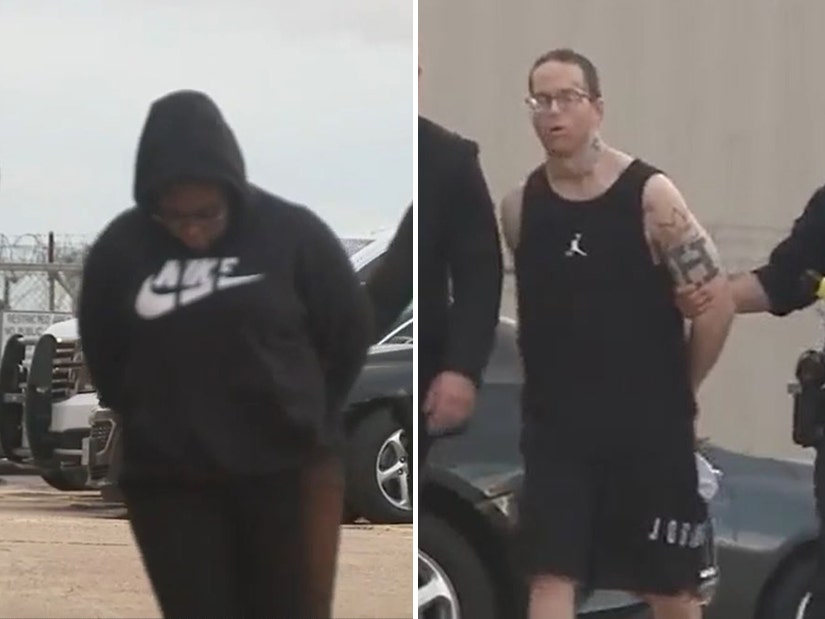 ABC13
update 10/26/2021 11:15 AM
The 9-year-old boy whose skeletal remains were found in a Houston apartment was killed, coroners have determined.
Harris County Medical Examiner's Office have ruled the death a homicide, after discovering multiple blunt force injuries to the long-decomposed body, Daily Mail reported.
"No charges have been filed by our investigators as of today," a spokesperson told the outlet. "The findings of the Institute of Forensic Science along with our investigation results will be presented to a prosecutor when applicable."
Meanwhile, neighbors have revealed they had been feeding the oldest child for months, never realizing three more children were inside — one of them dead over a year.
"The first time I saw him, he was sleeping on one of the slides," neighbor Erica Chapman told ABC13.
According to the broadcaster, the mother lived just 15 minutes away, but was rarely there, occasionally dropping off food.
"I noticed his mom a few times would come and park, and he would run down and grab Oodles of Noodles, chips and drinks, and run back up," Chapman said.
Realizing he wasn't getting enough food, Chapman said she began offering him food six months ago, but "he would not eat anything that you made — you had to buy it. It had to be a salad that was closed from the store, or a pizza. Fruits had to still be in a bag."
Another neighbor who also provided food, Trevor Thompson, confirmed this, saying the teen was paranoid about being poisoned.
"He wouldn't take cooked food; he would take fruit and snacks," Thompson said.
He first spoke to the boy when teen knocked on his door to ask to borrow a charger for a phone.
"A few times I noticed the lights weren't on, and it was quiet upstairs, so I figured there was trouble because the parents haven't been there in a while," Thompson said. "One day, he came here and knocked on the door and asked if he could use the charger, and we built a bond from there."
"I started offering him food because I knew he needed more than just a charger."
Thompson said he only realized there may be more children when he asked the boy if he liked a pizza he had previously given him, and the boy replied: "The first pizza that we had?"
"That kind of made me wonder, why would he say 'we'?" Thompson recalled.
Asked why she thought the boy never told anyone about his dead sibling, Chapman replied: "After finding out what happened yesterday, I think he was more nervous and scared. 'Are they going to blame me for this? Are my parents going to punish me for this?' Maybe his parents told him they would be separated if he told anyone."
Not realizing just how bad the situation was, neither neighbor ever thought to call the authorities.
"I didn't want to push him away by asking questions because I knew he was starving and needed food," Chapman said.
Before finally calling for help on Sunday, the teen reportedly texted his mother to tell her he couldn't take it anymore.
School authorities told ABC13 they had filed truancy papers against the mother after two of the children failed to turn up at school; they said the kids were last enrolled in school in May of 2020.
original story 10/25/2021 9:24 AM
Police in Houston have discovered three children living alone in an apartment with the decomposing remains of their 9-year-old brother.
The horrific find was made on Sunday afternoon at an apartment complex in Green Crest, when a teen boy called 911 to report that his sibling had been lying dead in the room next to his — for the past year.
When deputies arrived, they found the three children — aged 15, 10 and 7 — malnourished and showing signs of physical injury. On full display in one of the rooms they discovered the skeletal remains of a nine-year-old boy.
There were no adults to be found. Harris County Sheriff Ed Gonzalez said the children had been "abandoned, pretty much."
"It is believed the parents have not [lived] in the unit for several months," he said in a tweet.
Speaking to reporters at the scene, the Sheriff described it as "a very horrific set of circumstances," adding that the children had been "living in pretty deplorable conditions."
"Our hearts break for those three... I mean, they're still children. And for the one that has passed away," he said.
"At that age it appears they were caring, basically fending for each other, which is very sad."
He added: "I think the older sibling was basically doing the best he could to take care of the others."
Sheriff Gonzalez said it did not appear as though the children were locked into the apartment; he could not explain why it took the teen a year to report the death or seek help, adding he wasn't sure what access the children had to phones.
He said the body of the 9-year-old was not concealed.
"It appears the skeletal remains have been there for an extended period of time," he added. "Connecting all the dots at this point it seems they were in there while the body was deteriorating."
All three children were taken to hospital and treated. HCSO Homicide Unit, Child Abuse Unit, and Crime Scene Unit are all part of the investigation, while Child Protection Services were also summoned.
It is unclear if any of the children were enrolled in school.
On Monday morning, Sheriff Gonzalez posted an update on Twitter, revealing that the mother had been tracked down late on Sunday night.
"Mother and her boyfriend were located, interviewed and released," he wrote. "CPS is assisting with the children. Our investigation remains on-going. No charges have been filed."