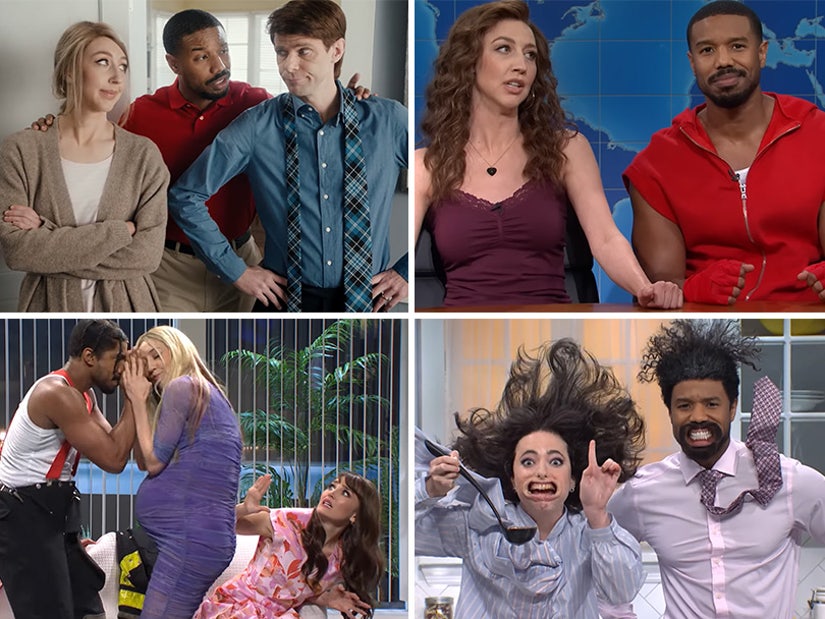 NBC
Creed shows up on "Weekend Update" as "SNL" takes shots at the classified documents scandal, Live Nation hearings -- and did we mention Michael strips?!
With his acting prowess, performance became the centerpiece of the night's most successful sketches, so perhaps it's no surprise that two of the strongest character performers stood out the most.
The night was also interesting in that it seemed to get stronger as it went along. Rather than front-load with their best sketches, they apparently back-loaded it. The cold open was easily the worst sketch of the night, which is becoming all too common, but at least it got better and better from there.
Also unlike last week's show, Michael didn't need any guest stars, random or otherwise, to have what turned out to be a pretty solid show. If you're watching it live, we say hang in there. Or you can just follow along with our rankings, knowing that we're building toward the best of the best.
As usual, we're ranking all the sketches from worst to first, including the Monologue, Cold Open, "Weekend Update" and any sketches that were cut for time but made their way online. We'll skip the musical guests, because they're not usually funny -- unless Ashlee Simpson shows up. We wrap up with a look at the cast-member who had the strongest week.
Cold Open: Classified Documents
Look, we'll give Mikey Day credit for trying to make a fun parody of Attorney General Merrick Garland, but perhaps he was too good at it because it just came across as boring. This press conference about searching presidents and vice-presidents homes for classified documents was livened up a bit with Ego Nwodim's no-nonsense response to the idea of Kamala Harris having anything, and Bowen Yang's fanboying over meeting Barack Obama. The best part, though, was Kenan Thompson's final word about Memphis. Alas, it wasn't enough to liven up a lackluster opener. Someone needs to remind "SNL" that it's not required to open the show with a political cold open. If the material isn't there, or the sketch isn't strong enough, you can open with anything at all! Just hook us and make us laugh!
A stupid ending, but up until then we enjoyed Michael B. Jordan's gruff voiceover artist taking the lead from Bowen Yang's over-the-top performance for a "Street Fighter" video game. Grunts and groans turn into little gasps and wails, or literal animal noises as it went along. When Bowen's character was asked to play it more "hetero," it got even more absurd and funnier. The ending fight could have worked if the choreography hadn't been so tight and terrible -- and you know Michael knows how to do this -- but what we got was stunted and awkward.
Monologue: Michael B. Jordan
Michael was a little flat in his delivery, but it was evident he was trying to shake off the live-show jitters and relax a little bit. He did acknowledge that he can take himself a little too seriously, so we appreciated the ladies of "SNL" helping him to loosen up by coming on to him very, very aggressively one by one. Heidi Gardner's dismissal of Chloe Fineman was hilarious, as was Punkie Johnson, who is gay, admitting that, "You're Michael B. Jordan and I'm Punkie Be Curious."
After the debacle that was holiday travel via Southwest Airlines, "SNL" waited an extra episode to offer up its mea culpa parody, which was brutal. There were some great new amenities offered, like making the customer use different colored luggage to fly to different destinations, and them holding down a few tables at Starbucks as their premiere lounge. The earnest delivery from all the speakers in this one really brought it home, with Heidi Gardner particularly strong at hitting just the right insincere a-hole apology tone.
In a rare case of the talk show setup adding to the fun, Kenan Thompson introduced this cooking segment host Francine by sharing that the previous day she'd been stuck on a roller coaster going 150 mph for 19 hours straight. That description alone was enough to pique curiosity. The reveal was Sarah Sherman with a "Speak Out" mouthpiece keeping her mouth open with windblown hair and even her shirt tie "flying." We'd have liked a little more trauma in the characterization, but playing it straight in obnoxiously weird circumstances is one of those things Sarah does better than anyone -- highlighted by the horror of watching her drink and eat. Props to the wardrobe, hair and makeup department for creating the stuff of nightmares with this look but it did drag on too long.
Another sketch with a bizarro ending that we weren't feeling, but everything up to that point was pretty fun. Of course, Michael B. Jordan is a godsend as a stripper -- with the audience fully on board with where they were hoping it was going. He and Heidi Gardner continued a run of strong chemistry throughout the night with her stepping in as his overly pregnant wife. The premise alone is funny enough because what's going to kill the fantasy of a bachelorette stripper experience than his preggo wife charging her phone in the corner and cheering on her man. The problem with the ending was that it was out of character for all four ladies at the bachelorette party; up to that point, we were enjoying all of their reactions to the craziness (even Sarah Sherman's usual overacting).
A great pairing of Michael B. Jordan as a water delivery guy who crashes Andrew Dismukes teaching a group of men all about male confidence. When he rudely dismisses Michael, it's all downhill from there. The premise is as simple as Michael having all the confidence that Andrew is faking, taking him down with one random criticism, "Forehead." Michael killed this performance, playing it aggressive and straight, while Andrew's fake confident buffoon was the perfect counterpart. The attendees were various shades of pathetic in an incel sort of way, but Andrew and Michael definitely stole this one.
This sketch almost felt like a trial run for possible recurring characters -- something this cast seems to have resisted creating, We also like that it paired the longest-tenured cast member in Kenan Thompson with newcomer Marcello Hernandez. The premise was simple enough, with their towel attendants at a swanky resort in the Dominican Republic interacting with tourists. These exchanges were all cute in their own way, but it was the characterizations by Kenan and Marcello that really worked. There was a joyousness in their personas. We do have to ask, though, was that supposed to be a Dominican accent on Michael B. Jordan? It was a cross between Spanish and British that pulled us right out of the fiction.
A very smooth opening segment with some funny jokes about Jimmy Carter's response to classified documents being found in the homes of Pence, Trump and Biden, as well as a particularly harsh jab at Swifties over the Live Nation hearings -- that got the loudest audience reaction -- and the Pope declaring homosexuality not a crime.
This kind of reminded us of Bill Hader's Stefon in that it genuinely seemed like Michael Che just wasn't sure what Kenan Thompson as his new doorman Carl was going to say next. Kenan was having fun spilling the beans about Che's wild life, and all the people (and animals) that dropped by to see him. Our favorite was Cornelius, who dropped a shoe off each night at the front desk for Che with the message if he wants the other one to meet him under a bridge. It's this kind of randomness we didn't realize we'd been missing from our "Update" experience.
The boys were even stronger in their second segment, with Che getting a lot of groans (which he receives joyously) from the audience. He got particularly strong reactions from his Kanye West joke in relation to the AI chat letting people talk with Jesus and Hitler, as well as bits about TikTok in Texas (with an abortion twist), and the meteorite found in Antarctica.
It's been a while since we've seen Heidi Gardner's take on every boxer's girlfriend from every boxer movie, or Angel. It was nice that she didn't devolve into various ways to say she was taking the kids to her sister's, but instead took an ill-informed shot at Adonis Creed being in the building (she's seen the ads promoting his big fight with tonight's musical guest Lil Baby). Michael B. Jordan then slid in as Creed and the two shared some very nice banter. The jokes about her boyfriend Tommy's physical state were funnier than we remember, too. It was a nice variation on a familiar character -- and right after we teased the show for its lack of recurring characters.
Cheesy as hell, but sweet in its own way, this was another winning combination of Michael B. Jordan and Andrew Dismukes. The two play beautifully off of one another, elevating a ridiculously simplistic concept into comedic magic through the sheer force of their presence. Michael's seriousness in his portrayal and Andrew's snarky kindness were perfect together. It had to be so much fun filming this with Michael falling all over 30 Rock and Andrew reacting. Wonder if this was a real fear Michael (or someone) had that they expanded into this little gem?
It's the specificity of this fake Toyota ad that really makes it work. James Austin Johnson and Andrew Dismukes are totally believable as typical car salesmen making one of those very loud ads, but it's the addition of their new battle with Raising Cane's drive-thru line that really makes the piece work. Michael B. Jordan's in-and-out appearances as another aggressive salesman attempting to blackmail the chicken chain only adds to the charm of the piece. The magic is in the details of their plight, all delivered in that same shouty used car salesman voice.
A nice twist ending on this piece, but the real strength was in the performances by Michael B. Jordan as Jake from State Farm and Heidi Gardner and Mikey Day as the family that gets a new policy. Yes, we saw where it was going right away with Jake moving in to provide that 24/7 coverage, but the slow descent into horror film and madness was still beautiful. From the lighting to the minor key variant of the State Farm theme, every aspect of this perfectly captured the rising tension and fear until Mikey, as the husband and father, cracked.
First of all, we want to give props to James Austin Johnson for being allowed to step out from behind his killer impressions and embody original characters more than he ever has before this week. He was great in all of his appearances, proving himself a really versatile performer.
But this week was all about chemistry with the host. Two members of the cast absolutely stole the night by pairing perfectly with Michael B. Jordan, creating magic each time they were in a scene together.
Andrew Dismukes and Heidi Gardner were flawless throughout the night. Andrew had us dying with his bit seeing Michael fall down and squaring off against him in the male confidence seminar. It was a great night overall for Andrew, but he was overshadowed by one other player.
Heidi Gardner had one of the strongest nights of her tenure to date, killing it opposite Michael with roles like his pregnant stripper wife, every boxer's girlfriend, and the wife who gets a little too attached to Jake from State Farm. Add to that all the rest of her roles throughout the night, and it was a breakout night for one of the show's most consistently strong performers.
"Saturday Night Live" returns next week with host Pedro Pascal and musical guest Coldplay.