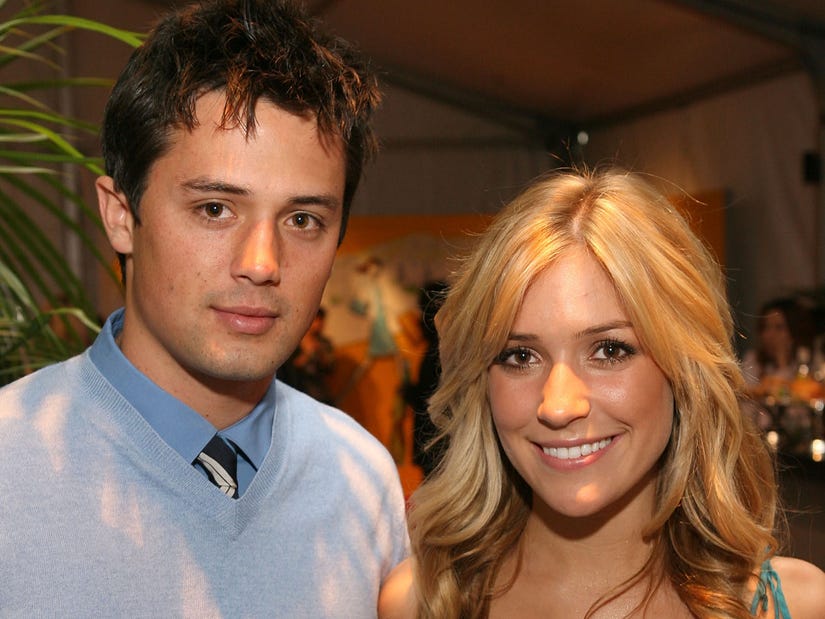 Getty
Though Cavallari copped to probably cheating with Talan, Colletti brought up a couple additional "instances."
In the new installment, the pair were talking about an episode from the MTV show's second season in which Kristin told a friend she could spot a cheater after cheating on Stephen herself while they were dating.
"I want to break down our relationship and the cheating thing. Because clearly Season 2, I go all in, I make it seem like I was cheating on you the whole time, I played you, this whole thing," said Cavallari. "Here's what I remember ... because I will own anything I did. I don't remember cheating on you."
"I know that we had talked about maybe I did with Talan [Torriero]," she continued. "I don't remember me actually cheating on you, but I will give that to you, because clearly I'm making it seem like I did. Other than Talan, I don't think I actually cheated on you with anybody else."
Cavallari said she wasn't even sure who she could have cheated with, as Stephen likely "would have found out" if it was anyone else from town. She also believed "part of me was me playing it up" the cheating thing because she thought it was a "cool" thing to do at the time.
"Maybe I cheated on you with Talan, but other than that, I really stand by I don't think I cheated on you with anybody else," she added, as Stephen exclaimed, "Wait, you cheated on me with Talan?"
"Well, I don't think that I did, but you do. And I'm assuming you remember it more accurately," she responded ... before Colletti started calling her out other times she stepped out on him.
"There's a couple of instances I do remember, and those guys' names were not Talan," said Stephen. "Then tell me, I am more than willing to own up to this right now, I have blacked it all out my memory," Cavallari replied.
He went on to name a coworker of hers she then copped to kissing, before he recalled another instance where he woke up after passing out in his car and walked into a party where she was "hooking up" with another guy. "We got in a huge fight!" said Colletti.
"Oh my god, I was a horrible human being," Kristin exclaimed, as Stephen said that second incident led to a huge confrontation where Cavallari's brother thought Colletti put his hands on her.
"He thought I hit you, which never happened," said Stephen, as Kristin added "Never." He said Kristin's brother then "clocks me in the face," leaving him with a bloody nose.
"I'm a horrible person. I'm so sorry. I'm appalled of the stuff that I did, honestly," Kristin told him, as he gave her some slack by adding, "The decision making for a lot of people at that age is very questionable."
"What the f--- man. I am sorry. I really am sorry. That is some crazy s---," she added. "I'm not proud of any of that, that's probably why I blacked it out of my memory."
On an earlier episode of the same podcast, Stephen also pushed back on speculation he ever cheated on Kristin with Lauren Conrad during the show's first season. He criticized the editing of the show for creating a timeline that didn't really exist.
"I had a huge problem with this because obviously they created this show around this love triangle and there's moments where you and I were broken up," he explained. "And they had learned about Lauren and I hooking up and being very good friends and, you know, obviously stuff happened at certain times, but at no point ever whenever we were together would I step out on you in that way."
Though Stephen admitted they were "definitely messy at times," he expressed frustration they had no way to fight back against storylines being crafted on the show as it aired. "You get the tapes three days before it airs and you can't do anything about it. You don't have publicists at the time, you can't do jack s---. You were so helpless," he added.