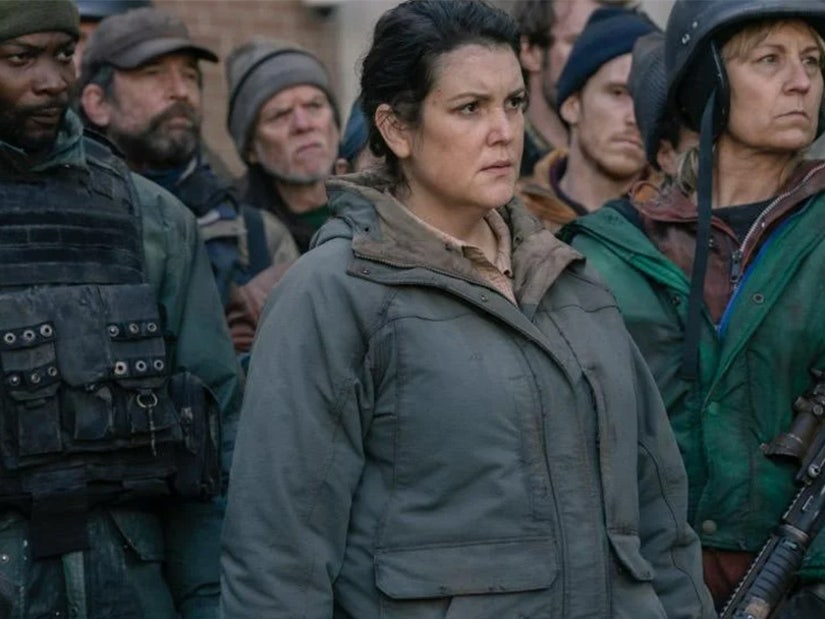 HBO
A brand new character, the "Yellowjackets" star is terrifying as the madly driven leader of a group of dangerous "hunters."
For the first time, too, the episode did not resolve its primary conflict in this installment, instead ending on a dramatic cliffhanger that definitely puts Joel (Pedro Pascal) and Ellie (Bella Ramsey) in yet another tough spot. Seems to be par for the course.
If last week's poignant and beautiful installment was about the power of love and why it's worth opening your heart to another person, this week saw the beginning of Joel following that lead and starting to warm to Ellie, this little girl who reminds him so much of his long lost daughter.
There is an incredible chemistry between Pascal and Ramsey in these lead roles, effortlessly carrying both the show and the central emotional relationship. There's an interesting hardness and innocence that Ramsey injects into Ellie.
On top of that the characterization perfectly captures that combination of sweet and frustratingly annoying that comes with that age. Ramsey has created this wonderful performance where they can carry a scene like the opening one with Ellie trying out her new gun in a bathroom.
With no words, Ramsey perfectly conveyed that a lot of Ellie's bravado is a mask to cover a deeper fear and uncertainty. That child-like fear and wonder take equal residence in their portrayal, with Ellie's giddy excitement at finding a book of terrible puns and seeing tanks balanced by her fearfully asking for assurance that she and Joel are okay when the s--- really hits the fan.
Every night it's the same with Ellie, the darkness bring out her fears that they're not safe. As with "The Walking Dead" and other post-apocalyptic fare, Joel makes it clear to her early on that the cordyceps infected are not the only threat out in the open world.
Speaking of that open world, we cannot praise enough the visuals of this show. We got a glimpse of the state of Boston in decay, but this cross-country trip through Pennsylvania and Ohio offered up some stunning shots of overgrown roads and cars, collapsed train bridges.
There was a serene beauty in those quiet moments in a world that is reclaiming itself from mankind. And yet, with how the cordyceps monsters have been presented, vegetation carries with it a sinister undertone and threat.
This serene beauty in societal collapse was juxtaposed with Ellie falling asleep in one setting to awaken as they find themselves blocked from continuing on the highway. Enter Kansas City. An attempt to quickly bypass the blocked overpass quickly becomes them lost in a city at war with itself.
Just before all hell breaks loose, Ellie sees evidence that there was at one time a FEDRA presence here, but unlike Boston, they appear to have completely lost control of the city and its citizens. Unfortunately, the military occupation of FEDRA was just replaced with something equally ruthless and militaristic.
As they try to find their way back to the highway, a man stumbled out into the road asking for help. Joel wasn't buying the ruse, which it obviously was, but it didn't matter. Within seconds, they'd been run off the road and into a laundromat where they quickly came under fire.
It was here that Ellie's playing with her secret gun she snagged from Frank's house came into play, as Joel managed to dispatch two of the men, but was taken by surprise by the third, who was little more than a kid. Crawling out of her hiding space, Ellie saved Joel by shooting the kid in the leg.
What followed was a powerful scene as the kid was begging for his life, going from aggressor to negotiator, begging them to get him to his mom so she can save him. Ellie was clearly in shock as the boy was pleading with her, clearly aware he had a better shot with her of not -- ahem -- getting shot.
That shot came and went as Joel sent Ellie back into hiding so she wouldn't have to witness him kill someone. But their problems were just beginning With the truck a loss, they were now trapped and lost in Kansas City with people hunting them.
The people hunting them had a leader and she was a new creation for this television adaptation of the modern classic video game. Inspired by the "Hunters" that plagued the Pittsburgh QZ in the video game, showrunner Craig Mazin created Lynskey's Kathleen as a leader for this new iteration of these characters.
"They take a slightly different role here," Neil Druckmann, writer and co-director of the video game, told ScreenRant. "When enemies come, it was important for us to ask the question, 'Well, why are they enemies? What do they want?' They're not just evil people. From their point of view, this all makes sense, and it's justifiable, and that was an interesting thing to explore."
This was established from the jump when the "Yellowjackets" star first appeared on the screen interrogating the doctor who delivered her character as a baby. He was apparently a collaborator with FEDRA (we're guessing), turning in his neighbors. Many of those people were killed.
Kathleen is on the hunt for the man who killed her brother in a cell just like the one she was holding her doctor. She didn't think the doctor had anything to do with his death, but she does think he knows the location of a man who did play a role.
The dangerous depths of her obsession came clear when her men brought back the bodies of the people Joel killed, with the boy apparently still alive. She immediately decided that this Henry she was searching for must have brought in mercenaries to help him.
She sends her people out for a full canvas of the area to find the interlopes and then stalks back to the cell and coldly shoots the doctor dead. This is someone whose humanity has taken a backseat to their obsession, which is a very dangerous combination.
Never mind that Joel and Ellie were literally trying to just pass through. So far as Kathleen is concerned, they are collaborators, they've been brought in to help Henry. And Henry now symbolizes the entirety of the organization that killed countless people, including her brother.
We get our first glimpse of this terrifying Henry through what he leaves behind. Kathleen's right-hand man brings her to an attic space he was clearly hiding in where she discovers drawings of a Superman-like character and empty cans of food.
Henry is a father, now on the run from the entirety of the Kansas City rebels that took down FEDRA for his role in Kathleen's brother's death -- if he even had one -- with a young son. He doesn't necessarily scream terrorist or monumental threat.
We found ourselves far more concerned with the sunken pit of concrete rubble in a lower room that Kathleen's right-hand man showed her. He thought she should tell the others about it, but her single-minded obsession wouldn't let her take her eyes off the prize.
It's clear that both she and the man know exactly what that shifting rubble means, and we're guessing it has to do with the cordyceps fungus. That would certainly make it a much bigger threat for her people than Henry.
We do find ourselves curious how she managed to take control of such a large group of men and women and get them to focus solely on fulfilling her agenda. Even this right-hand man guy acquiesces to her call to not tell anyone about the shifting rubble. Something tells us that will be a costly decision in lives and safety.
Could Joel and Ellie be about to trade in the human threat of Kansas City for a more vegetative terror? Or perhaps a combination of the two, which sounds way better! This is the second week in a row there've been no cordyceps monsters, but unlike last week, there was danger around every corner.
They couldn't even close their eyes for one night's sleep without waking up to danger right in their faces. It was perhaps inevitable, though, as just before falling asleep, the ice between them appeared to thaw and break completely over a terrible, terrible pun. It was good for both of them to laugh.
Unfortunately, that's probably what led danger right to their sleeping forms. They'd climbed 33 floors of the highest building they could see in hopes they could look out the windows and map a way out of the city before Kathleen's goons finally track them down.
A massive office building is a pretty good hiding place as there are lots of places to hide and it would take a while to search the whole tower. Unfortunately, they weren't the only ones who decided to make their way into this particular building.
They weren't introduced by name, but we can guarantee that it was Henry and Sam behind the two guns pointing at Ellie and Joel. The good news is that these two looked just as scared as Ellie and Joel, so they may not be as dangerous as those hunting all four of them now.
The enemy of my enemy is my friend? Hopefully?
"The Last of Us" airs new episodes every Sunday at 9 p.m. ET on HBO.