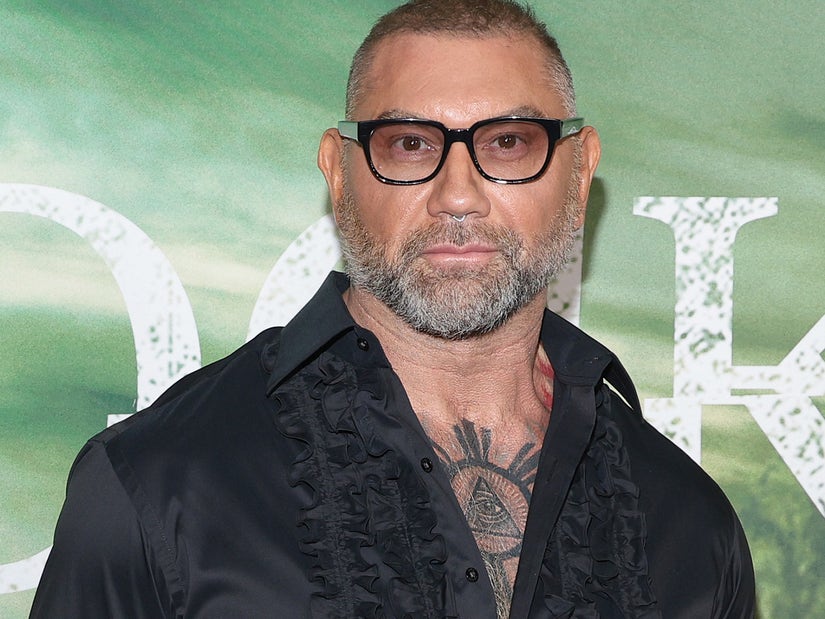 Getty
The former wrestler broke big in film as Drax in "Guardians of the Galaxy" and is getting critical acclaim for his work in "Knock at the Cabin."
Dave Bautista is ready for his close up -- and his first rom-com. The WWE Superstar-turned-actor admitted his desire to land a lead role in a romantic comedy.
It was during the premiere of his latest project "Knock at the Cabin," for which he has been receiving a lot of positive buzz from critics, that Bautista shared his secret desire with Page Six.
"I know I'm not your typical rom-com lead," the 54 year old admitted. "I'm a little rough around the edges."
He admitted that he's found himself wondering just what it is about him that's keeping him from landing these parts. "I look in the mirror and I say, I ask myself, 'Am I that unattractive?" he told the outlet. "Is there something that unappealing about me that excludes me from these parts?"
Ultimately, he admitted that he doesn't know why it's not happening for him. "I don't know," he said. "It's just never come my way." But he also said he still has "high hopes," and he'll "just keep searching."
While he's been waiting for his big romantic lead, Bautista has been building an impressive resume of different types of films including his breakout role as Drax for "Guardians of the Galaxy." He's also appeared in "Dune" and "Blade Runner 2049," as well as family flick "My Spy" and action comedy "Stuber."
Now, he can add disturbing psychological thriller with M. Night Shyamalan's "Knock at the Cabin." Bautista plays a seemingly matter-of-fact teacher who very calmly tells a family of three they must choose one of their own to die to avert an apocalypse.
As he expands his resume, Bautista recently told GQ that he's happy to be shedding Marvel's Drax after all these years, because he doesn't want that to be his legacy. "It's a silly performance," he said. "And I want to do more dramatic stuff."
While talking with The Hollywood Reporter at the "Knock at the Cabin" premiere, Bautista expanded a little more on what he does want for his legacy, and he finds himself being inspired by Lee Pace.
It all goes back to when he was cast for "Guardians" and casting director Sarah Finn asked if he was familiar with Lee Pace, which he was not. "She said, 'Lee's amazing, Lee can do anything,'" Bautista recalled.
Currently starring as multiple iterations of the galactic emperor on Apple TV+'s "Foundation" series, Pace played opposite Bautista as Ronan the Accuser in "Guardians," went regal as elven king Thranduil in "The Hobbit" films, business professional in "Halt and Catch Fire" and earned an Emmy nomination for his light-hearted (dare we say rom-com) roll on ABC's "Pushing Daisies."
"I can remember the way she said that with such confidence, and I want people to say that about me," Bautista said of Pace's range. "I want people to speak to me in those regards: 'Dave can do anything,' and that's what I want to be my legacy. Not even a specific character, I just want to leave behind a legacy that Dave could do anything, he did any genre -- he did comedy, action, drama, whatever you asked him to do he could do."
Bautista stars alongside Jonathan Groff, Ben Aldridge, Rupert Grint, Nikki Amuka-Bird, Abby Quinn, and Kristen Cui in "Knock at the Cabin," in theaters February 3.