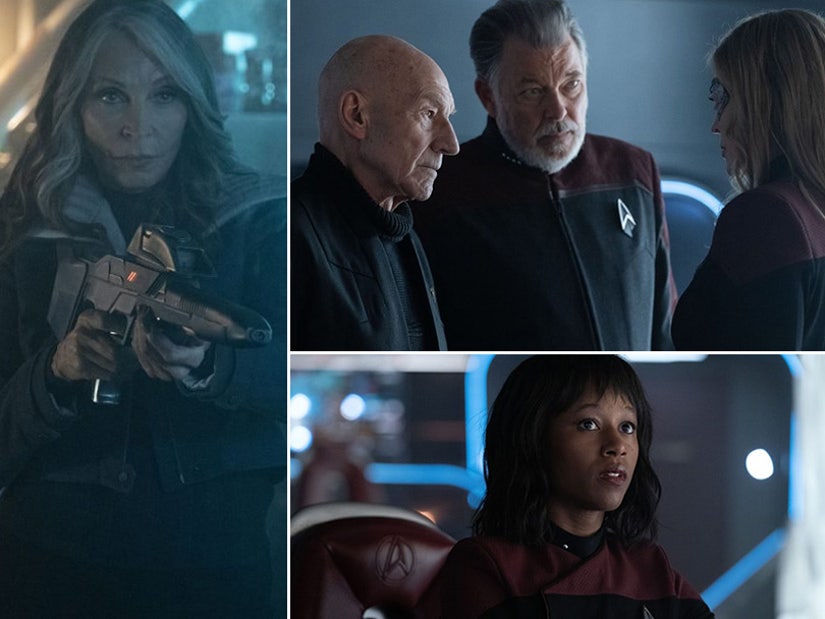 Paramount+
Riker is as charming and funny as ever, while Dr. Crusher has become a total badass -- with stunning production and renewed energy, "TNG" has never looked better!
After two seasons of compelling and very different "Star Trek" storytelling, "Picard" is finally serving up the fan service everyone has been wanting since it was first announced.
Season 3 kicks off the "Star Trek: The Next Generation" reunion tour and what a beautifully realized vision this is. Without losing any of the tone and tenor of past seasons, this still managed to feel like "TNG," albeit a more mature and sophisticated take.
In truth, with this first hour, we felt like we got a glimpse of what could have been had the "TNG" cast been allowed to continue making movies that just got better and better. For the "Next Generation" of fans, this was what OG fans felt when "Star Trek: The Motion Picture" released.
In fact, there was even a blatant nod to the film that first expanded the potential of Gene Roddenberry's vision with a prolonged and dramatic look at a starship. In the first film, it's William Shatner's James T. Kirk soaking in the Enterprise, here it was Patrick Stewart's Jean-Luc Picard taking in the TItan, former command of Jonathan Frakes' William Riker.
In a testament to the show's creators and the team behind this season, they did a fantastic job of both serving what has come before and deliver a story that needed absolutely zero knowledge of "Picard" before this twenty-first episode.
It did, however, help to have some passing understanding of "The Next Generation," though there were enough context clues and blatant nostalgia moments to make it abundantly clear who was who and how everything related.
To ease the transition from "Picard" to "TNG," so to speak, the writers also are reintroducing those characters (some seen in previous seasons of "Picard") a bit at a time. This week's premiere only featured two of them, but what fun it was to see them again!
Beverly Living-Up-to-Her-Name Crusher
The episode opened on Gates McFadden's Dr. Beverly Crusher looking more driven and fierce than we've ever seen her before. It was almost inspirational seeing what a badass warrior she'd become in the intervening 20 years or so since falling out with the old gang.
What's fun about that gap and the disconnect is that it raises so many questions that can be parceled out and explored over the next nine episodes. What has she been up to for 20 years? What transformed her into this almost mercenary figure?
We get a sense of that by the end, even if it's just hinted at, but what we saw in this opening salvo was her protecting a younger person on her ship, which was immediately and obviously her son, and taking out mercenary-looking aliens with cold efficiency.
We do mean taking out, too, as in Dr. Crusher was not just crushing them, but vaporizing them into dust. We get that they were looking to kill her, but that was definitely not a Starfleet-approved response, we'd wager -- plus, what the hell were these weapons that could do this?
She did manage to get away, but not before getting gut-shot, which triggered in her the unexpected decision to send an encrypted message to someone she hadn't spoken to in two decades, Admiral Jean-Luc Picard.
We pick things up with Picard getting ready to relocate to Chaltok-IV with Laris, continuing their burgeoning relationship that started last season. Again, you needn't have seen any of that to pick up what was happening here.
Plus, they got interrupted almost immediately when Picard's 20-year-old communicator badge received Crusher's message. It's lucky he was packing, because what would have happened had it been stuffed in an attic or outbuilding? He might never have gotten it.
Her message told him not to trust anyone, including Starfleet, urging him to come alone. She also embeds coordinates and drops the word "Hellbird."
Luckily, he didn't take her caution and shared her message with Riker, as it was his former "Number One" who was able to decipher the real coordinates by remembering Hellbird. It was a computer virus that added the number 3 to every digit, but it happened while Picard was Locutus of Borg. Applying the same code to Crusher's coordinates changed them to just outside Federation Space near the Ryton System.
Just this short scene alone told us how much energy Frakes brought to "TNG" and how beautifully Riker's upbeat humor and smarmy charm balanced Picard's more somber seriousness. They're like this perfect Odd Couple. As much as we enjoyed the first two seasons of "Picard," they were driven by his somberness and we had no idea how refreshing it would be to see him and Riker paired together again.
They concocted a hare-brained scheme to semi-commandeer Riker's old command, the Titan, arriving to the surprise of its new First Officer, Commander Annika Hansen, or as we all know her Seven of Nine.
She's reluctantly going by Hansen at the preference of her captain, who's the boring square trying to stand in the way of all the "fun" and shenanigans Picard and Riker are clearly trying to get up to again. He knows their reputation all too well and is not impressed.
It goes beyond that, though, as he clearly disdains all of their adventures, which he called irresponsible. He runs a buttoned-down ship that follows the rules. That also meant he wasn't buying for a second their surprise inspection rerouting suggestion.
"Request denied," he said, also not acknowledging any authority from a retired admiral or a captain without a command.
Another fun addition was Ashlei Sharpe Chestnut's Sidney La Forge, first seen just grinning at Picard and Riker. When they recognize her (and "TNG" fans definitely know that last name), Riker regales the bridge with how this ensign was nicknamed "Crash" La Forge. Now working the helm of the TItans, she's poised to be a big part of their latest shenanigans (we didn't get that "Crash" story for nothing).
Luckily for the boys, they're also not the only ones who found themselves in trouble on a weekly basis for seven years on television. You could see it coming a mile away when Shaw shut down Seven's suggestion to go to Ryton and then immediately gave her the command to go to bed. He must not have watched "Voyager" as much as he followed the adventures of the "TNG" crew.
Jeri Ryan's Seven of Nine has had one of the strongest character arcs on this series, and it was exciting seeing her in this command role. It was also appreciated that she is bristling in the role, struggling with confidence and under the strangling command of Captain stick-up-his-butt Shaw.
While we weren't surprised she ignored orders and went to the Ryton System anyway, we still applauded that she's one of the "good ones," by which we mean the fun ones. Again, without betraying anything that's come before, there's this new energy on the show that feels so much more like the adventure-driven "Trek" series of the '80s and '90s.
Yes, there are rules, but there are just as many opportunities to bend or break them for the greater good. Seven clearly agreed with Picard and RIker that potentially saving a life is one of those reasons. Shaw believes in rules and orders above all, so of course he was furious to wake up and find himself staring at a nebula.
Just like that, he threatened to end Seven's Starfleet career -- but we've seen this before. There are nine hours left to either open Shaw's eyes up to a new way of doing things, force him to see things a new way, or just make him look like a fool and still win in the end. Everyone gets a happy ending (most of the time) on classic "Trek."
Unfortunately for Shaw, he did not stop Seven before she'd tipped off Picard and RIker there would soon be an opportunity to steal a shuttle. So while he fumed, they made their way to Crusher's ship. There, they confirmed what was obvious from the moment he appeared, the young man on the ship with her is her son.
Unfortunately, with Crusher in rough shape in a medical pod on a ship in rough shape -- well, that's when whatever has been chasing her and her son caught up to them in a ship that was as evil as a ship design can possibly be (reminiscent of the Shadow designs on "Babylon 5").
Their best bet now might be that Shaw would somehow come to save them, but who knows what the Titan knows about what's happening where the ship is as the nebula was interfering with readings before Picard and RIker left. If they weren't so famous, he'd probably just leave. Now, he might feel obligated to help, if only so he can court-martial them later and strip them of everything.
Raffi and The Lady in Red
The other connection to previous seasons of "Picard" was the inclusion of Raffi (Michelle Hurd), who had a parallel storyline throughout the episode that hinted at the larger mystery of the season. It also hinted at those brutal guns Crusher was using.
When we first saw her, it looked as if she'd hit rock bottom, becoming a junkie after she'd lost her girlfriend. But it was all a ruse to try and get information. Raffi is a Starfleet Commander working in intelligence, deep undercover for a while now.
In her investigations, we learned about experimental weapons and, even more reckless, experimental "quantum tunneling tech." She managed to get one phrase, "The Red Lady," which it took her the bulk of the episode to decipher.
It took her just enough too long to decipher, too, as tragically seen by the end of the episode. After a tense stand-off with her handler, Raffi finally deduced that "The Red Lady" was referring to a target. More specifcally, it was about a dedication ceremony for a red statue honoring Rachel Garrett as part of the Pre-Frontier Day Recruitment Drive.
That's the same Frontier Day celebration (250 years!) that Picard and RIker were using as their cover to infiltrate the TItan under the ruse of an inspection. As a monumental anniversary for Starfleet, we suspect it will play a huge factor in what's to come. If nothing else, it's a massive distraction for Starfleet.
Raffi quickly flies to District Seven in an attempt to warn Starfleet at the dedication ceremony only to arrive in time to see that quantum tunneling tech in use. If you've ever played the "Portal" games, imagine a portal opening up around a building so that it collapses into it. Then, the second portal opens up just a bit over in the sky so that same building can fall into another part of the city.
As this was a Recruitment Drive for Starfleet, and it certainly looked as if everyone would have died, this terrorist attack would be a devastating blow to Starfleet. Plus, was this their own stolen tech being weaponized against them from the Daystrom Station per Raffi?
Are the same people who are in pursuit of Crusher and her son involved in whatever just happened at District Seven on M'Talas Prime? What is their larger objective?
This is the kind of high-stakes mystery that "Star Trek" movies thrive on, making this a very satisfying opening chapter to a ten-hour "Next Generation" movie we didn't even know we were still hoping would happen some day.
For "Star Trek" fans, this season may well be the most anticipated new "Trek" to come along in ... well, about 20 years. So far, it's living up to all that hype with a great mystery, beautiful visuals and all the reminiscence and nostalgia we want from some of our favorite characters old and new.
The "Star Trek: The Next Generation" reunion continues with new episodes of "Star Trek: Picard" dropping every Thursday on Paramount+.