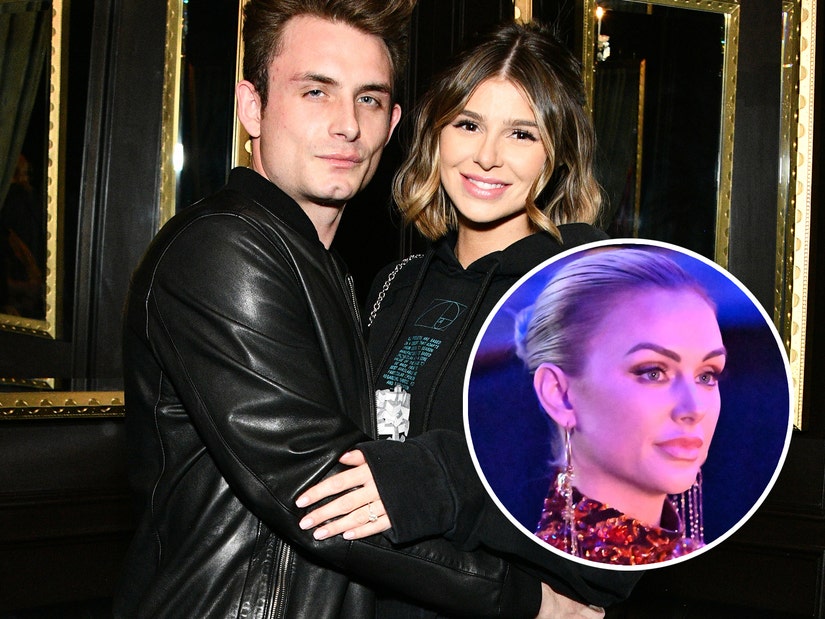 Getty
"She was in bed, she literally did not let me leave the room," said James on Vanderpump Rules as his ex put him on the spot over his infidelity.
Raquel found out after talking with both Lala and Katie Maloney about costar Scheana Shay playfully nudging Leviss toward a hookup with Maloney's ex, Tom Schwartz. As Raquel denied anything had gone on between them, she said she also was not in the market for a serious relationship -- especially after being "loyal" to Kennedy and hearing "that he was with other girls" after the fact.
That's when Lala took it upon herself to add another name to the list.
"I'm gonna tell you something. James and I definitely hooked up ... you guys were like pretty new in to the relationship and I was pretty new into mine," she shared. "There's a lot of things I did when I was drinking that I'm not proud of that I would have never done."
While Raquel was shocked, she only told Lala she thought it was more "hurtful" to see how fast he moved on with Ally Lewber following their split. In a confessional, however, Leviss was a little more forthcoming on how she actually felt.
"Wow, really Lala? You're gonna sit there and judge me for hypothetically hooking up with Schwartz, yet you slept with my boyfriend while we were together?" she exclaimed. "You're such an effing hypocrite."
She later met up with James and confronted him about it as well.
"Lala told me that you guys had sex while we were together and while she was with Randall. Do you remember that?" she asked, as he nodded affirmatively.
"Yeah, it wasn't a good decision. Obviously, both drunk and alcohol was to blame," he told her. "She was in bed, she literally did not let me leave the room. It was only that one time. Sorry, for what it's worth."
He then kept trying to deflect by bringing up her date with SUR manager Peter, before saying his indiscretion was in the past and if Lala was "parading it like a trophy" then Raquel should "take it up with her."
"I'm gonna take it up with you because our entire relationship was built on a foundation of lies," she shot back. "You weren't honest. You always knew how I felt around Lala, I always felt a little bit insecure and she's been demeaning to me. You made me feel like I had nothing to worry about with her."
James still couldn't understand why they were talking about this, saying he felt like he was being "interrogated" and wondering why she needed anymore "closure" after they had already split.
"You made your decision, you made a good one. You're happy now," he said, adding that he made a good decision as well. "I met someone I'm truly happy with and I've never felt this way before. Good thing I didn't marry you."
Their conversation ended on that sour note, before she later confronted him at a bar for "deflecting" during their prior conversation.
"Sorry, guys make mistakes," he said, before asking her to not make a big deal about it at the bar they were at because it was a "sacred place" for him and Ally. "I don't want to make it, like, horrible," he added, before Raquel walked out.
"Vanderpump Rules" airs Wednesdays on Bravo.