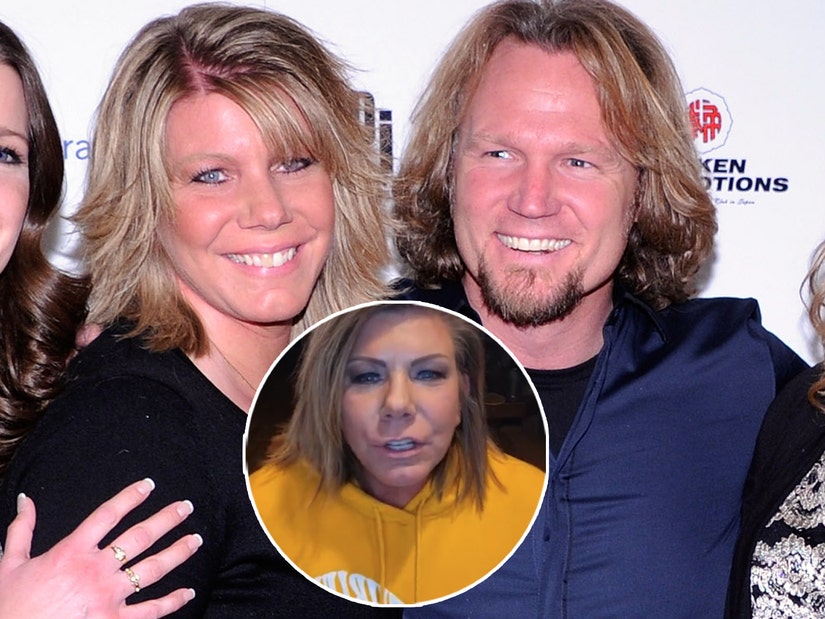 Getty / Instagram
Meri clarifies her sexuality after she sparked speculation for sharing photos with female friends to social media.
"Sister Wives" star Meri Brown addressed online speculation that she's dating women following her split from longtime partner Kody Brown.
After she started sharing a number of posts with her female friends to social media, some online began to wonder if she was romantically linked to any of them, something Meri opened up about over the weekend during an Instagram Live with one of the women she's been linked to.
As she and Jenn Sullivan did a fan Q&A on IG, Meri was asked if there were any misunderstandings she hoped to clear up.
Waiting for your permission to load the Instagram Media.
"Part of me wants to say it and part of me wants to let people wonder," she said, before deciding to go for it. "I've got people really wondering what I may or may not want to say. I'm just gonna do it. I am straight."
Sullivan said she's had people come up to her saying they've read articles about her and Brown being together -- including one who asked, "Did you know you're a lesbian with Meri?"
"It does not matter who I take a picture with and post it," Meri continued, as they laughed off the speculation. "I'm either dating this guy or dating this girl because people can't seem to think that I can be friends, completely platonic friends, with females or males. It doesn't matter."
Meri said her sexuality has actually been a "common topic of conversation," which prompted the announcement. "Now that you all know. You heard it from my mouth. I'm coming out as being straight," she added.
Brown also made it a point to add that being queer isn't "a bad thing to be," saying, "Whatever you want to be is whoever you are. It's not a big deal. I just know what I like."
Back in January, Meri and Kody "made the decision to permanently terminate our marriage relationship."
Kody first legally married Meri back in 1990 and welcomed Leo, their only child, together in 1995. Second wife Janelle joined the family in 1993, before Christine in 1994. Fourth wife Robyn then joined the family in 2010, before Kody divorced Meri so he could legally marry her instead.
He remained spiritually married to Meri, though their relationship became more platonic over time -- especially after she, in 2015, admitted to entering a catfishing relationship with someone online she thought was a man but turned out to be a woman.
Kody and Meri's announcement came after Christine also split from the "Sister Wives" patriarch. Janelle and Kody also confirmed they were "separated" on the "One on One" special -- on which he expressed his hope to get to "a happy and beautiful place with" her and she explained her confusion over their current situation.