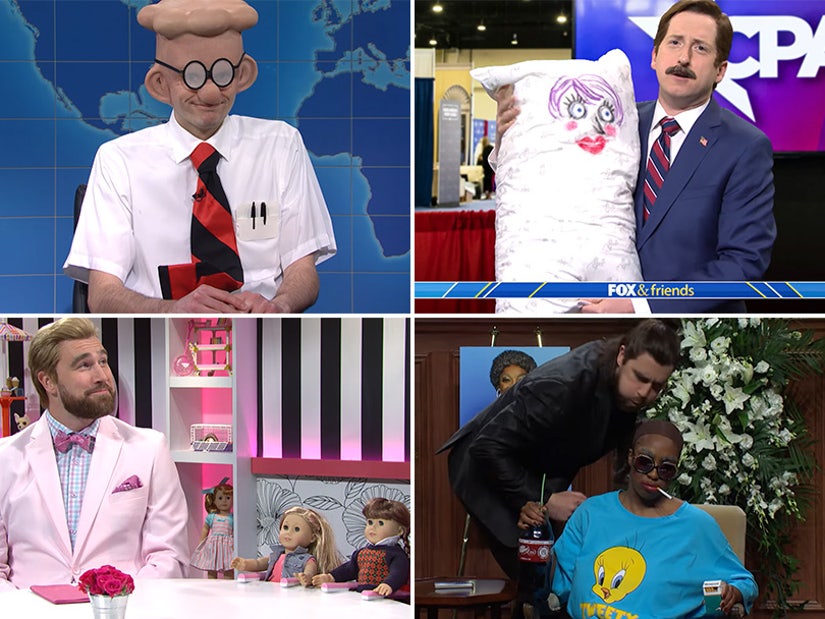 NBC
Super Bowl champ Travis Kelce is game for anything, though he mostly plays hot or awkward (or both) -- plus, cut-for-time parody sees NFL Give Back by lifting women ... literally.
Travis Kelce became the latest athlete to host "Saturday Night Live," which is always a huge gamble. Will he prove game and fun like Peyton Manning and Michael Jordan or a dud like Lance Amstrong and Deion Sanders?
Honestly, it was a bit of both as Travis was game for anything and had some fun performances throughout the night, but he make a lot of mistakes, too. He was definitely stronger in the pre-taped bits, with him absolutely shining in the night's strongest sketch. H
He did bring it in some of the first sketches on the night -- it was as if his confidence waned as the night progressed and he was relying more on cue cards and flubbing more moments. Travis was easily the highlight in both the American Girl Cafe sketch, as well as Mama's funeral, but he faded quickly after that.
Adding to the fun on the night, Travis was joined at the show by his parents and Super Bowl opponent, and brother, Jason Kelce. Jason was used sparingly and perfectly in the show so as not to upstage his brother, but play on their rivalry and relationship.
It also became clear that the writers and cast had a sense of Travis' limitations as a performer, and so they wrote a lot of their material around him, or cast him in very similar roles as the confident, handsome guy. That said, what they built around him were some really great sketches that could well stand the test of time.
As usual, we're ranking all the sketches from worst to first, including the Monologue, Cold Open, "Weekend Update" and any sketches that were cut for time but made their way online. We'll skip the musical guests, because they're not usually funny -- unless Ashlee Simpson shows up. We wrap up with a look at the cast-member who had the strongest week.
We were on board with the crazy accents in this spoof of the unlikely reality hit, and Chloe's characterization as the bizarrely odd woman Travis is drawn to was good, but the sketch really had nowhere to go after that. Either that, or it got cut short for time. Travis did an okay job of staying straight while she literally had him manhandle her, but none of the shenanigans helped the sketch find a point to exist. This one was half-baked at best.
This one kept things pretty straightforward, which was refreshing. It's always fun to see "SNL" spoof the "Fox & Friends" gang, with some great jabs at Brian Kilmeade and Ainsley Earhardt making boneheaded mistakes thinking Dominion is talking about the "Minions," and that their boss at Fox is Alex Murdaugh, instead of Rupert Murdoch. James Austin Johnson was great as Mike Lindell, spouting off totally insane accusations about those Dominion voting machines that got Fox in legal trouble in the first place. Plus, throwing it to "crime expert" O.J. Simpson at the end was just the sweet little cherry on top.
Another sketch that faltered its ending, it was pretty clear the writers and cast didn't have enough faith in Travis to give him a lead role in this sketch, and he still managed to bungle several of his line deliveries. The overall concept was very funny, and at we appreciated James' guitar solo! In fact, all of the song elements as Ego and James (as parents to three children) explained who Travis' character was and the state of their marriage were pretty funny, as was their explanation of how Devon, Chloe, and Marcello could all three be their children. The pieces of this sketch were very great; it was just pulled down by Travis' awkward performance and another dud ending.
You never know what's gonna happen when an athlete hosts, but we have to say that Travis came out and delivered a fantastic monologue. He was very comfortable on the camera, self-deprecating in a totally charming way and utilized the fact his brother (and Super Bowl opponent) Jason was in the audience to great comic effect. We had no idea at this point how he'd fare in sketches, but we had confidence that he was all in for the experience and with the personality he did show, we thought he might be able to charm his way through any mishaps. Alas, that didn't carry through the whole night (as we've already seen on this list and will again).
Travis stumbled his way through another "hot guy" sketch, but Bowen and Heidi were stellar as a woman and the guy she set up a date with through Hinge and stood up. We almost wish it had gone further when Bowen kept going into the bathroom and talking himself out of killing them in the mirror. This era of "SNL" has these dark premises they explore in sketches, but they never go deeper and darker with them as past casts have done. Sometimes the more twisted conclusion is far stronger than something like this one.
Bowen was the perfect cast member to offer up this spot-on parody of so much of what is wrong with straight male friendships. For whatever reason, they never get real or vulnerable or emotional. It's all surface-level nonsense and let's bury any real feelings. Having Travis' "SMF" briefly reveal his father died only to brush it off and then apologize later for it perfectly exemplified both the toxic expectations many put on men (and they put on themselves), by balancing it with the sometimes too-much emotional work that comes with female friends. There was so much cultural insight in this piece, and yet perfectly played for laughs.
Well, they badly botched the ending of this sketch, but everything up to that point was beautifully uncomfortable in the funniest way. We definitely appreciated the careful line the sketch was treading throughout, with Travis' cafe visitor (with his two dolls) being extremely creepy without quite completely crossing the line into inappropriate. Kenan Thompson nailed the reactions as a fellow patron, there with is daughter, while Sarah was a bit too over-the-top. But the real all-star was Mikey Day as the server and the way he responded to everything Travis was doing and saying. It was all a little too daffy to be off-putting, so it stayed on this side of uncomfortably funny, which is hard to pull off.
Cut for Time: NFL Gives Back
It's a shame this one got cut, because it was a great parody of all those NFL Gives Back charity promos. This one is for all those little guys who can't heft their woman in the air. Now, there's a bunch of enormous men who are happy to do it for you. We respect this one even more because they didn't go the easy route of having this be or become a sexual thing, sticking just to the premise that women sometimes like to be picked up and feel small and light. Is that too much to ask? Not anymore!
Nobody plays these kind of desperately needy characters better than Heidi. We were able to see the tube coming down the back of her dress when she got up to meet Kelse, so we knew some kind of fluid explosion was coming. Honestly, though, it was probably a good thing or we might not have had any idea when the cartoonish tears stated. As a visual gag, it probably would have been funnier in any color other than black so we could have seen the tears soaking the fabric, and there'd have been an emphasis on just how much there was. As it was, that element fell a bit flat, but the detail of how long she and Travis' character were actually together when meeting his new girl, Chloe, made up for it. Heidi milked every bit of funny she could out of this piece, and the odd fake tears -- which got so out of control at one point, it caused all three of them to break. While breaks can ruin a sketch, they often make it better when a prop is going haywire, which is kind of what happened here. Also, we won't spoil the cute cameo at the end.
At first, we were disappointed that Ego Nwodim was being wasted in the role of the dead mama at the center of this funeral piece, but we were quicky proven wrong. A pull string like a talking doll in her back, Travis blowing on her head like a Nintendo cartridge and hydraulics so she could dance? Ego was the centerpiece of this, bringing a killer -- or make that dead -- performance just by keeping it straight with all this craziness going on around her. Aside from here, there were some serious timing issues between Travis' speech at the dais and the family out in the seats (probably happening on two different stages), which really hurt the momentum of the early going. By the time Ego took over, we found ourselves disappointed it was ending so soon.
Colin Jost came through with the great references, getting huge laughs with "Madea Goes to Jail" in response to Tennesse's drag show ban, while he said Dilbert is being replaced in newspapers after its creator Scott Adams' racist comments by Peanuts: Oops All Franklin. We thought any Black-led comic strip would be funny, but this was somehow even funnier. Throw in strong jokes about the Murdaugh sentencing, George Santos and a TikTok dance by Jost (which is exactly what you would expect a TikTok by Jost to look like) and the boys kicked "Update" off with a very strong segment.
The commentary itself had a few funny moments -- and a few intentionally unfunny moments that worked pretty well, but we could not get over how incredible (and disturbing) that makeup job was to turn Michael Longfellow into Dilbert. Even Che couldn't keep a straight face when Michael first turned to look at him dead-on. We kind of wished the commentary itself had hit a little harder at Scott or the whole controversy, but we get that they were going more for the light, empty office humor of the comic strip.
In more general news, the boys continued their hot streak with Jost joking that non-gendered acting categories would be Best Actor and Best Actor Who Got Paid Less, while Che said that the jail being turned into an Airbnb would be the first jail that refuses to accept Black people. They even got away with a Pontius Pilate lizard joke, which shows just how much goodwill they'd earned with the audience through a great "Update."
The guys slipped in one final quick batch of jokes after Punkie and Mikey's guest spot (below) so Che could talk about a porn star's broken penis that turned Black and Jost could make the only "WAP" joke that makes sense with some McDonald's franchisees taking issue with Carid B and Offset's special meal deal.
We all have that friend who somehow managed to get through life without knowing any famous people, but we're not sure we would have thought to make it a segment on "SNL." Still, this worked great with Mikey flabbergasted at some of the famous people Punkie Johnson just has no idea about. They even made it into a game by trying to guess who she means with bizarre descriptions and names like Rick Bernstein -- ahem, make that Bruce Sprinsteen! That this was totally real made it even funnier.
Finally, as a birthday treat, Jost welcomed back Sarah Sherman to inevitably berate him and make him look terrible and misogynistic and like he's sexually harassing her constantly in her "Sarah News" segment. As always, her over-the-top "cutesy" behavior is perfect for these incredibly off-color jokes she always makes at Jost's expense. Right now, we feel like we could enjoy a regular does of "Sarah News," though we wonder if it would get to be too much. Imagine her actually anchoring "Update." Talk about a change in tone (though it would probably be pretty funny).
Please Don't Destroy: Confidence
Every beat of this pre-taped bit was delivered with highly-focused precision comedy. The laughs kept come from one moment to the next, escalating throughout the sketch. The addition of the older woman to Travis punching the guys out was just primo funny stuff. The build was so great throughout as the guys tried to build up their confidence to stand up to the "SNL" interns, we didn't even see the final sucker punch coming. This is definitely among the strongest "PDD" sketches yet and Travis' performance was inspired lunacy throughout.
Out of nowhere, Sarah absolutely dominated this episode. Most of her roles were supporting, though she killed it again with her latest "Sarah News" segment. But it wasn't enough to overcome a lot of strong, lead roles from other performers.
Ego and James cracked us up as the singing couple and both had strong nights, but it was another pair that seemed to both dominate and steal the show with quirky and memorable character work. Both Bowen and Heidi were all over this week's episode, sharing the stage memorably in both "Fox & Friends" Cold Open and the bizarro Hinge sketch later in the night.
We have to give the edge this week to Heidi, though, because she also slayed us with the ridiculous crying sketch for keeping her cool enough to really sell this desperate character amid the craziness of this crying gear she had to wear strapped to her face.
Heidi has become such an essential ingredient on the show. She is now the senior female cast member in her sixth season, and she continues to grow and expand her acting ability. She was always a delight on the show, but with more room to flex than ever before, she's becoming a real scene-stealer.
"Saturday Night Live" returns next week with host Jenna Ortega and musical guest The 1975.