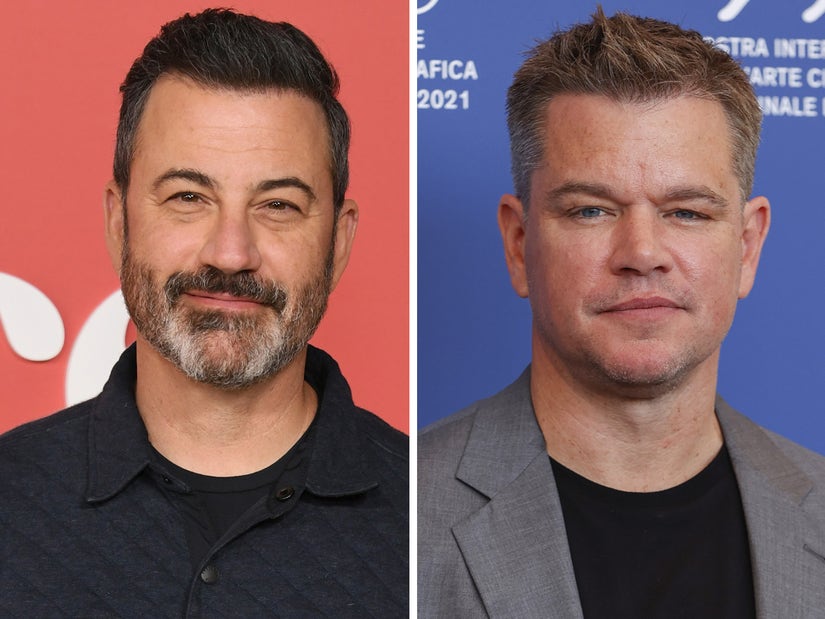 Getty
"I hope he never gets nominated again," joked Kimmel, who will be hosting the Academy Awards for the third time later this month.
In an interview with People, the "Jimmy Kimmel Live!" host -- who has been in a longtime "feud" with the Oscar winner -- joked that he's delighted over the possibility that Damon will not be in the crowd at the Dolby Theatre when he hosts the Academy Awards for the third time later this month.
"I'm thrilled that he won't show," Kimmel said Damon, who has been nominated for five Oscars throughout his career, winning the award for Best Original Screenplay for "Good Will Hunting" in 1997.
"I hope he never gets nominated again," Kimmel quipped.
The 2023 Oscars -- which will air live on ABC on March 12 -- marks Kimmel's third time hosting Hollywood's biggest night. The 55-year-old previously hosted the 2017 and 2018 ceremony, with Kimmel famously presiding over "envelope-gate" during his first time.
If you recall, back in 2017, the award announcers for Best Picture, Warren Beatty and Faye Dunaway, mistakenly announced "La La Land" as the category's winner instead of "Moonlight." The moment went down as one of the biggest moments in Academy Awards history.
Looking back, Kimmel joked that he blames Damon for the mishap.
"I believe that his presence in some way caused the envelope mixup," he told People, before adding that Damon was right next to him when it all went down.
"Jokes aside, I was sitting next to Matt when that literally unfolded," Kimmel recalled, "and he figured out what was going on a couple of seconds before I did. His version of the story is that I figured it out before he did.… So whatever the case, neither one of us knew what the hell was going on."
Longtime fans know that Kimmel and Damon have had a mock feud for years and years now, starting when Kimmel randomly apologized to Damon for having to bump him from the show -- something he does every night now.
While speaking with NPR back in 2013, the late-night host said Damon's name "was just the first name that popped into [his] head," and his producer "got a kick out of it" so he "just started doing it every night to amuse him."
"Repeating the same joke every single night, you'd think eventually people would get tired of it, but they don't," Kimmel said at the time.
During an appearance on Sirius XM's "The Jess Cagle Show" back in 2021, Damon reflected on his "feud" with Kimmel, saying it "changed the course of [their] lives."
"He could have said Brad Pitt. He could've said, you know, George [Clooney], he could have said somebody else," he explained. "But he just, for some reason -- maybe I had a movie out that week or something -- but he just said my name."
Damon pointed out that Kimmel said the running gag "doesn't behave like any joke ever."
"He goes, 'I say the same joke every night ... and it gets a laugh every night,'" Damon explained. "He goes, 'It's the weirdest thing.'"