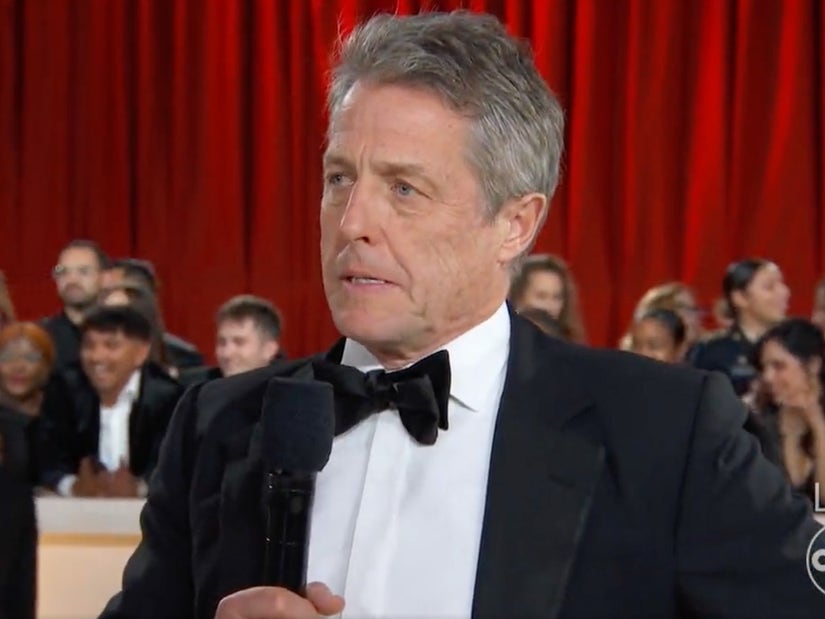 Twitter
Grant's notorious grumpiness went viral after an uncomfortable interview with Graham only to be trumped later on the Oscars stage with an unexpected "scrotum" joke.
Hugh Grant's awkward red carpet interaction with Ashley Graham is raising eyebrows on social media during the Academy Awards -- but they had higher to go with an off-color joke later in the broadcast.
Reporting live from the Oscars Red Carpet, the model had a brief interview with the "Love Actually" actor that left the internet a little bewildered.
When Graham asked the Academy Awards veteran his favorite part of attending the annual ceremony, the 62-year-old took his time searching for the perfect answer before simply stating, "the whole of humanity is here tonight, it's vanity fair."
She then inquired about what he was most excited to see tonight, he replied, "to see?" to which Graham clarified, "I know that you've probably watched a few of the movies, are you excited to see anybody win? Do you have your hopes up for anyone?"
"No one in particular," Grant said.
The "Notting Hill" star also answered the Swimsuit Illustrated model's next question about what he was wearing by dryly replying, "my suit."
"Your suit?" Graham quipped, "You didn't make it."
"I can't remember... my tailor," he replied.
Ashley later asked him about his experience filming Netflix's "Glass Onion," and Grant retorted, "Well, I'm barely in it. I'm in it for about three seconds."
"Well yeah, but still you showed up and had fun right?" Graham implored.
When the "Bridget Jones's Diary" star walked away, fans saw the actor raise an eyebrow before leaving.
Oscar viewers flocked to Twitter to share their thoughts on the uncomfortable interview.
One user wrote, "Hugh Grant wants no part in this dumb s--t."
"And the Oscar for the guy who totally doesn't want to be there goes to Hugh Grant," another tweeted.
"Anyone catch the eye roll Hugh Grant just gave after this live Oscars interview? Was he mad she called him a 'veteran' of the Oscars or was he just mad at the world?" someone else questioned.
Grant's awkward evening continued on stage when he came out to present alongside his "Four Weddings and a Funeral" co-star Andie McDowell with an important message about moisturizing that sent him viral all over again.
He emphasized "the vital importance of using moisturizer," pointing out that McDowell has been using one "for the last 29 years, and I've never used one in my life."
He then gestured to his co-presenter and said, "Still stunning." Shifting his gesture to himself, Grant then deadpanned, "Basically a scrotum." It took the audience quite a while to come down from that, and even longer for Twitter.
"Comparing oneself to a scrotum may be a first for the Oscars," wrote one user. "Just saying."
"Hugh Grant just referred to his face as 'basically a scrotum' if you wanna know how things are going," tweeted one user. Another added, "THERE'S the self-deprecating Hugh Grant we all love!"
But they also weren't quite over his earlier exchange with Graham, with one user joking, "Hugh Grant said he looked like a scrotum, I'm sure Ashley Grant [sic] believes he looks more like a d---!"