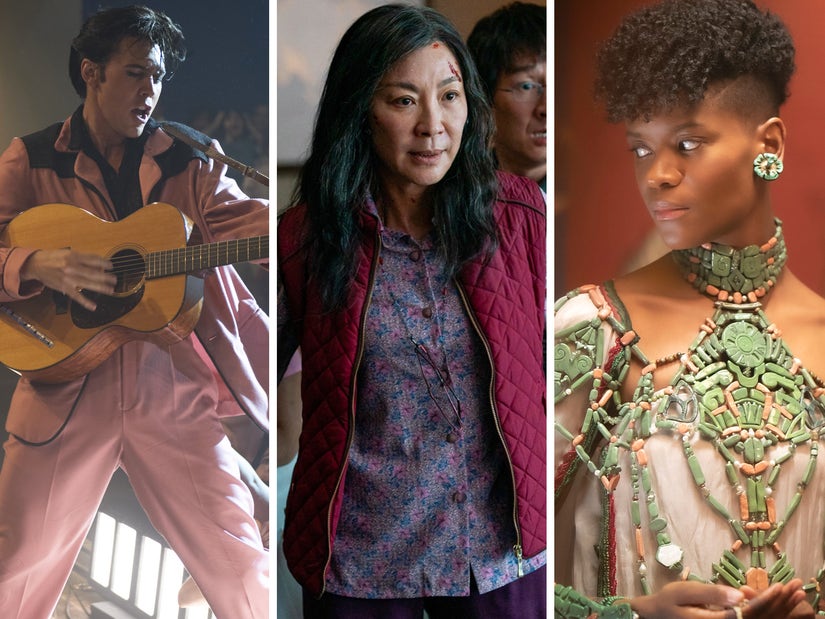 Warner Bros. / A24 / Disney
What's the best predictor for the four acting categories as well as best director and best picture?
This time of year every movie fan is trying to perfect their method for predicting the big winners on film's biggest night.
Many attempt to leverage insights from other awards competitions that precede the Academy Awards -- from the much-maligned Golden Globes to the SAG Awards to the BAFTAs -- but according to industry trade The Hollywood Reporter one ceremony rules supreme as fortune teller come Oscar Sunday.
In a study from last year, they found that "the roughly 400 movie branch members of the Critics Choice Association have voted in line with The Film Academy 73 percent of the time in the six major categories — best picture, best director and the four acting races — for the past five years."
They are not the only ones to make this connection. GoldDerby, CBS News, and the Critics Choice Association themselves, of course, all agree with this finding. GoldDerby notes that, "Over its 27-year history, these kudos have previewed 15 Best Picture Oscar winners as well as 22 Best Director, 18 Best Actor, 15 Best Actress, 17 Supporting Actor and 19 Supporting Actress champs."
The 2023 Critics Choice Awards took place on January 15th and named some of 2022's top films according to the critic votes.
If the CCAs track record isn't enough, Harvard graduate and Mets General Manager Ben Zauzmer (and THR's resident Oscar prediction guru) created his own formula for predicting the Oscars.
"I gather data on all of the potential contenders in over 20 categories and how they did at previous award shows, and how those categories have played out in previous years," Zauzmer shared in an interview with Entertainment Weekly.
"And I use all of that data to calculate the probability that each of this year's nominees wins the Oscars."
Zauzmer compiles data from previous awards shows and websites like Metacritic and Rotten Tomatoes to get his predictions, while also looking at data from previous winners. When he compiles all of this data together, he then uses it to predict the movies that will win in the current year. But is he accurate?
"Overall, in the eight years I've done this, the most likely nominee to win has won 77% of their races across all categories," Zauzmer said back in 2019.
Zauzmer recently shared his predictions for this year, and all of them lined up with the Critics Choice Awards results except in one category. Zauzmer predicted that Collin Farrell will win the Best Actor award, while the Critics Choice Awards gave it to Brendan Fraser. Another small note is that the Critics Choice Awards gave the prize in Best Score to Hildur Guðnadóttir for "Tár", but the score was disqualified from the Oscars. However, Guðnadóttir was also nominated for "Women Talking".
The following are the Critics Choice Awards results.
Best Picture: "Everything Everywhere All At Once"
Best Director: Daniel Kwan and Daniel Scheinert for "Everything Everywhere All at Once"
Best Actor: Brendan Fraser in "The Whale"
Best Actress: Cate Blanchett in "Tár"
Best Supporting Actor: Ke Huy Quan in "Everything Everywhere All at Once"
Best Supporting Actress: Angela Bassett in "Black Panther: Wakanda Forever"
Best Screenplay (Original): Daniel Kwan and Daniel Scheinert for "Everything Everywhere All at Once"
Best Screenplay (Adapted): Sarah Polley for "Women Talking"
Best Costume Design: Ruth E Carter for "Black Panther: Wakanda Forever"
Best Production Design: Florencia Martin and Anthony Carlino, "Babylon"
Best Score: Hildur Guðnadóttir, "Tár" (Disqualified from Oscars)
Best Cinematography: Claudio Miranda, "Top Gun: Maverick"
Best Editing: Paul Rogers, "Everything Everywhere All at Once"
Best Song: Naatu Naatu, "RRR"
Best Hair and Makeup: "Elvis"
Best Visual Effects: "Avatar: The Way of Water"
Best Animated Feature: "Guillermo Del Toro's Pinocchio"
Stay tuned for the Oscars this Sunday, March 12th, at 5:00pm PT to see how accurate these predictions ended up being!