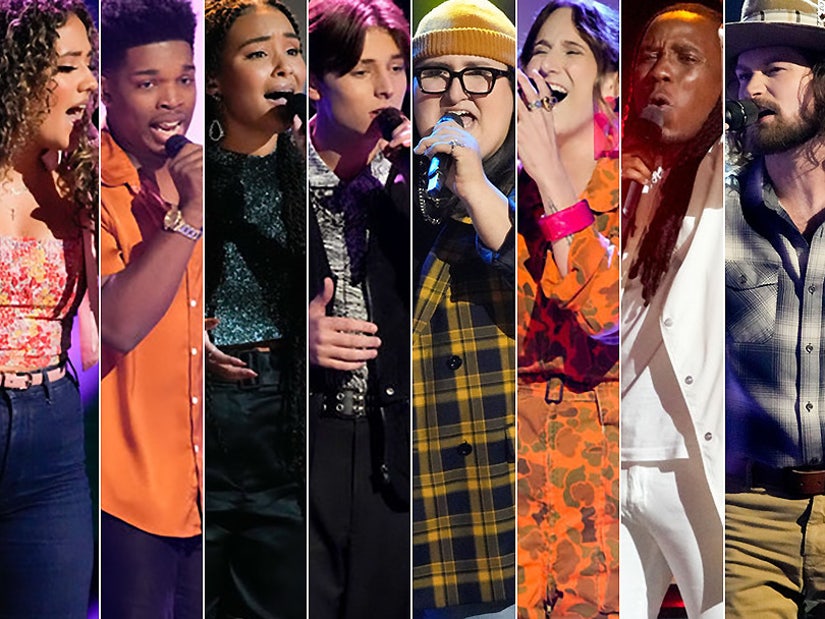 NBC
A young teen from a non-musical family leaves all four Coaches with jaws hanging open as he slays with the strongest Blind Audition yet on "The Voice" -- where did this talent come from?!
From a deaf singer to a 15 year old with incredible artistry, night three of the Blind Auditions on "The Voice" offered plenty of chances to stand up and shout at the screen.
The father-son thing between Blake and Niall has been cute, but we've yet to see if either he or Chance will be able to step up and spar with Kelly in as fun a way as Blake does. We can only assume she'll continue with the show, as she seems to really enjoy it, making her the anchor moving forward. But as we saw last season, it's not as much fun without a great foil.
Fair warning, since I'm safe at home, I'm probably going to be a little harsher than my colleagues Kelly Clarkson, Chance the Rapper, Niall Horan, and Blake Shelton. But I might be nicer, too. Maybe.
And just for fun, I'm going to rank the performances from worst to first to see who my favorites are, and then see how they do as the season progresses.
("No Air," Jordin Sparks - 23, Cincinnati, OH) Challenging syncopation on this one paired with nerves that left her voice a little warbly and Jayda did not come out with her best foot (or voice) forward. This was a tough one as she just never settled into her confidence. She has a pretty tone and with some more experience and growth and, most importantly, self-belief that this is what she's meant to be doing, she could change her trajectory. Here, she sounded both timid and overwhelmed.
("Try Me (I Need You)," James Brown and the Famous Flames - 36, Andrews, SC) We needed a little more authenticity and strength in his voice. It was paper thin through so much of this performance. On top of that, it was all a bit too performative for us, with Jamar playing around with a lot of his notes without really committing to any of them. It was staccato when we wanted the chance to hear him belt just to know he could. The falsetto was the first time he showed more than one small range and volume to what he does, and it almost came too late.
Results: Chance, Blake Turn [Team Chance]
("Hurricane," Band of Heathens - 24, Nashville, TN) Walker has potential to settle into that dirty South style of Southern Rock and Country, but right now he's all dirt and no polish. There needs to be a healthy does of heart with that grit and grime in the voice. We heard a lot of style, without substance. There was one lane he was singing in and it's what you're told this genre of music sounds like, so it's like he's putting on what he expects we want to hear rather than feeling it come up through his bones. He needs a dose of authenticity so we can believe he lives this sound.
Results: Blake Turns [Team Blake]
("Amor Eterno," Rocío Dúrcal - 18, Chula Vista, CA) Sophia was so close to getting a button to press, but she spent too much of the song in this very safe pocket for herself vocally. It was only toward the end that she started to push it. It's weird to say, but it was just too pretty throughout. There was nothing raw and feeling about what she gave. It felt very safe. She has a pretty tone, but without any sense of her passion or her drive as an artist -- or even her passion and drive to be on this show -- there wasn't enough to grab onto and say, 'Yes!' It was pretty, but it was also just there. Still, no chairs was a bit of a surprise as the talent is definitely there and that's what Coaching is for.
("Rise Up," Andra Day - 22, Dallas, TX) Manasseh auditioned last season and didn't get a chair turn, but she came back with a new look and new confidence to try again. Her song choice was inspiration and a message back to that rejection last year. It was still a little shaky, but there are definitely pieces to her voice that could be honed into something incredible. She's got a lot of power, a nice vibrato and good control. We'd like to see her push her upper end in full voice to see where she can go. It was nice to see that shift after Chance turned, as the emotion she was feeling fell into her voice. She's got a long way to go yet to be world-class, so the challenge lies before her. Will she rise up?
Results: Chance Turns [Team Chance]
("Killing Me Softly with His Song," Roberta Flack - 24, Walnut, CA) Right away, Ali is coming at all of this from a different place as she was born deaf. Her mother said she has perfect pitch and her father is a drummer, so music was always a part of her experience, even as she experienced it in a completely different way than hearing people. Her pitch was impeccable when she did hit the stage, with very tasteful runs that slid up and down the scale very tastefully. We'd have liked a little more oomph in the overall performance, but there's no denying how impressive it is that she can do what she does, nor her passion for it.
Results: Kelly, Chance Turn [Team Kelly]
("pov," Ariana Grande - 20, Montgomery, AL) Leaning a little too far into his musical theater, it was about halfway through before we got any sense of who Jerome might be as an artist underneath. Or how he even sees himself, to be honest. There was this beautiful texture to his tone throughout, so the gift of his voice was never in question. It was his artistry that was missing through so much of this. Finally, the talent was undeniable and he proved himself worthy of a shot, but he's definitely going to have to start to self-identify as some kind of artist so there's a vision we can all see and root for along the way.
Results: Kelly, Niall Turn [Team Niall]
("Easy on Me," Adele - 31, Draper, UT) Definitely an unexpected vocal for a male singer, but EJ really nailed all of the full-voice parts. His falsetto was a little shaky in the first half, missing some of his notes. It also pulled away from the strong emoting otherwise happening. Adele is as much about how it makes you feel than how it sounds, and EJ definitely had some of that. He needs to relax a bit (okay, a lot) with his playing and singing. We get that nerves were probably in play here, but you can hear how much stronger he'd be if he could settle down a bit and just believe in the full length and breadth of his voice.
Results: Chance, Blake Turn [Team Blake]
("Sign of the Times," Harry Styles - 26, Dickson, TN) Laura has this fun lilt to her voice that tilted up and down the notes beautifully. It's a challenging song to sing, and she really brought a lot of personality and character to it that was her own. That's not easy to do on a song already so characterized as written. She's got an interesting look, presentation and a fun playfulness in her voice that says she could probably make a lot of different tracks interesting and memorable. On top of that, she had such incredible words to say to the panel, she's this amazing person on top of being this unique artistic talent.
Results: Kelly, Niall, Blake Turn (Kelly Blocks Blake) [Team Niall]
("Paris (Ooh La La)," Grace Potter and the Nocturnals - 28, Nashville, TN) Sometimes it's incredible to us the voices that don't get four-chair turns. Allie from the first note proved she has it. This had passion and power and grit and everything an authentic rock voice needs. You could hear the years of experience in her voice, and how much she embraces the music from the inside out. It's not just a performance, it's a piece that speaks to her and she then speaks it to us. On top of that, she showed off a great range and hinted at the layers in her voice. She could be a real surprise on this show.
Results: Kelly, Blake Turn [Team Kelly]
("Dancing on My Own," Robyn [as performed by Calum Scott] - 15, Montgomery, AL) Coming from a busy family, Ryley is the only one musically inclined. He's building his own recording studio with his own money. His dedication to this gift at such a tender age is just the tip of the iceberg, though. He's got this incredibly sweet and humble personality and then he opened his mouth to sing. Each line was more beautiful than the last. This piece, as Calum interpreted it, is so gut-wrenching and achingly beautiful and Ryley was able to tap into all that emotion. He has such an incredible talent and wow is he an exciting addition to the show.
Results: 4-Chair Turn [Team Niall]
"If you pick me, I will quit after this season." --Blake
"Man, us veterans. It's hard. Are we too old now?" --Kelly (to Blake)
"The young'ns are killing it right now." --Chance
"Y'all are bragging now, but when you need a discount at breakfast." --Kelly
"It's rookie season!" --Niall
"You're one of the richest men on the planet, what do you want?" --Carson (to Blake, complaining he hasn't gotten a going away present)
"I haven't really understood much of what Niall has said to me." --Blake
"Vice versa, by the way." --Niall
"I think it's vibration. It's all based on what she's feeling in her feet." --Niall (about deaf contestant ALI)
"My feet are cold." --Blake
"So is your heart." --Kelly
"You did it Chase-- Chance." --Blake (getting it wrong)
"Neil and Chase." --Niall (Blake keeps getting both wrong)
"Do you even know who Maxwell and D'Angelo are?" --Kelly (to Blake)
"I thought that was a coffee brand." --Blake
"If he didn't tell you, this is his last season." --Chance (to EJ)
"He's so tired." --Kelly
"I am tired of this. I'm tired of that." --Blake (about Kelly)
"You can't talk to an artist about brands of coffee and think they're gonna pick you as a Coach." --Blake (to Chance)
"I can't wait to see him next round performing some Tim McGraw or something. Sick." --Chance (after EJ picks Blake)
"Since it's his last season, it could very well be Blake Shelton he's singing." --Niall
"I'm sorry, Blo-- er, Blake." -- Kelly (after Blocking Blake)
"Block Shelton!" --Niall
"The Voice" continues Mondays at 8 p.m. ET and Tuesdays at 9 p.m. ET on NBC.