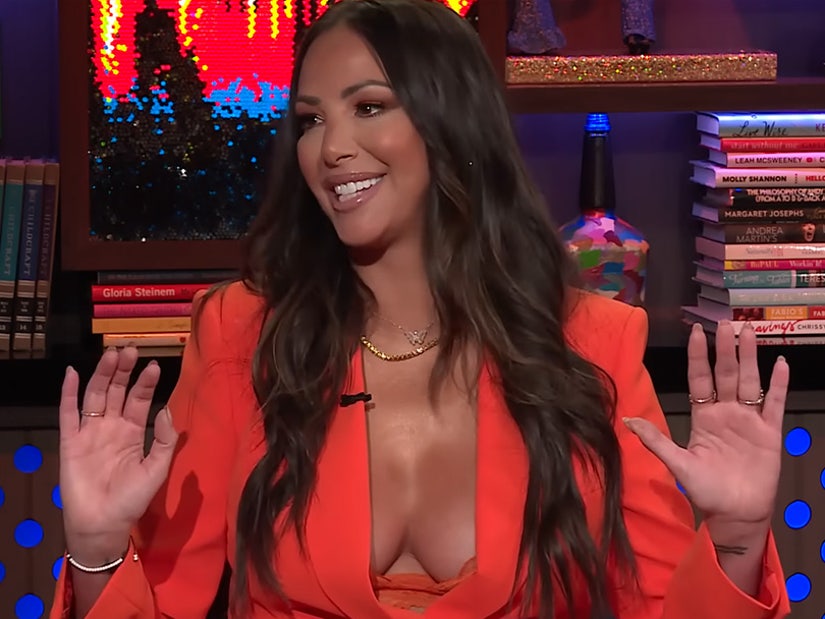 Bravo
Doute -- who Sandoval cheated on with Ariana -- appeared on WWHL and says she was there when Madix made the shocking discovery on Tom's phone.
Kristen Doute does not feel "vindicated" that her ex, Tom Sandoval, has cheated on the woman he left her for. Instead, she thinks "it's really sad."
She also says that since the "Scandoval" first rocked the nation, she has learned about "multiple" additional cheating allegations from different women, suggesting what she believes is a pattern.
Andy asked her point-blank if she'd heard of anything, and Kristen replied, "Since the Raquel news broke I've heard multiple things, now coming out of the woodwork."
She added that it isn't anyone she knows personally, but offered an example of "a friend of a friend" allegedly hooking up with Sandoval when he and his BFF Tom Schwartz were doing appearances together.
Kristen also weighed in on Lala Kent saying that Sandoval talking about Raquel in the latest episodes is exactly how he used to talk about Ariana when he was still with Kristen, to which she replied, "Verbatim."
She went on to mention fans who've created side-by-side TikToks to illuminate the similarities. "Like, magnetic, we kissed, the sunrise, best friend, blah blah blah," said Kristen. "I mean, it was verbatim the same thing."
She also called Sandoval out for repeating himself when he argued that he'd tried to break things off with Ariana, but she wasn't letting him.
"It's the same thing he said about me. Be a man, if you want to break up, break up," she said, later adding, "Why can't you say, 'I'm sorry, I'm a trash human being?' Then when you're better, show it with your actions."
She used this same idea when Andy spoke for all those fans who question why she thinks she has the right to say anything about this considering she, too, is guilty of having cheated on her best friend and lying about it.
"I knew this was coming," Kristen admitted. "I mean, it was like 12, 13 years ago. Like, everyone just get on -- move past it."
At the same time, she said that not only did she apologize, but "I sat in the mud for almost two years, begging for apologies, waiting for my actions to speak louder than my words."
Along those same lines, other fans have suggested that maybe Ariana "deserves" what's happened, since she began her relationship with Sandoval while he was still involved with Kristen. But Kristen quickly shut that down.
"Nope," she argued. "And I'm the one who gets to say this. Nobody else's opinion matters. It is not the same thing. She didn't deserve it. Not at all."
In a moment that caught Andy by surprise, Kristen just casually mentioned that she was sitting right next to Ariana when Tom's phone fell out. This came out when she was asked if she at all feels "vindicated" by this scandal, considering what happened with her.
"No, I don't. I don't feel vindicated," she said. "Like, it's really said. I mean, Tom and I were together almost six years. We should have broken up after a year or two. He and Ariana have been together almost a decade, they own a home together."
After she then casually dropped that she was there when the phone dropped, Andy asked if that means she found out that night. As it turns out, it wasn't quite that simple. Apparently, after finding the phone, Ariana ghosted.
"So Ariana disappeared and her phone and purse were sitting at the chair next to me," she told Andy, breaking down what happened. "A lot of fans were around, I grabbed them, couldn't find her for 20 minutes, I wanted to leave, gave it to a friend of hers and then didn't talk to her until Friday morning."
The phone drop happened on a Wednesday night. "Thursday morning I'm getting all these texts, I'm going, no, you guys, I was with them last night. No way," she said, saying that she didn't believe the stories she was hearing ... until she "went to Ariana" the next day.
Kristen said that she wasn't at all surprised that Sandoval cheated. "He cheated in general, like, I thought that years ago," she explained. "But with Raquel, [I was] completely shocked."
While her advice for Sandoval was for him to own it and spend his time "in the mud" like she did, proving his worth with his actions, her advice for the woman he cheated with was very different.
"Raquel, just flee the country," she said.
Tom and Raquel weren't the only ones Doute took aim at during her appearance, as she briefly slammed Lisa Vanderpump as well -- naming her ex-boss during a game of "Who Should Suck a D---" and adding, "I'm a pawn in her chess game and I'm over it, I'm 40!"