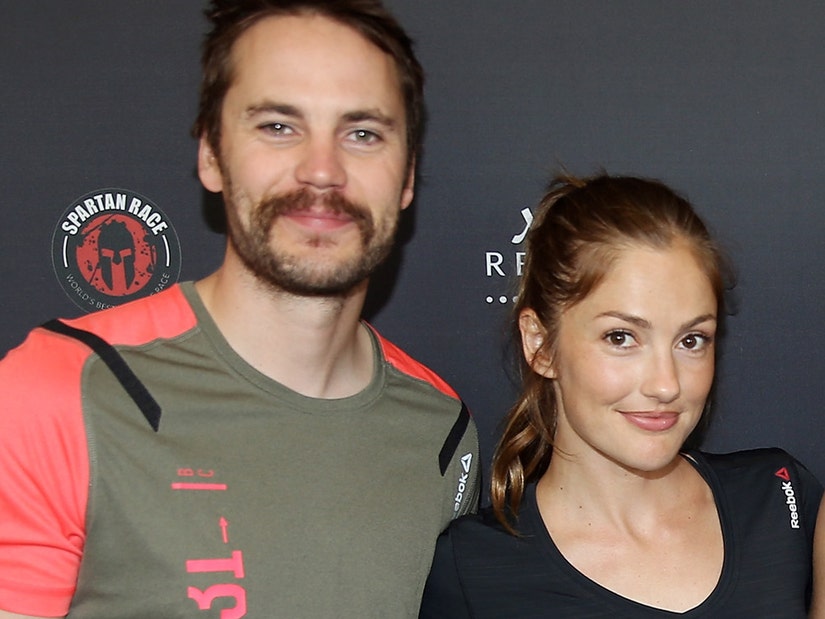 Getty
"The word 'toxic' makes me cringe a little bit," says Kelly, after writing "when it was bad, it was really bad" in her book.
Minka Kelly admits she maybe used the wrong word to describe her relationship with ex-boyfriend and former "Friday Night Lights" costar Taylor Kitsch in her new memoir, "Tell Me Everything."
"I don't know if I describe it as a toxic relationship," the 42-year-old actress interjected. "I say it became toxic as a result of one: being under the pressure cooker of a new show. You're 26 years old and in your twenties, I think there's a chance that might happen if you come from where I come from and you have the tools that I have or don't have."
She added, "What was important to me and what I really tried to do, especially in that chapter, was keep the focus on my s---. On me."
"It wasn't important what I felt anyone did to me or was unfair to me. It's not about that and my whole journey is about how have I contributed to the things that aren't working out in my life," she continued, before admitting that "the word 'toxic' makes me cringe a little bit."
Expressing some regret over her word choice, she added, "I hate that. I wish I would've said 'unhealthy' or something else." She concluded, "But it did feel like the right way to describe the way that went at that time as a result of how I handled things."
In the book, Kelly said the two -- who met on the set of the football series back in 2006 -- "fell in lust fast and hard" and were "infatuated with each other."
"It's just that the good only lasted so long before our incompatibility reared its ugly head. We ended up getting back together and breaking up more times than I can count," she shared. "When it was good, it was good. But we were very young and very sensitive people with our own personal unhealed traumas, so when it was bad, it was really bad."
She also said the relationship affected her relationship with the rest of the cast, too.
"All the effort I might have invested in connecting consistently with the girls on the show went to Taylor," she said, admitting that "there was often stress between the people I'd thought of as my friends, and I was left feeling lonely and confused."
Then, dropping the word of the hour, she added, "So when my relationship with Taylor became toxic, I had no one to turn to."
Kelly said her mother's death in 2008 helped "put all the on-set drama into perspective" and left her realizing she no longer really cared what others thought about her and concluded "we all had a job to do and we were just here, doing those jobs."