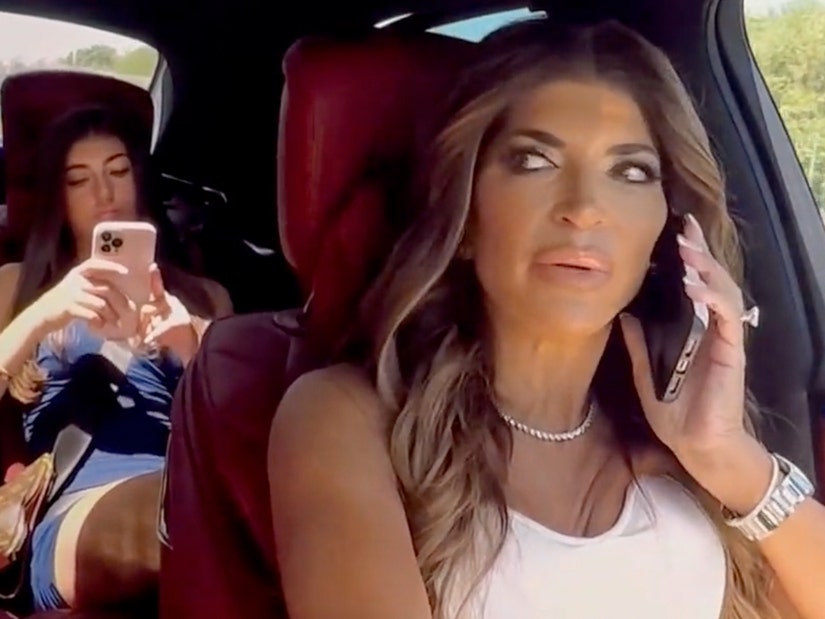 Bravo
Unaware that RHONJ cameras were rolling during a phone call, Luis Ruelas makes a pretty unexpectedly brutal comment about Joe and Melissa Gorga in front of Teresa's kids, leaving Giudice horrified.
There's a rule of thumb reality stars should probably try to keep in mind. Always assume the cameras are rolling and capturing every single moment of your life!
Taking place before their wedding, which her brother Joe Gorga and his wife Melissa did not attend, the latest installment of the Bravo hit gave another hint as to some of the long-standing tension that might have had something to do with it.
Also, if Joe and Melissa were not yet aware of this particular scene -- well, things aren't about to get any better between the couples any time soon. Let's just say, Teresa wasn't the only ones cringing!
It all went down when Teresa was heading to her bridal shower with her daughters Milania, 17, and Audriana, 12, in the car. She took the aforementioned call from Luis and he immediately put his foot right into his mouth.
Luis was calling to ask who he should invite to the pre-rehearsal dinner they were planning. "I'm going to send a text out for next Thursday night. So, who am I sending a text to?" he asked, before rattling off a list of potential guests, including Teresa's "RHONJ" cast-mates Dolores Catania, Margarat Josephs, Jackie Goldschneider, Jennifer Aydin.
YIKES. Scenes like this is where Louie and Tre loose me. It makes me feel like the "olive branch" was not genuine towards the Gorgas no? What do y'all think of this whoopsie moment from Louie forgetting cameras were filming their convo 🫤🫣 #rhonj pic.twitter.com/QptzXInws8

— Daily Bravo 💌 (@dailybravomail) May 3, 2023 @dailybravomail
"Just put the invite out to all of them?" Luis mused, before adding, "except Melissa and Joe. I'm not inviting them."
Teresa quickly interrupted him. "You know the cameras are on, we're filming, right?" she asked. Louie's reply was simply, "Oh s---, okay."
Teresa took him off of speakerphone, looking carefully at her daughters, who seemed to have no reaction, and told Luis, "You have to invite everyone. You can't just do some and not the others." She assured her girls their aunt and uncle would be invited.
Milania said she didn't understand why her mom was making the effort. For all her efforts to shield her children from the strain between her and her brother's family -- well, kids always seem to know more than their parents think, don't they?
"I don't like to tell the kids everything that's going on with my brother and Melissa, unless I have to tell them," she said in a confessional. "There's no reason to tell them anything right now. The wedding's a week away, I'm so close to my happy ever after."
She also told her daughter that it was better to be happy because it expends more energy to be upset or angry ... and then omitted any mention of Melissa at her wedding shower when thanking people for attending, including Louie's sisters.
"Her new sister-in-laws seem lovely," Melissa said in a confessional. "I'm happy for her, I want that for her, too. I just don't understand why she feels like it's them or me. To me, she just was like, ''Ha, I replaced you guys. I have someone to call family, so bye.'"
As for the wedding, Melissa was determined to keep the peace between her family and Teresa's, "so that Joe can go to the wedding, so that I can go to the wedding, so that my kids are at the wedding, for the normalcy of a family member getting married."
After that, though, all bets were off with Melissa saying she's ready to be done. Invitation or not, though, Joe and Melissa ultimately opted out of going to Teresa and Luis' August 6 wedding.