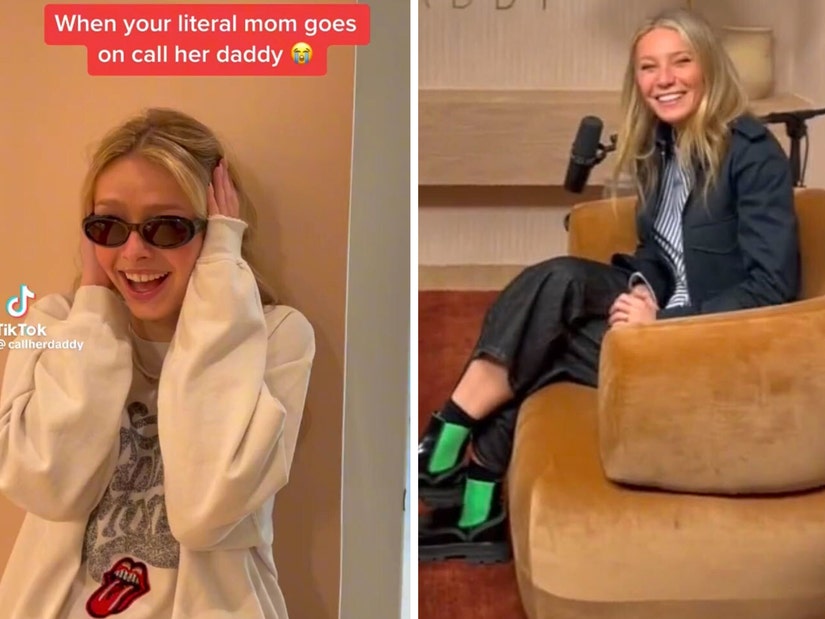 TikTok
Apple Martin, 18, was in the room as her mom recorded her Call Her Daddy interview -- during which she made revelations about sex with Brad Pitt and Ben Affleck and spilled about her failed marriage with Apple's father, Chris Martin.
While Gwyneth Paltrow engaged in a no holds barred discussion about her famous exes on "Call Her Daddy", it has just come to the internet's attention that her daughter Apple Martin was in the same room the entire time.
The 18-year-old's hilarious -- and completely relatable -- reaction was captured in a TikTok video showing the teen trying to cover her ears while in the recording room with her mom and host Alex Cooper.
Paltrow joined Cooper on the hit podcast, where she did not hold back on discussing her sex life with exes Brad Pitt, Ben Affleck, and even Apple's father Chris Martin.
In the viral video of Apple, posted to the podcast's TikTok account, the teen can be seen cringing in the corner with the caption "When your literal mom goes on call her daddy😭." The video then pans to Paltrow and Cooper -- watch below!
The video was also posted on Instagram, where Cooper captioned, "LMAOO ily Apple thanks for supporting the show… and your mom on this ep😭❤️."
The Oscar-winning actress spoke all about her past relationships, and even played a game of F--k, Marry, Kill with Cooper, who asked her to choose between Affleck, Pitt, and Martin.
"Well, obviously, I'd marry Chris Martin because he gave me my two children, who are the loves of my life," revealed Paltrow. "So I would do that all again."
As for Ben: "God bless him," said Paltrow before deciding to "kill" him, and thus f--k Brad.
For more highlights from the juicy interview check out the article below!