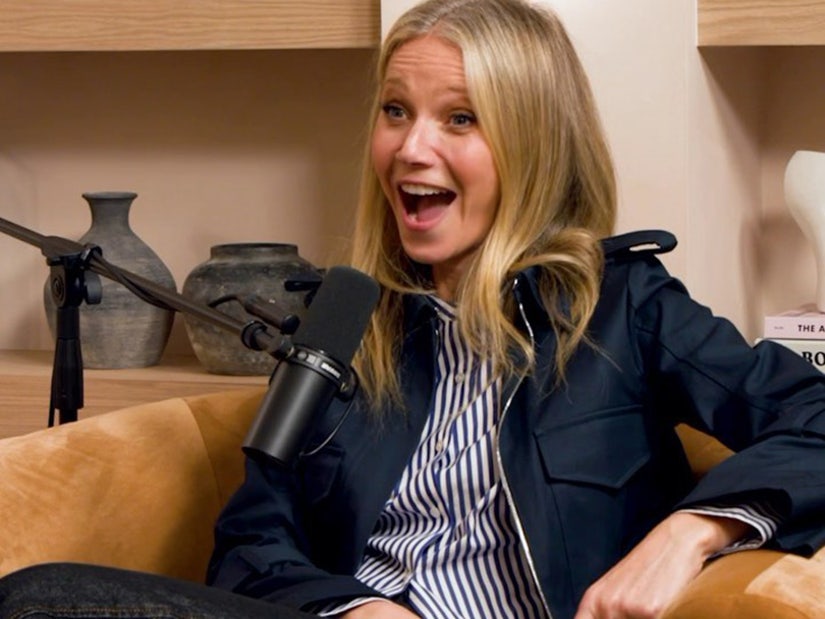 Spotify
Gwyneth Paltrow says she and Chris Martin might have never even happened if it weren't for the tabloid media -- before setting some rumors straight about Bradley Cooper and Johnny Depp.
If there's one thing you can count on from both Gwyneth Paltrow and the "Call Her Daddy" podcast on Spotify, it's that there will be a lot of hot goss dripped with almost zero filter. So we knew it was going to be good when they got together.
The actress and Goop founder did not disappoint, either, talking all about her famous love life in a wide-ranging interview. She covered the famous men she wound up in serious relationships, including Brad Pitt, Ben Affleck and Chris Martin, all the way down to the one who tried to get with her -- and failed.
It wasn't just salacious juice, like who was best in bed -- though that definitely did come up -- but also what she learned from these experiences and how they each taught her about herself, her wants and her needs.
Rising from Pitt of Despair
Paltrow was only 22 when she met Pitt on the set of "Se7en." She recalled where he proposed a couple of years later, but laments that his word are gone.
"I wish I remembered exactly what he said, but he proposed, it was fantastic, I was thrilled," she told host Alex Cooper. "We had talked about it, but I was surprised in the moment, I remember that."
Alas, that proposal in December 1996 would lead to their eventual breakup just six months later. At the time, she admits she was "totally heartbroken," but she also knows "it was the right thing at that time."
One of the biggest problems -- if you could call it that -- in their relationship was their nine-year age difference. But it wasn't even the chronological difference as it was their differences at where they were in their lives at those ages.
"He knew what he wanted, he was ready to do it and I was kind of all over the place," she said. In time, though, she came to realize that this was a learning moment for her, a chance to step back and take stock of herself and where she was emotionally.
"I had a lot of development to do, looking back in hindsight. In a lot of ways, I didn't really fully start to come into myself until I was 40 years old," Paltrow conceded.
She also explained that she had a "pleasing issue," which is why she felt in their breakup like it was just further proof that she wasn't living up to other's expectations of her and what they wanted. "I didn't really even understand how to listen to my instincts and act from that place for what was right for me," she said.
Ultimately, now that she's matured and has more years behind her, Paltrow has come to realize that it was really just a matter of her being so young at the time; in many ways even younger than her 20-some-odd years then.
While Paltrow has had her share of famous relationships before landing her current husband, "Glee" and "American Horror Story" co-creator Brad Falchuk, there are just as many famous faces she never got with -- but that didn't stop Cooper from asking.
It was a segment that could have perhaps gone on forever, and might have delivered even more juice had Cooper been a little more lucky with her guesses -- or did deeper research to dig up the dirt.
For example, she asked about Bradley Cooper and Paltrow said she doesn't even know him, per Just Jared. Cooper didn't do much better with another name, but she was getting warmer.
When she asked about Johnny Depp, Paltrow said that while the two of them did star in a movie together, they did not make out. She also didn't make out with Leonardo DiCaprio, but that wasn't for a lack of effort ... on his part!
"He tried back in the day," she said of the actor. "He was very loose with the goods from when he was 19."
Tabloid's Cold Play Leads to Marriage
Leave it to the tabloid media to create gossip out of a simple sighting. It's what happened after the media frenzy created a relationship out of thin air that was truly wild.
For Paltrow, her draw to Coldplay's Chris Martin started with the music. "When I heard the music and I had this very powerful reaction to it, I was like, 'This is incredible,'" she said. But that's all it was.
Somehow, though, her going to a Coldplay concert transformed into, "because I was there, someone wrote in the newspaper that we were dating." When she first saw that headline, she and Martin hadn't even met. "I was like, 'Please. We're not dating. I just went to this thing.' But they kept writing it all summer, all summer, all summer."
What's more, the fact he was five years her junior made the thought of being with him even more bizarre. But in many ways, it was the media who put that seed in her head. And it wasn't planted just in hers, either.
After her father Bruce died in 2002, her friend convinced her to go to an upcoming Coldplay concert she already had tickets for. While there, and specifically because of the tabloid stories, Martin's assistant approached Paltrow.
"She came and said like, 'Oh hi, this is so crazy. Do you want to 'go meet your boyfriend' after the show?'" Paltrow recalled. "So we went backstage and we met. And he was just so sweet." Even then, Paltrow didn't think they'd ever even date.
Things changed when Martin invited her to yet another gig, this one in Ireland. Again, it was her friend who convinced her to go. Her reason, despite Paltrow's hesitation, was that "this is the first time you've smiled since your dad died.' So I went."
The couple wound up married just a year later and quickly welcomed two children, Apple and Moses. They would stay together until 2016. Paltrow and Martin, who is now dating Dakota Johnson, remain on friendly terms as they co-parent their children.