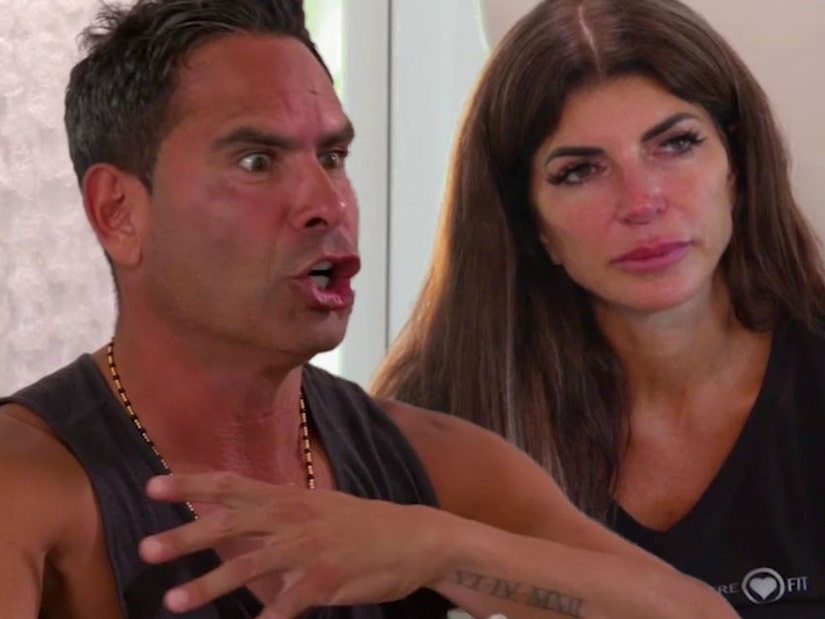 Bravo
"I've never heard Louie talk like this before," said Teresa ... as Ruelas also reveals the advice he got from Joe Giudice on how to handle her brother.
As Teresa and Luis inch closer and closer to their wedding day on the current season, the pair got even more upset at Joe and Melissa Gorga after they shared they wouldn't be attending any of the pre-wedding festivities -- including the rehearsal dinner.
While Melissa claimed she didn't know about the dinner in time and had other obligations, Teresa was confused -- telling her then-fiancé, "You know there's going to be a rehearsal dinner the day before a wedding."
In a confessional, Teresa revealed that talk of all the fighting between the two couples made its way back to her ex-husband, Joe Giudice, who apparently called Luis with some advice. "The only time Joe and I used to fight was because of my brother," said Teresa, comparing the two situations.
"He said to me, 'Don't let Joe Gorga interfere in your life, because he's gonna try to do that. He's gonna feel intimidated, insecure,'" said Ruelas. "No matter what man you had in your life, your brother would have found something wrong with him. It's really true, Teresa."
"I'm not gonna lower myself to f---ing trash. We're getting married and after that I'm not going to allow anyone to do this to you anymore," he added.
Later in the hour, as the two got ready for a 1920s party, Teresa said she hoped everything would be "calm" at the event. She added that she tried to speak with Joe over the phone leading up to the party, but he never returned her calls. Luis called the situation "bulls---," as Teresa said she didn't know who her brother was anymore.
As the conversation between them continued, Luis got more and more fired up -- explaining that what really soured his opinion of Joe was hearing him call Teresa "miserable" during what he believed was actually one of the best times of her life. As for why he felt Gorga was acting that way, he said it came down to two things.
"One ... He doesn't like to see you happy. They'd rather see you a broken down woman, dealing with so much s--- because then it's like you need him," he said. "The second part is projecting his own bulls--- on you. If a man has to say to his sister, 'You're miserable,' it's because he's miserable. Your brother is devilishly calculated by everything he does and is thinking about how to hurt you, it's disgusting."
Teresa said she didn't want to deal with the drama anymore and only wanted "peace" -- adding in a confessional, "I've never heard Louie talk like this before ... but I don't blame him at all."
"People think they can keep pushing you and pushing you and pushing you and you're gonna just deal with it and I'm not gonna deal with it. I'm ready to react," he added, as Teresa wondered whether Ruelas would speak to or confront Joe at the event that evening.
"Your brother? I would like to talk to your brother as much as I want to talk to a rat in the street. I find him boring. I wouldn't even share a cup of water with him, it's disgusting," Luis responded. "I've shown your brother nothing but sincerity, love. I handed over to him, verbally, saying you are the patriarch of this family, not me. Maybe he feels threatened. The problem lies between his ears and no one else's."
"I don't want no trouble, fighting, but if we have to go down that road, you're not going to recognize me. I'm f---ing done," he continued, as Teresa told him to "relax." He wasn't hearing it, however.
"You know something, Teresa, that is dangerous. I'm not gonna take his s--- anymore. I've watched you be a beautiful, at times naive, loving woman towards your brother, forgiving him and letting things go while he is gaslighting you, while he is manipulating you," Luis continued. "As a man in your life, I can't stand to be around that anymore."
"I don't even want your brother coming to our wedding because I don't want bad energy around a beautiful environment, my mother, my two sisters who I adore ... I don't want them around this pig of an energy," he exclaimed as his rant continued. "I don't want somebody even wasting a flash of a camera on your brother and Melissa."
He then asked Teresa whether she would pull him out of a snake pit if she saw him standing in one. She, of course, said yes. "I'm pulling you out of the snake pit. Leave them in the snake pit. Eventually, they all get bit," he then told her.
The whole time, Teresa was clearly emotional -- with tears in her eyes as she listened to Luis' rant. The episode ended there, but the drama will continue during next week's finale -- which will see Teresa and Melissa, as well as Luis and Joe, really go at it at the party.
RHONJ airs Tuesdays on Bravo.