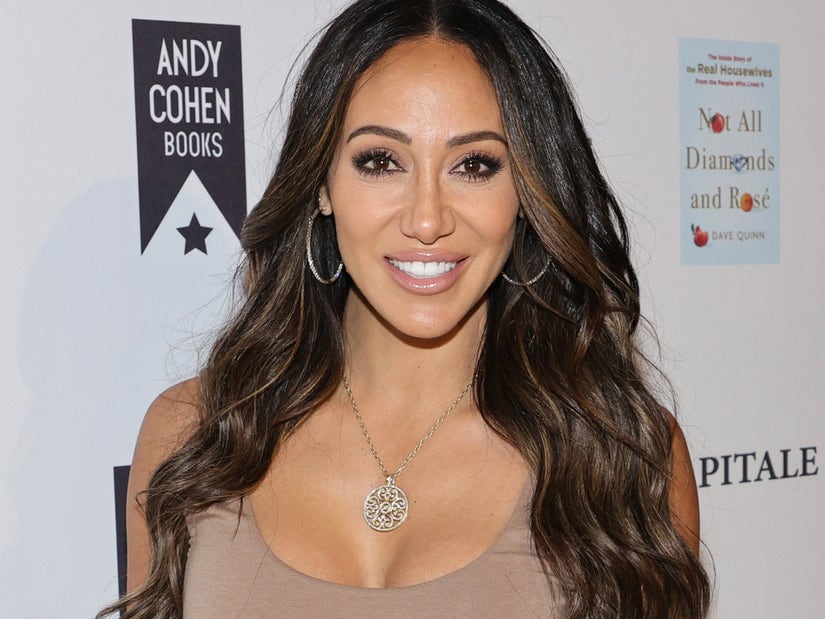 Getty
After years of feuding with sister-in-law Teresa Giudice, things reached a crescendo when Melissa Gorga and Teresa's brother Joe Gorga skipped Teresa's wedding to Luis Ruelas, leading to reports of an explosive encounter at the upcoming "Real Housewives of New Jersey" reunion.
Things may get ugly and then they may get even uglier, but that doesn't mean Melissa Gorga is necessarily ready to throw in the towel.
The reality star addressed rumors that she's ready to quit "The Real Housewives of New Jersey" after her long-standing feud with Teresa Giudice reached epic proportions this season before exploding at the reunion.
"I want to put it out there that no, I have no intentions on leaving," she said. "I never run away when the going gets tough. That's not my personality."
She went on to emphasize, "Our family has been through ups and downs for so many years on this show and I have never left before and I have no intentions on leaving now."
The latest drama between the in-laws culminated in Melissa and Teresa's brother Joe Gorga skipping Teresa's wedding to Luis Ruelas after Teresa didn't ask Melissa to be in her bridal party -- but that's just the tip of the iceberg.
Back in March, per ET, Melissa told "Elvis Duran & The Morning Show" that she's been asking herself when it will be time to say goodbye more lately. "Just because it's like, how long can you keep going?" she said.
At the same time, though, she said, "I don't think I'm ready just yet. I feel like I have a couple more in me. Unless, you know, Bravo has other plans."
Andy Cohen, who famously loves a bit of juicy drama, said that the level of "hate" between Teresa and Melissa even got to him during the recent filming of the Season 13 reunion. He said he's "never seen anything like it, and the way the two of them were going back and forth," adding that "neither wanted the other to have the last word in any petty fight."
He said that at one point, "I think I lost my s--- with [Teresa] in a way that I haven't maybe ever," and that he found the entire filming experience "monumental and upsetting."
In the most recent episode, Luis accidentally dissed Melissa and Joe pretty hard about the pre-rehearsal dinner, without knowing he was being filmed (he was on speakerphone while Teresa was driving).
As such, Luis was caught on camera saying he didn't intend to invite them to the couple's pre-rehearsal dinner, despite inviting pretty much everyone else involved with "RHONJ."
Teresa quickly interrupted him. "You know the cameras are on, we're filming, right?" she asked. Louie's reply was simply, "Oh s---, okay."
Teresa took him off of speakerphone, looking carefully at her youngest two daughters, who were in the car with her at the time (they showed no reactions), and told Luis, "You have to invite everyone. You can't just do some and not the others." She assured her girls their aunt and uncle would be invited.
Teresa's eldest daughter Gia, meanwhile, just revealed that she discovered Melissa had blocked her on social media. ""She blocked me on my public account, my private account and my clothing line account," Gia told her mom on the latest "Namaste B----es" podcast. "It was just weird."
New episodes of "The Real Housewives of New Jersey" are building toward that infamous Melissa-and-Joe-less wedding, Tuesdays at 9 p.m. ET. The reunion is expected to follow immediately after the season.