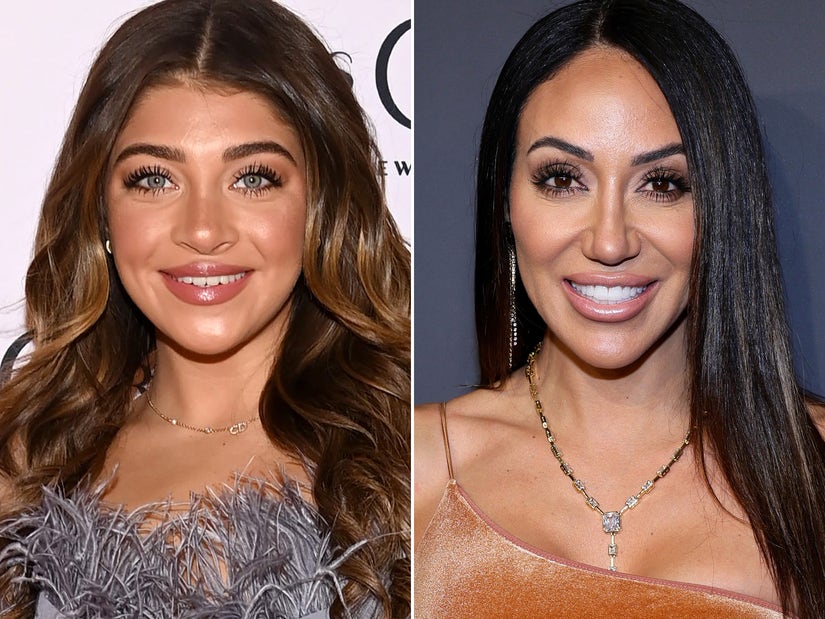 Getty
Teresa Giudice has strived to keep her children out of her ongoing feud with her brother and sister-in-law, Joe and Melissa Gorga, but it looks like the drama is definitely reaching down to the next generation with Teresa's daughter GIa saying her aunt blocked her on social media.
Despite seemingly years and years of pent up family drama, Teresa Giudice has always maintained that she did not want any of it to impact her children, or their relationships with her brother Joe Gorga and sister-in-law Melissa Gorga.
According to her very own daughter, 22-year-old Gia Giudice, it may be too late. During an appearance on the latest episode of Teresa's "Namaste B----es" podcast, Gia shared that she recently discovered she'd been blocked by her Aunt Melissa.
As Gia explained it, she only made the discovery when someone told her that Melissa had posted something about her on Instagram. That at least would seem to indicate that Gia had not really been paying attention to her aunt's socials for awhile, anyway, or she might have realized she wasn't seeing anything from her.
Regardless, she said that when she went to see what had been posted, "I was like, 'I'm blocked on everything,' so I'm blocked from everything from her."
After the discovery, she apparently did some digging, discovering just how thoroughly her aunt had blocked her. "She blocked me on my public account, my private account and my clothing line account," Gia told her mom. "It was just weird."
The discovery came after GIa posted a heated comment on her Uncle Joe's Instagram after he posted a video of him visiting with her dad Joe Giudice in the Bahamas. Joe Giudice was deported from the US after his and Teresa's prison stints and currently lives there.
"This is honestly comical knowing you were with him for not even 5 minutes and we're [sic] able to have somebody take a video of the interaction meanwhile all you have done is talked so poorly about my father," wrote Gia in her comment to her uncle, which has over 4,300 replies at the time of this writing.
"You are such a [sic] opportunist to take advantage of the once in a lifetime opportunity to see my father and use it for a post," she added.
Uncle Joe replied to her comment, writing, "We both said horrible things about each other. It was a nice moment. We have a lot of history. Get the hate out of your heart."
According to Us Weekly, this was the exact comment Melissa had previously written and then deleted that Gia was told about. Melissa explained to the outlet that Joe had written and accidentally posted it from her account initially, before deleting it it and reposting it from his own when he realized what had happened.
A source close to the "RHONJ" cast told People that Gia unfollowed Melissa first after the above comment. "Gia made it clear she doesn't want a relationship with her aunt and uncle," said the source. "Melissa and Joe are just trying to protect themselves from the negativity."
As noted by Hollywood Life, it looks like Melissa has unfollowed every member of Teresa's family, except for 18-year-old Gabriella Giudice. Meanwhile, Joe continues to follow his niece, even though Gia no longer follows him.
Tensions between the adult Giudices and Gorgas have been on a simmer for years now, but recently boiled over in the lead-up to Teresa's wedding to Luis Ruelas, playing out now on new episodes of "The Real Housewives of New Jersey," Tuesdays at 9 p.m. ET on Bravo.
In just the latest episode, Luis was caught on camera saying he didn't intend to invite them to the couple's pre-rehearsal dinner, despite inviting pretty much everyone else involved with "RHONJ."
Teresa quickly interrupted him. "You know the cameras are on, we're filming, right?" she asked. Louie's reply was simply, "Oh s---, okay."
Teresa took him off of speakerphone, looking carefully at her youngest two daughters, who were in the car with her at the time (they showed no reactions), and told Luis, "You have to invite everyone. You can't just do some and not the others." She assured her girls their aunt and uncle would be invited.
Ultimately, though, Melissa and Joe opted out of attending the August 6 wedding -- coming after Teresa did not include Melissa in her wedding party. Melissa ultimately cut ties with the family and said she had no regrets about doing it. The depths of that severing appears to be confirmed by Gia's discovery.
The couples did come face to face in the recently filmed "RHONJ" reunion episode, which left Andy Cohen stunned. "The level of – I won't even say vitriol – I will say hate Teresa and Melissa, it's-- I mean, the gloves are off," he said on the April 24th episode of SiriusXM's "Andy Cohen Live." "I've never seen anything like it."
"There was a moment where I turned to Teresa – I apologized to her later – I didn't yell at her – but I think I lost my s--- with her in a way that I haven't maybe ever," Cohen explained, adding. "I almost walked off at one point."
Cohen admitted he found the entire filming experience "monumental and upsetting."
He also shared that the feuding family members "didn't spend a ton of time rehashing" old drama and teased a "ton of new allegations" and "new material to get into."
All of that will play out after the current season of "RHONJ" finishes airing. The reunion episodes -- it's sure to be more than one -- have not yet been scheduled.