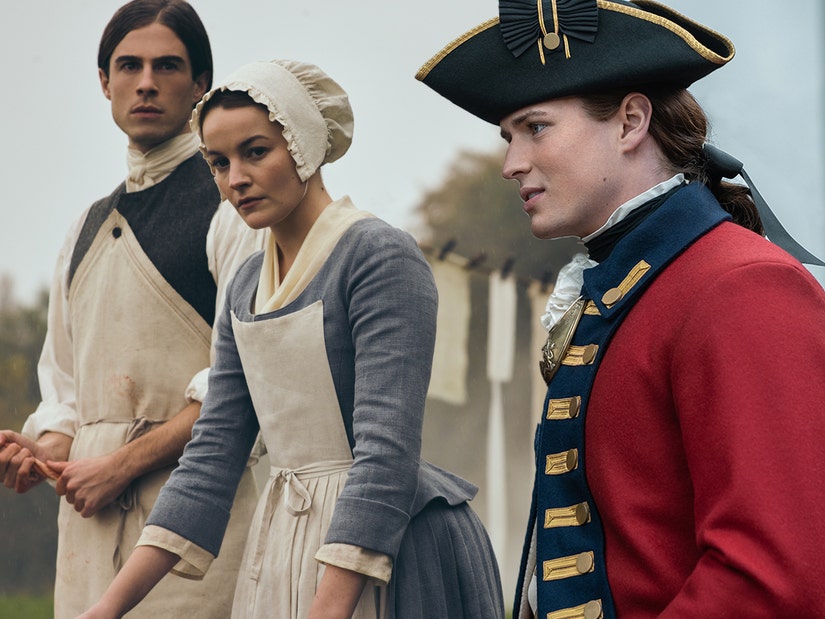 Starz
The Hunters and an aged-up version of Jamie's son William are in the mix this season, as the actors playing them open up about the "double-edged sword" of joining a series with such a massive fan following.
Outlander is returning for its seventh season this Friday and bringing some new faces along with it.
Following a shortened sixth season, the Starz series is back with 16 episodes -- spilt into two parts -- focusing on time traveler Claire and Highland hubby Jamie Fraser's time in America leading up to the Revolutionary War.
With a battle between the colonies and the crown brewing, Lord John Grey returns to the future United States with his adopted son -- and Jamie's actual son -- William to fight alongside the British. That, of course, should set up a pretty interesting dynamic between them and the Frasers, who already know the outcome of the war and plan to side with the rebellion. Though William has appeared on the show before, he's been aged up for the new season and will be played by newcomer Charles Vandervaart.
Also joining this season are Joey Phillips and Izzy Meikle-Small as Denzell and Rachel Hunter, a brother and sister pair of Quakers who find themselves caught up in both the battle and another of the show's trademark love triangles.
"It's daunting but it's really exciting," Izzy told TooFab about joining the show seven seasons in during a recent interview alongside her on-screen brother.
"I think it's one of those things where it's like like a double-edged sword ... it's amazing, it's like so well known, it has all these fans, this is going to be incredible and then you think about it and you're like, 'Ooh, thats a lot of pressure, I don't want to disappoint any people who, like, love the book so much,'" she continued. "So I think we were both desperately trying to over-prepare ourselves so we could do as good a job as possible."
"It was a real whirlwind of emotions, like Izzy said," added Joey, who said he went from feeling "so fortunate" to immediately thinking to himself, "Oh god!" as imposter syndrome sets in.
"The characters are so beloved and so well known already and so you feel like you want to do them justice," he continued. "And so there's a little pressure on there, but it's been such an amazing experience. Everyone has been so lovely and welcoming to us, it's been great."
Vandervaart said he felt "a little bit of pressure for sure" as well, telling TooFab -- while sitting alongside David Berry and John Bell -- that he was a "bit nervous coming in" too. Echoing Izzy and Joey, however, he said the cast and crew are like a family and that "made it a lot easier for me, for sure."
"Everyone was very much just like enjoy yourselves, have a good time, relax, everybody here is on your side and wants you to do the best work that you can do and like just enjoy it and have fun and I think that was great advice," Meikle-Small continued, saying that it can be daunting to suddenly be meeting "100 new people" on your first day.
Of the advice Phillips got on set, the thing that really stuck for him was being told that the Denzell Hunter fans of the books see on screen is his "version of the character" now. Knowing the show has a built-in fanbase due to Diana Gabaldon's immensely popular novels, it was a relief to be reminded that "you can't please everyone but this is now our version of the character and we were cast for a reason."
"You have to trust that," added Izzy.
For Vandervaart, he said the fans have already been "so supportive" for him -- noting that "they haven't even seen me on the show yet and I've only gotten love!" He added, "They're the reason we're here and they're the reason we can keep doing what we love doing, so I owe them so much."
For the pair of actors playing the Hunters, getting on set and into costume really helped them understand their characters more.
To play Denzell, Phillips said his getup really made him feel "quite sort of proper and sort of grounded," a big transformation for someone who self-admittedly tends to "slouch" and look a little too "modern" in his everyday life. He added, "I think that those period costumes on, you really feel the period of the time and you feel that you're now becoming that character."
"Your physicality totally changes because your mannerisms are so different in modern day than they would have been then," Meikl-Small interjected, "so I think having a costume really reminds you that you should be sitting up and I wouldn't touch a man because that would be very inappropriate."
"On my first day, speaking of costumes, I had a scene with John Bell and we both were having a laugh, getting to know each other, we were drinking a coffee while they were setting up for a shot, the wind blows and his coffee goes flying and goes all down me and I was like, 'I'm going to get into so much trouble with the costume department and it wasn't even my fault,'" she then recalled. "And John was there like, 'It was me, it was me' and within seconds there was like a flurry of costumer girls with a portable hair dryer started spraying me down. Coffee is dark and I was like, 'Oh dear.' It was very funny."
Speaking of Bell, Izzy's character finds herself torn between feelings for Bell's Young Ian and Charles' William as the season progresses.
"It's pretty fun. I think it's really interesting to be able to explore two romantic relationships from an acting perspective because you have such a different dynamic with the two of them," she teased of the love triangle. "Rachel is different with both of them, so it was really fun to push those boundaries. There are some really fun scenes coming up and she's cheeky and she's a flirt and I think she quite likes the attention."
The Outlander Season 7 premiere is streaming now on the STARZ app, before airing tonight on linear TV at 8pm ET.