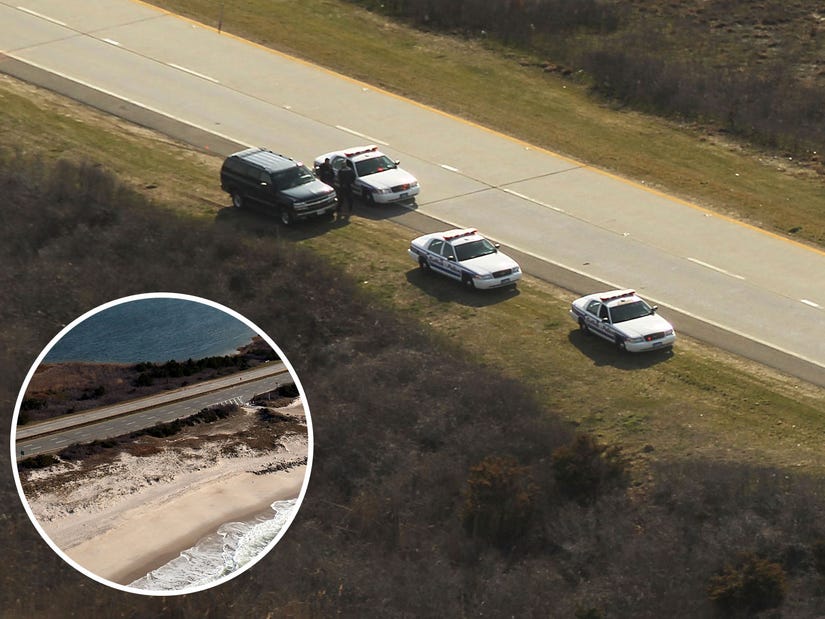 Getty
After an escort disappeared in 2010 while leaving a client's home, a search of the nearby area led to the shocking discovery of 10 sets of human remains -- many belonging to other sex workers.
update at 12:10pm PT 7/13/23
Rex Heuermann has been officially named by authorities and charged with the murders of three of the "Gilgo Four," Melissa Barthelemy, Megan Waterman and Amber Costello. He was also named as the prime suspect for the fourth, Maureen Brainard-Barnes.
An arrest has been made in connection with the Gilgo Beach murders in Long Island, some of which are believed to be the work of a serial killer.
On Friday morning, multiple news outlets -- including the AP -- confirmed that a suspect was taken into custody on Thursday evening. The New York Times, People and News12 reported the suspect is Rex Heuermann, an architect, though authorities have not officially released his name.
A press conference is scheduled for later today, with the Suffolk County police and the Suffolk County district attorney simply confirming there has been "a significant development in the investigation by the Gilgo Beach Homicide Investigation Task Force."
The unsolved murder investigation began in 2010, when 24-year-old sex worker Shannan Gilbert (below center) disappeared after leaving a client's home in Oak Beach. In a 911 call released publicly for the first time in 2022 (above), Gilbert can be heard saying, "There's somebody after me."
Eight months into their search for Gilbert, police discovered human remains belonging to 24-year-old Melissa Barthelemy, 25-year-old Maureen Brainard-Barnes, 27-year-old Amber Lynn Costello and Megan Waterman, 22 -- who were all working as escorts on Craigslist and dubbed the "Gilgo Four" -- nearby.
In March 2011, partial remains of Jessica Taylor, another escort, were found several miles away ... before three more sets of remains belonging to a toddler, an unknown male and Valerie Mark -- a 24-year-old who also worked as an escort -- were discovered in April 2011. Two more sets of remains were discovered a week later, one of them a DNA match as the toddler's mother, whose partial remains were discovered in Nassau County's Hempstead Lake State Park in 1997. The other set matched remains found on Fire Island in 1996.
Pictured below is Gilbert in the center; Top row L-R: Barthelemy, Brainard-Barnes and Costello; Bottom row L-R: Waterman, Taylor and Mack.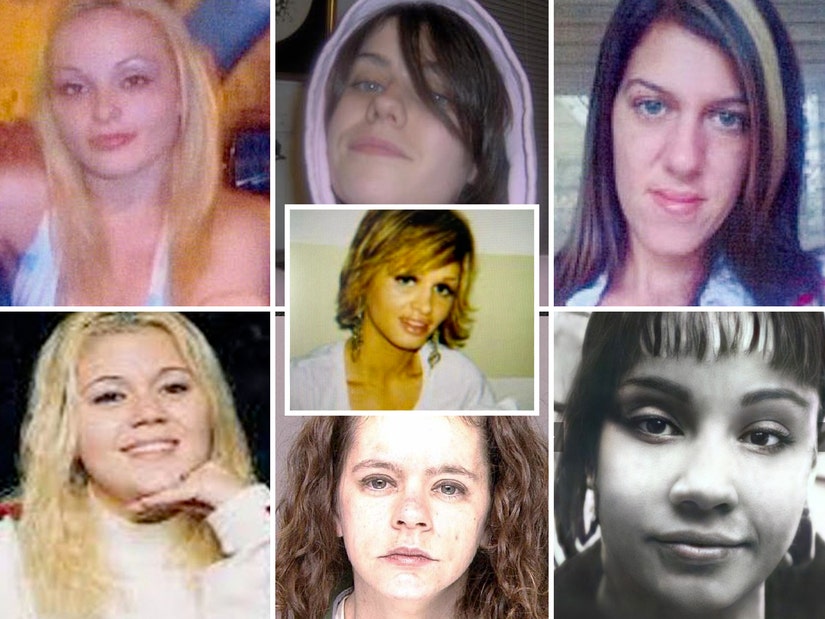 Suffolk County Police Department
Gilbert's phone, purse and remains weren't discovered until December 2011. A belt believed to belong to the suspect embossed with either the letters "HM" or "WH" was also found at the scene. Though Gilbert's disappearance sparked the Gilgo Beach Homicide Investigation, authorities announced in 2022 -- when they released the 9-1-1 call -- that while they believe her death was "tragic," it "was not murder and most likely not criminal."
While police said they believed Gilbert's disappearance was merely a "coincidence," they speculated at one point that there was "possibly one killer" responsible for the deaths of the other 10 victims. It's unclear at this time how many of the murders investigators believe the suspect was linked to, though a source told the New York Times he was connected to "at least some of the killings."
On Friday, Shannan's sister told NBC she was "relieved that they finally caught him."
"It's been a long time coming & I never gave up hope that one day justice would be served," Sherre Gilbert said. "I'm just happy it happened sooner rather than later. The suspect deserves to rot in prison for the rest of his life. He destroyed many lives so while it won't bring our loved ones back, it does help that one less monster is off the streets and he can't ever hurt anyone else!"
An attorney for both Gilbert and Taylor's family, however, told NBC he doesn't believe Heuermann is responsible for their deaths and has only been linked to the Gilgo Four.
The investigation into the so-called Long Island Serial Killer -- also known as the Craigslist Ripper, Gilgo Beach Killer and Manorville Butcher -- was the subject of the Robert Kolker book Lost Girls: An Unsolved American Mystery, which was adapted into the 2020 Netflix movie Lost Girls starring Amy Ryan, Gabriel Byrne and Thomasin McKenzie.
After the arrest started making headlines, Billy Baldwin took to Twitter to react in shock -- revealing he went to high school with the suspect.
"Woke up this morning to learn that the Gilgo Beach serial killer suspect was my high school classmate Rex Heuermann," he tweeted. "Berner High School Massapequa, New York, Class of 1981 Married, two kids, architect. 'Average guy ... quiet, family man.' Mind-boggling ... Massapequa is in shock. 23andMe strikes again???"
Woke up this morning to learn that the Gilgo Beach serial killer suspect was my high school classmate Rex Heuermann.

Berner High School
Massapequa, New York
Class of 1981

Married, two kids, architect.
"Average guy… quiet, family man."
Mind-boggling… Massapequa is in shock.… pic.twitter.com/Tms0IWVazN

— Billy Baldwin (@BillyBaldwin) July 14, 2023 @BillyBaldwin