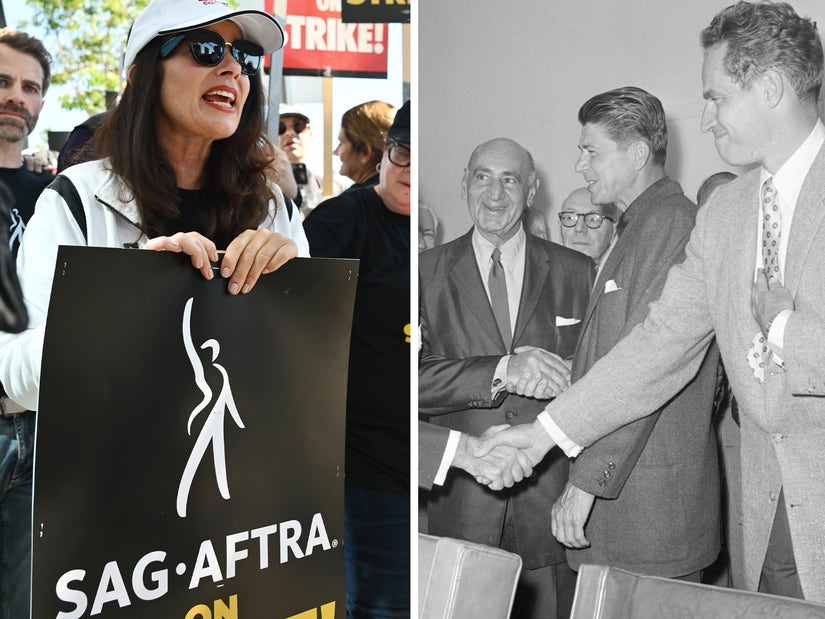 Getty
1960 was the last time both actors and writers were on strike together with many major movie stars hitting the picket line -- and now their A-list children are following in their pro-union footsteps
The last time both SAG-AFTRA and WGA were on strike at the same time was in 1960.
While artificial intelligence might not have been at the forefront of the negotiations in the '60s, many of the demands were quite similar to what these unions are fighting for today.
SAG-AFTRA president Fran Drescher is organizing the battle against the studios this time, while it was future US President Ronald Reagan acting as the Screen Actors Guild union leader over 60 years ago.
Just like today's picket lines, the 1960 strike saw many famous faces fighting on behalf of their union. Hollywood legends like Tony Curtis, Janet Leigh, and Henry Fonda were organizing events to ensure they received better compensation for their work. Today, many of their children are carrying on the legacy and speaking out against the studios and supporting the fair treatment of actors and writers.
Jamie Lee Curtis, who recently posted her solidarity for the strike on Instagram, was just 14 months old when her parents, Curtis and Leigh, opened their home in Beverly Hills to host a meeting for actors that was pivotal in uniting them in revolt.
"We felt there had not been enough explanation by the guild of the details of the negotiations," Curtis told Variety in February of 1960 on why they called the meeting.
The meeting gathered many A-list actors at the time, with stars like Debbie Reynolds, Shirley MacLaine, John Wayne, and Glenn Ford. Jack Lemmon reportedly got the time wrong on the meeting and showed up just as it ended.
Jane Fonda is another star who is also combatting injustice in Hollywood, something the actress and activist is known for. Fonda has been seen on the front lines of the strike, protesting for her fellow creatives.
"To be creative you have to feel respected... We stand with you... They better watch out..." she said.
"If Lily Tomlin and Dolly Parton and I were making '9 to 5' today we'd be gig workers... Your fight is our fight... To be creative you have to feel respected... We stand with you... They better watch out..." - Jane Fonda says at the 9-5 picket at Netflix #WritersStrike pic.twitter.com/VvmfZipd0m

— Deadline Hollywood (@DEADLINE) June 29, 2023 @DEADLINE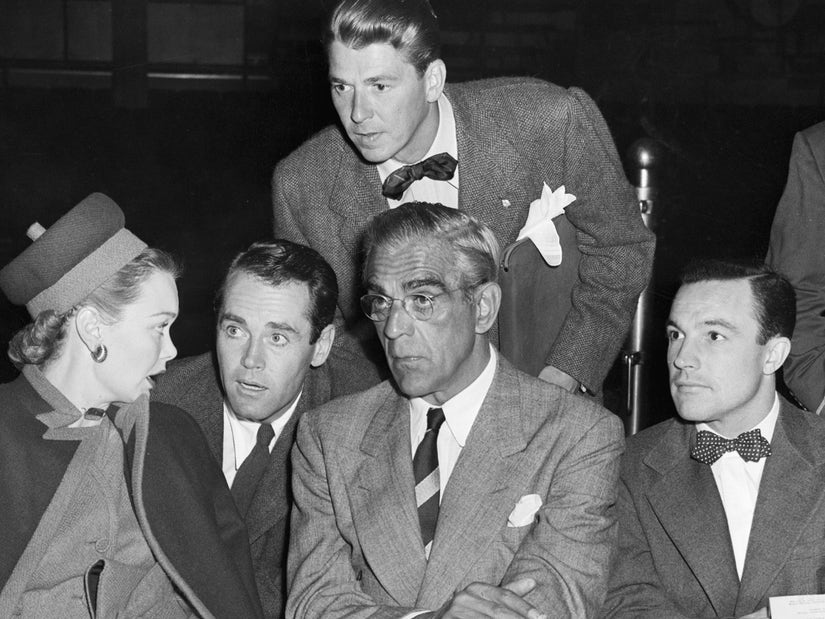 Getty
Jane's father, Henry Fonda, was also a SAG member and had previously worked with SAG President Reagan in 1946, as can be seen above as he sits in on a meeting with other actors Jane Wyman, Boris Karloff, and Gene Kelly.
Residuals and healthcare were both at the top of the list of concerns in 1960, when the WGA went on strike for 22 weeks.
"Gains included the first residuals for theatrical motion pictures, paying 1.2% of the license fee when features were licensed to television; an independent pension plan; and a 4% residual for television reruns, domestic and foreign," was the outcome of the strike, according to the WGA website. Their new contract also "established an independent pension fund and participation in an industry health insurance plan."
According to Time, SAG wanted residuals from the films that were being sold to television networks. They also noted that the strike resulted in the studios agreeing "to forego residual payments on films made prior to 1960 in exchange for receiving residuals on all films made from 1960 on as well as a one-time payment of $2.25 million from producers to form a SAG pension and health plan."
Today, WGA and SAG-AFTRA are striking for better residuals for actors (particularly when it comes to streaming platforms), better pay for writers, and a slew of other demands related to the changing nature of the business with the advent of new technologies.
Which movies were postponed?
Time also reports that "Elizabeth Taylor's Butterfield 8, Gina Lollobrigida's Go Naked in the World, Jack Lemmon's The Wackiest Ship in the Army, and Marilyn Monroe's Let's Make Love" were all stopped because of the strike.
Today, Variety reports that production has been halted on Beetlejuice 2, Deadpool 3, Gladiator 2, among other high-profile films. The promotion for films like Barbie and Oppenheimer have also stopped amid the strike.