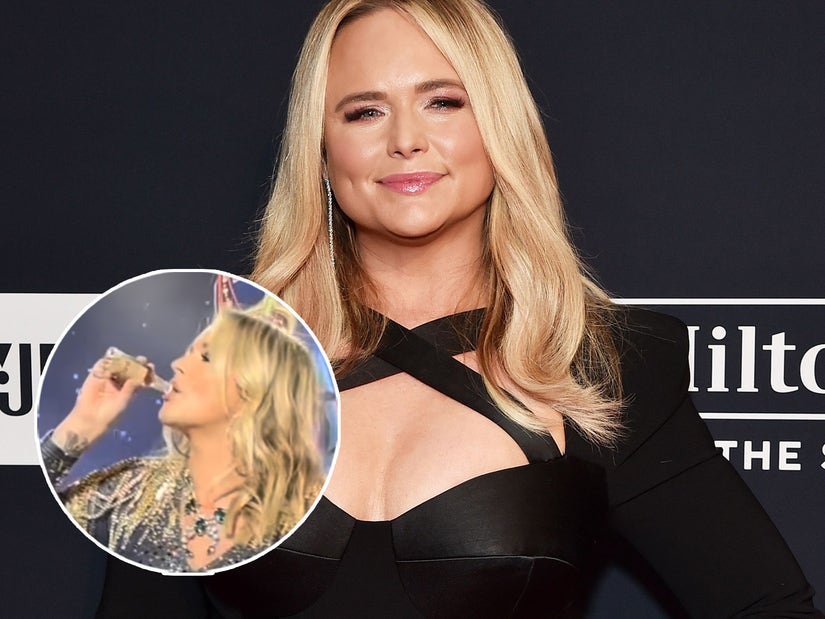 Getty/Instagram
The country star then took a tequila shot onstage -- just a week after getting blowback for chastising a group of women for taking selfies while she was singing
Miranda Lambert has singled out another fan at her Vegas residency -- but this time it was all praise.
The country singer took the time to address the concertgoer during her Velvet Rodeo Las Vegas residency.
"Her shirt says, 'Shoot tequila, not selfies'," Lambert announced to the crowd in clips of her July 22 concert. "She did it, I didn't!"
"That's bada--," Lambert added with a laugh, accepting a mini tequila bottle from the audience afterwards and sharing a shot with her guitarist Ethan Ballinger. The two raised a toast before returning to their setlist.
Waiting for your permission to load the Instagram Media.
Lambert went on to share the interaction on her Instagram Stories, captioning the post with, "Soo this happened last night." The star's happy exchange with the audience comes one week after controversy over her chastisement of fans taking photos in the middle of her show.
"These girls are worried about their selfie and not listening to the song," the 39-year-old scolded, stopping in the middle of singing Tin Man to call out a group of women taking selfies.
"It's pissing me off a little bit. Sorry, I don't like it. At all. We're here to hear some country music tonight. I'm singing some country damn music," she said in a TikTok video that captured the moment.
Lambert's negative interaction sparked online discourse over what is or isn't acceptable to do during a concert. Fellow celebrities and fans of the singer re-shared the video, adding their own opinion to the controversy – including Adela Calin, one of the women being publicly called out who said the incident left her "appalled" and "disappointed."
"It felt like I was back at school with the teacher scolding me for doing something wrong and telling me to sit down back in my place," Calin told NBC News, sharing that it was only supposed to be a quick selfie but the reprimanding in turn created a sense of inferiority amongst her and her friends.
"I feel like she was determined to make us look like we were young, immature and vain. But we were just grown women in our 30s to 60s trying to take a picture."
The View's Whoopi Goldberg also had some thoughts on the incident at hand - voicing her feelings about how she would react were she put in the same position.
"If they paid money for the tickets, they came to see her," she told her co-hosts in a July 18 segment of the talk show. "So, if she's singing at least a little respect. Acknowledge [that if] you can see her, she can see you too."