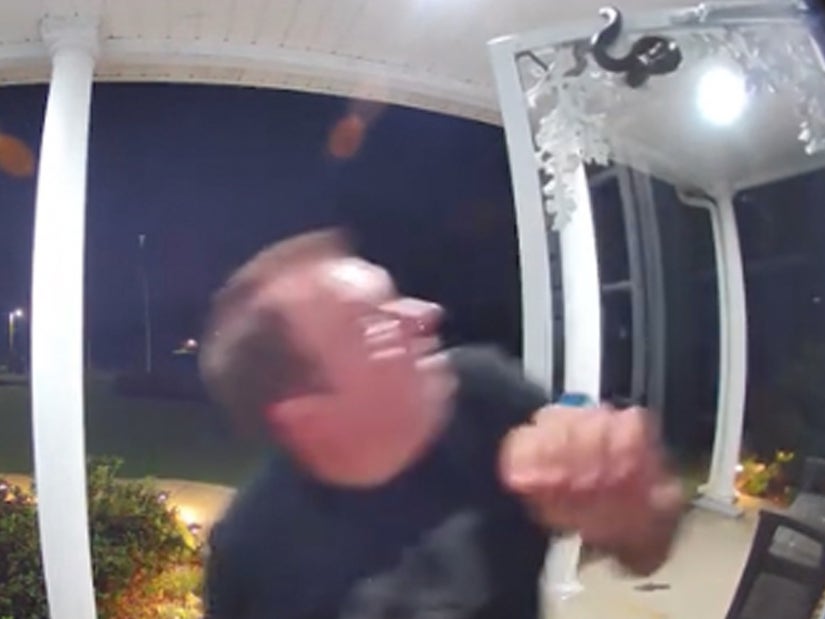 TikTok
The video has been viewed nearly 35 million times on TikTok, while more clips show other family members totally oblivious to the snake's attempts at them as well.
This dad just became an internet legend thanks to video his son uploaded to TikTok.
On Friday, Stevie Haven shared a :16 video to his page with the caption, "Snake bites Dad on Head… haha he thought he was gone.. 😂😂😂#funnymoments😂 #hilarious."
The Ring camera footage shows his father walking toward his home and opening the screen door of the house, oblivious to the rat snake perched along the top. As he steps into the entryway, it strikes, apparently biting him in the head.
Retreating from the doorway, the man exclaims, "I got bit! I got bit!" -- before falling to the ground.
Another clip from the moments right after the bite shows him rubbing his head and looking around for the snake, which was no longer atop the door.
The first video has already been viewed nearly 35 million times, with Haven sharing a number of follow-up clips proving his dad wasn't the only one who didn't realize the reptile was hanging out above them all.
"This was before Dad walked in haha i had too much to drink and never seen the snake. Bit his girlfriend on the head too," Haven captioned a video showing him and his father's girlfriend walking into the house.
In it, the snake makes a clear play for Stevie, who doesn't notice a thing.
Another video (below) shows the dad's girlfriend standing in the doorway, also oblivious to the snake above her.
"The snake is just chilling and we never knew it," he captioned the post.
In the comments, Haven responded to a question from Ring, wondering if his father was alright. "He is doing good knee just hurts," he replied.
When another viewer commented, "If I saw a video of me not noticing a snake like that. I would be paranoid for the rest of my life walking through doors," Haven added, "Haha oh we are 😂"