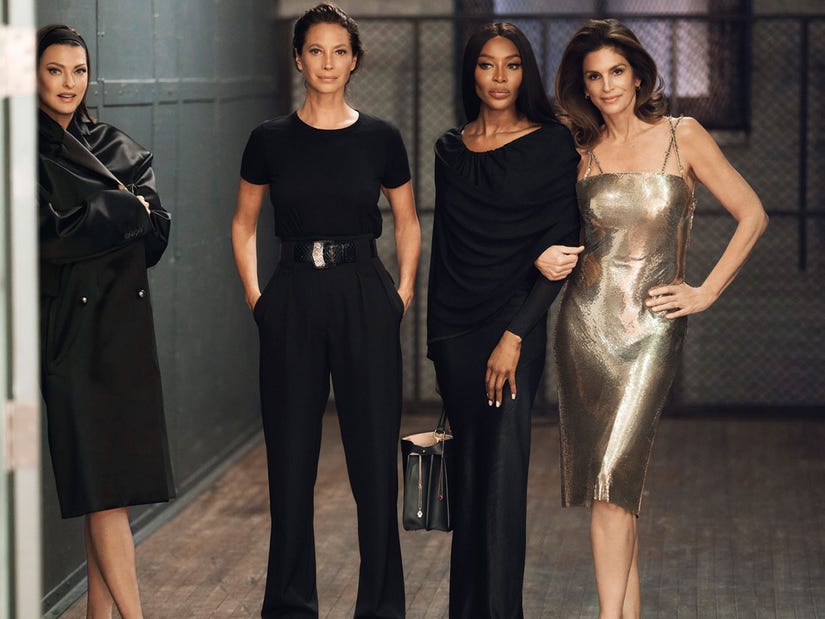 Apple TV+
"It wasn't about the hair and the makeup. It wasn't about the fashion," Crawford said. "It was about the women."
Apple TV+ just unveiled the trailer for their upcoming four-part documentary, The Super Models, which sees the '90s fashion icons detail their rise to super model stardom and how their bond single-handedly shifted the power dynamic of an entire industry.
The doc takes viewers from behind the camera and beyond the catwalk and hears directly from the foursome as they detail their special, shared history.
"When you come together with your chosen family, that's emotional," Campbell said of the group. "There's something about that shared history that we have," Crawford adds.
Now in their fifties, the models are joined by some of fashion's biggest designers, including Donna Karan, Marc Jacobs, Donatella Versace and more as they share how this iconic group changed the fashion industry as we know it.
"What I loved about the girls, they were a group," Karan said. "And that was so fabulous."
From weight loss demands to breaking barriers in the the modeling world, the foursome opens up about it all in a first of its kind look past the covers and at the real world modeling in the '90s.
"He said you should lose five pounds," Evangelista recalled. "I got scared I didn't belong."
"I would do all these great shows, wear all these beautiful dresses, but then when it would come time for advertising, and I would not be included," Campbell shared. "I wasn't gonna be bullied for the color of my skin."
The four-part doc also sees the career-shifting moment the models appeared in the music video for George Michael's 1990 hit, "Freedom! '90," one the allowed them to start calling the shots.
"You can call the shots and be an active participant in your career," Turlington said of the legendary move.
Ultimately, their influence extended beyond the hair and the fashion, but rather to women everywhere, giving fashion lovers a real-life image they could model themselves after.
"It wasn't about the hair and the makeup. It wasn't about the fashion," Crawford said. "It was about the women."
The Super Models premieres September 20 on Apple TV+.